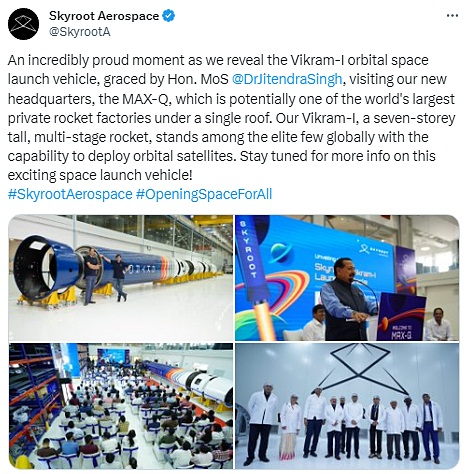 New Delhi/Hyderabad, Oct 24 (IANS) Space sector start-up Skyroot Aerospace on Tuesday unveiled its indigenously built Vikram-1 rocket.
Space, Science and Technology Minister Jitendra Singh, after unveiling the rocket, also inaugurated 'The MAX-Q Campus', the new headquarters of the start-up at the GMR Aerospace and Industrial Park at Mamidipally in Hyderabad.
Vikram-1 is expected to deliver satellites to low earth orbit early next year. Singh toured the Skyroot headquarters spread across 60,000 sq ft and billed as the country's largest private rocket development facility under one roof.
Vikram-1 is a multi-stage launch vehicle with a capacity to place around 300 kg payloads in Low Earth Orbit.
It is an all-carbon-fibre-bodied rocket that can place multiple satellites into orbit and features 3D-printed liquid engines.
Planned to be launched in early 2024, Vikram-I will be Skyroot's second rocket, after the successful launch of the Vikram-S rocket on November 18 last year.