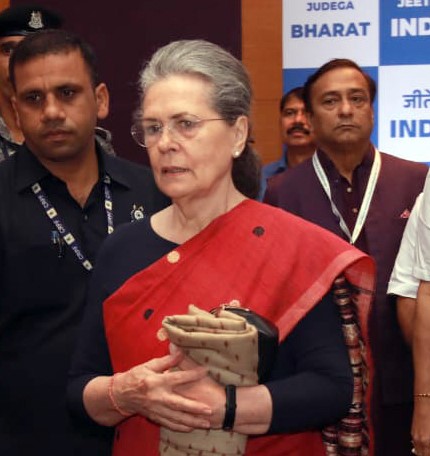 New Delhi, Sep 6 (IANS) Congress on Wednesday said that it was unfortunate that the Centre has convened Parliament's special session without sharing agenda, and Congress Parliamentary Party (CPP) chairperson Sonia Gandhi has written a letter to Prime Minister Narendra Modi highlighting nine issues needing detailed discussion.
Addressing a press conference here, Congress General Secretary Jairam Ramesh said, "A meeting of Parliamentary Strategy Group met on Tuesday and it was chaired by Sonia Gandhi, which was also attended by Congress President Mallikarjun Kharge to discuss the agenda for Parliament Special Session. Later Kharge called the meeting of floor leaders of INDIA from Lok Sabha and Rajya Sabha and the strategy of INDIA in the session was discussed."
He said, "It was decided that we will not boycott the session as it is an opportunity for us to raise the issues and we will try that different parties will raise different issues." He further said that it was also decided that Sonia Gandhi will write a letter to the Prime Minister and whatever has been discussed during the meeting of the INDIA will be conveyed to him.
Ramesh said, "Sonia Gandhi has written to Prime Minister Modi on Wednesday morning and raised nine issues that we want to raise in Parliament."
The Congress leader said that Sonia Gandhi in her letter said, "You have convened a special five-day session of the Parliament beginning 18 September, 2023. I must point out that this Special Session has been convened without any consultation with other political parties. None of us have any idea of its agenda. All we have been communicated is that all five days have been allocated for Government Business."
Ramesh said that the CPP chairperson also said that "we most certainly want to participate in the Special Session because it will give us an opportunity to raise matters of public concern and importance. I earnestly hope that time will be allocated under the appropriate Rules for a discussion and debate on these issues."
In her letter, Sonia Gandhi said that it wants to raise current economic situation with focus on increasing price rise of essential commodities, growing unemployment, rise in inequalities and distress of MSMEs, commitment made by the Government of India to farmers and farmer organisations in regard to MSP and other demands raised by them and demand for a JPC to investigate the transactions of the Adani business group in light of all revelations.
Listing other five demands, she said that the continued agony faced by people of Manipur and breakdown of Constitutional machinery and social harmony in the state, rise in communal tension in different states like Haryana, continued occupation of Indian Territory by China and challenges to our sovereignty on our borders in Ladakh and Arunachal Pradesh.
"Urgent need for a Caste Census. Damages being inflicted on Centre-State relations. Impact of natural disasters caused by extreme floods in some States and drought in others," she said.
Sonia Gandhi in her letter said, "I earnestly hope that in a spirit of constructive cooperation, these issues will be taken up in the forthcoming special session".
Ramesh also said that there are many issues of states like Tamil Nadu's NEET, Maharashtra's reservation issue.
"We hope that we will get a reply from the government and the session of Parliament should not happen only on government business which is unfortunate," Ramesh said.
To a question about PM Modi saying that he will be re-elected again in next year general elections, Ramesh said, "The Prime Minister has panicked and he is under maximum fatigue. All his actions are revival of dead NDA, his response to formation of INDIA Group and unilateral decision to call Special Session shows that he is panicked." "He has panicked after the INDIA meeting in Bihar's Patna, Karnataka's Bengaluru and Maharashtra's Mumbai meetings, and his fatigue and panic is clearly visible," Ramesh added.