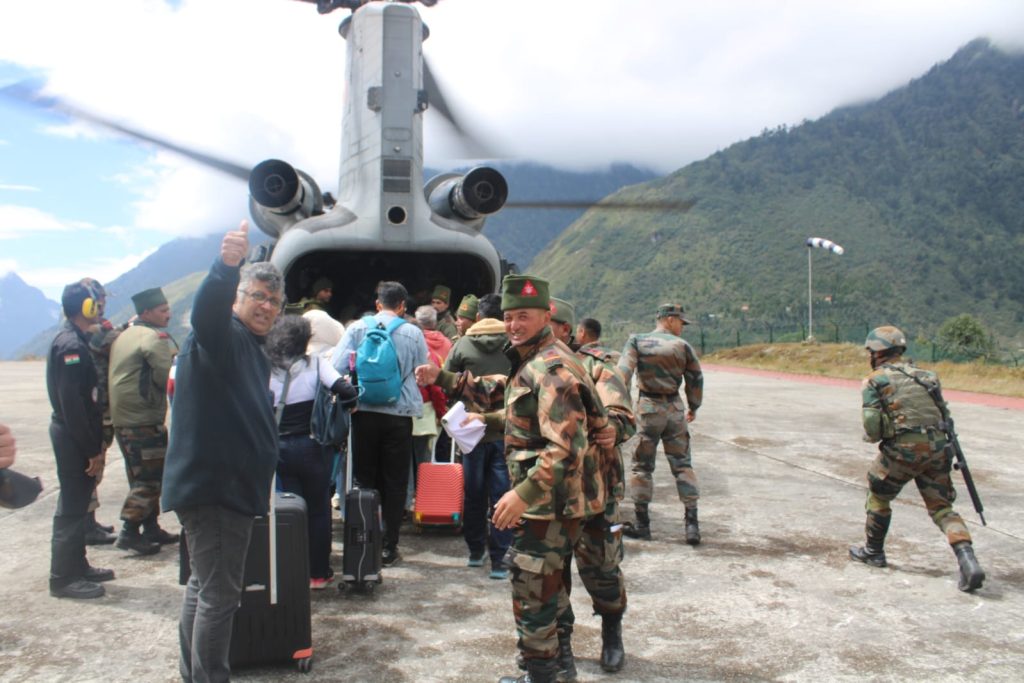 New Delhi, Oct 9 (IANS) In Sikkim, troops of Trishakti Corps of the Indian Army are undertaking operations at a massive scale to reconnect villages cut off post the flash floods on the night of October 3-4.
An Army official said that the focus of the operations are on restoring connectivity to North Sikkim through Chungthang, which was the worst affected during the devastating floods.
Troops of the Army have rescued of 150-200 civilians so far. In the immediate, account has been taken of all tourists and locals in the areas of Chaten, Lachen, Lachung and Thangu in North Sikkim.
A list of 2,000 tourists, including 63 foreign nationals, has been compiled and assistance is being provided in terms of food, medical aid, accommodation and telephone connectivity, the official said.
According to the Army, a helpline has also been established through which relatives of all the tourists are being informed about the wellbeing of their near and dear ones. This effort will continue till they are evacuated. With the improvement in weather, air evacuation of tourists started on Monday.
Another action being undertaken by the Army is to reconnect the villages that have been cut off. Towards this end, a log bridge over Lachen Chu connecting Chungthang to Pegong has been completed by the Army troops along with the ITBP personnel and locals.
Meanwhile, the Indian Army and the BRO, with assistance from ITBP troops, are launching a foot bridge from the Chungthang side.
Special teams were deployed for opening the route to Chaten via Rabom. The teams have moved over difficult terrains under inclement weather and reached Rabom village on the night of October 8. A foot link-up has thus been established and assistance is being provided to the 150-200 civilians stranded in the area, the Army official added.
The Chief Minister of Sikkim, P.S. Tamang, has assured of all assistance in terms of availability of land, forest clearance etc. for the reconstruction works.
To ensure sustenance of the people at Chungthang, ration has been provided to the local gurdwara. Medical aid is being provided at all locations and so far more than 1,500 patients have been treated by the Trishakti Healers, the official said.