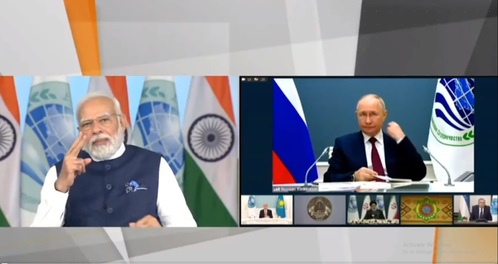 New Delhi, July 4 (IANS) In a joint declaration issued by SCO member nations on Tuesday at the culmination of the day-long virtual summit of the Council of SCO Heads of State, they strongly condemned terrorism in all its forms and manifestations.
The grouping said that it will cooperate towards countering radicalisation that leads to terrorism, separatism and extremism, by sharing experiences and best practices, in accordance with the SCO Charter and generally accepted principles and norms of international law.
They also decided to exchange practical experience on how to ensure the security of major international events held on the territory of SCO member states.
The SCO member states also vowed to promote regional cooperation to counter radical ideologies that lead to terrorism, separatism and extremism.
They decided to deny supporters of terrorism, the means and opportunity to pursue their activities.
"Member States will conduct media campaigns at national level to prevent and counter radicalisation leading to terrorism, extremism and separatism, and will implement programmes at national level to rehabilitate and reintegrate radicalized individuals into society and prevent their return to radical ideology or terrorist activity," the joint statement said.
The SCO nations also decided to take measures to block and remove radical and terrorist content from the Internet, initiating the necessary measures against identified individuals and entities in accordance with their domestic laws.
The SCO summit was held virtually under India's presidency, which also witnessed participation of Chinese president Xi Jinping, Russian president Vladimir Putin and Pakistan Prime Minister Shehbaz Sharif, apart from heads of other member nations.
Iran was included as a new member in the grouping.
Prime Minister Narendra Modi while addressing the summit, called upon SCO nations to condemn nations which support terrorism, adding that there cannot be any double standards on the issue.