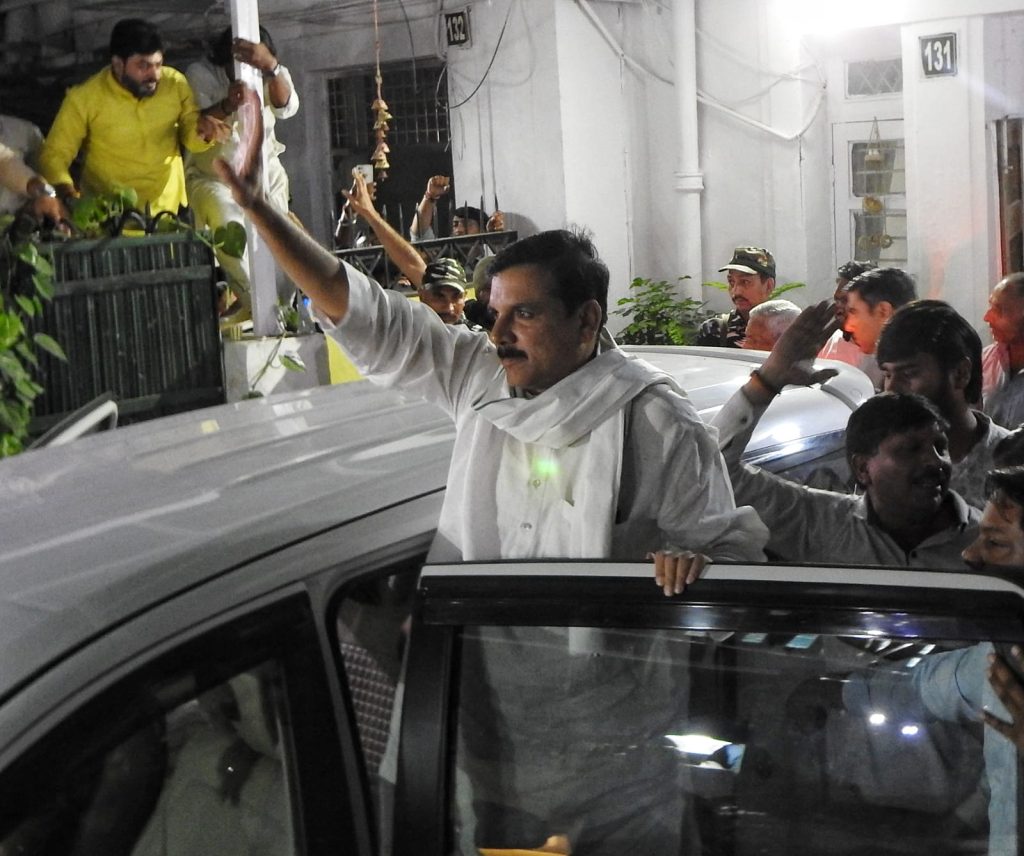 New Delhi, Oct 4 (IANS) The Enforcement Directorate (ED) arrested Aam Aadmi Party (AAP) Rajya Sabha MP Sanjay Singh in connection with its probe into the now scrapped excise police case following day-long searches at his residence here.
This is the second big arrest in the case after former Deputy Chief Minister Manish Sisodia.
The liquor scam case pertains to allegations that the AAP-led Delhi government's excise policy for 2021-22 allowed cartelisation and favoured certain dealers who had allegedly paid bribes for it.
The AAP has strongly refuted the charge and accused the BJP government at centre of indulging in political vendetta.
A brief timeline of how the case has unfolded so far:
In November 2021, the Arvind Kejriwal-led Delhi government introduces new liquor policy for 2021-2022.
On July 31, 2022 opposition parties accuses the Delhi government of promoting liquor culture' in the national capital.
Following the uproar, the new excise policy was withdrawn immediately.
On August 17, 2022, the Central Bureau of Investigation (CBI) registered a case against 15 accused, including then Delhi deputy chief minister Manish Sisodia, as accused number one in connection with alleged irregularities in the implementation and formulation of the policy.
On August 19, 2022, the CBI swings into action and carried out searches at multiple locations, including the premises of Sisodia in the national capital.
On October 17, 2022, Sisodia was questioned by the CBI for around eight hours.
On November 25, 2022, the CBI filed charge sheet against seven accused in the case.
On February 26, 2023, CBI arrested Sisodia after questioning him for eight hours at its headquarters.
On February 27, 2023, Sisodia produced at a Delhi's court, which sent him to five-day CBI custody for questioning.
On February 28, 2023, Sisodia moved Supreme Court against his arrest by the CBI. However, the top court dismissed his bail plea and asked him to move high court. On the same day, he along with his jailed minister Satyendar Jain, arrested in a Hawaii related money laundering case resign from the Delhi cabinet.
On March 4, 2023, Delhi court extended Sisodia's CBI custody till March 6.
On March 9, 2023, ED also arrested Sisodia after questioning him for the second time.
He is presently lodged in Delhi's Tihar jail.
On October 4, 2023, ED carried out searches at AAP leader Singh's residence, followed by searches on the premises of his close aides.
Singh was taken into custody after a day-long interrogation by ED officials at his Delhi residence.
Following his arrest, AAP workers assembled outside his residence and raise slogans against the government.
He was then taken to ED Headquarters amid sloganeerig by the AAP workers.
Security was also beefed up outside ED office in view of Singh's arrest.