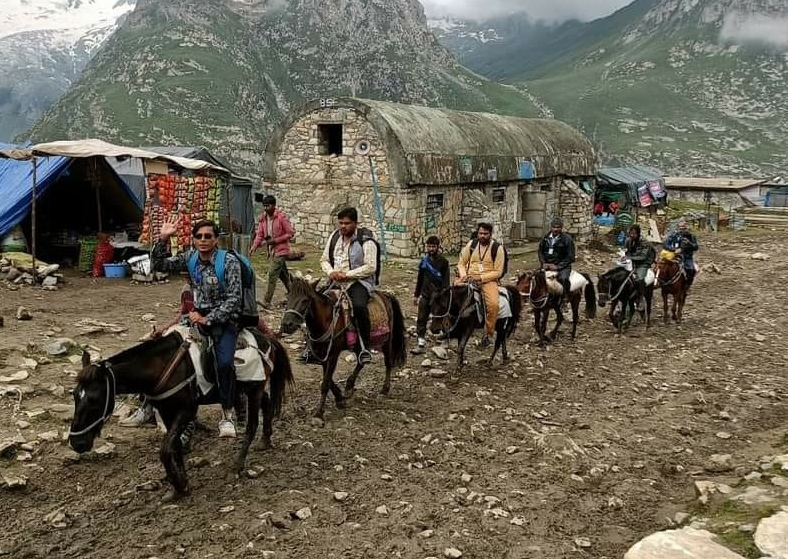 Srinagar, June 11 (IANS) Acting tough on junk and unhealthy food, Shri Amarnathji Shrine Board (SASB) said on Sunday that foods, including halwa puri, samosas, jalebi, gulab jamun, etc., will not be served to Yatris during this year's Himalayan pilgrimage.
This year's 62-day long Amaranth Yatra will begin on July 1.
SASB officials said that over 120 langars (community Kitchens) are being established this year for the pilgrims along the twin routes of Pahalgam and Baltal leading to the cave shrine.
"Focusing on the health of the pilgrims, SASB has released a list of permitted and banned meals, food items at 'langars' and made it clear that no junk and fried food will be allowed to be served at around 120 langars," an official said.
A list of banned and permitted items has also been shared with the langer authorities.
The banned food items included poori, bathura, pizza, burgar, stuffed parantha, dosa, fried Roti, bread with butter, cream based foods, pickle, chutney, fried papad, chowmein and all other fried / fast foods, cold drinks and karrah halwa, jalebi, gulab jamun, laddu, khoya burfi, rasgulla and all other halwai items besides snacks (high in fat and salts) chips/kurkure, matthi, namkeen mixture, pakora, samosa, fried dry fruits and all other deep fried items.
It also included non vegetarian foods, alcohol, tobacco, gutka, pan masala, cigarettes, other intoxicants.
The meals in the permitted menu include cereals, pulses, green vegetables, green salad, fruits and sprouts, rice, jaggery, sambar, idli, uttapam, poha, herbal tea, coffee, low fat curd, sharbat, lemon squash/water, figs, raisins, apricots, and other dry fruits.
Moreover, Director Health Services Jammu and Kashmir have directed all concerned officials not to sanction or forward leave applications of doctors and para medical staff during the period of yatra.