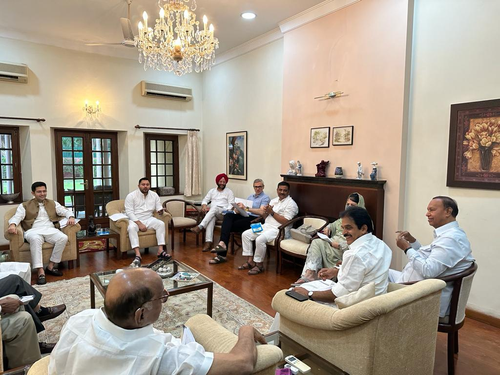 Kolkata, Sep 15 (IANS) Discontent in West Bengal unit of Congress seems to be aggravating after the chair of Trinamool Congress' national general secretary Abhishek Banerjee was kept vacant at the first coordination committee meeting of INDIA bloc, as a mark of solidarity with him.
Banerjee was summoned by Enforcement Directorate (ED) for questioning in connection with the multi-crore cash-for-school job case in West Bengal on the same day of the coordination committee meeting.
The meeting was held in the national capital on September 13.
Reacting to Congress leader K.C. Venugopal's statement that the summons to Banerjee on the same day of the first meeting of the coordination committee was yet another example of agencies being used against opposition for political vendetta, state Congress president and five- time party Lok Sabha member Adhir Ranjan Chowdhury, however, said that the involvement of the Trinamool Congress in the school job case is no more a hidden fact.
"It is no more possible to remain out of the ambit of investigation since it was planned corruption done by appointing professionals. ED and CBI should work more methodically to nab the offenders," he said.
Rebel Congress leader and Calcutta High Court counsel Kaustav Bagchi said that such statements from the party's central leadership was creating confusion among the grassroots level Congress workers in West Bengal about the exact stand of the party.
"I have written a letter to Venugopal reacting to his statement and reminded him that the central agency probe in the school job case is not only court- ordered but also court- monitored. So I have requested him not to stand by the corrupt individuals whose only aim for the last few years is to finish Congress in West Bengal," Bagchi said.
Earlier too Bagchi had been vocal a number of times against Congress' national leader and high- profile advocates like P. Chidambaram and Abhishek Manu Singhvi for holding briefs on behalf of West Bengal government as well as top Trinamool Congress leaders at the Supreme Court and the Calcutta High Court.