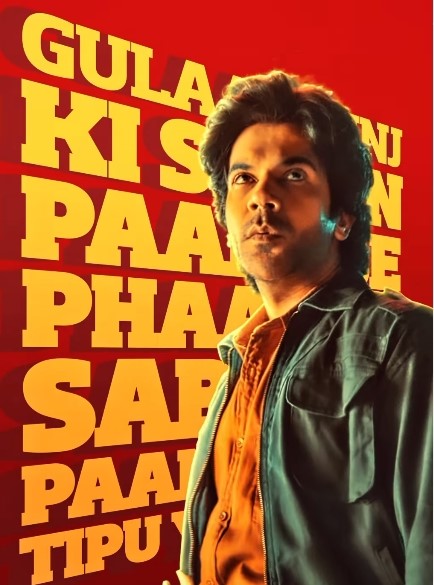 New Delhi, August 2 (IANS) Actors Rajkummar Rao, Gulshan Devaiah and Dulquer Salmaan's upcoming series 'Gun & Gulaabs' has everything that one witnessed in the 1990s.
Introduced as 'Guns & Gulaabs', namcheen gangsters ki kahaani, the trailer is loaded with dialogue delivery harping on adjectives, larger than life action and sprinkled with humour, will release on Netflix on August 18.
The trailer received whistles when Rajkummar's character Paana Tipu says: "Hilne ki koshish ki toh tere ando ka omelette bana dunga (If you move, I'll make an omelette out of your eggs)."
The over two minute long trailer showcased pop cultures references, guns and goons, retro references.
What is interesting is the background score by Usha Uthup's song 'Rambha Ho' from the 1981 film 'Armaan'.
The trailer launch was grand in all aspects. Rajkummar was introduced on stage as a mechanic, and he stepped in with a bike.
For Gulshan's entry, the score that was played was 'Nayak nahi khalnayak hoon main', hinting that he will play a dreaded goon. The interesting part of his character is the name – 4 cut Atmaram.
With whistles cheers and hooting, Dulquer Salman was introduced on stage as officer Arjun Verma.
When asked about how are they feeling about the show releasing, Raj & DK said that they both feel "Excited and Exhausted."
Pana Tipu earned his name after he murdered someone with just a wrench.
Talking about his character Pana Tipu, Rajkummar said: "I think the credit goes to Raj and DK. They bring everything different. What they think no one can think. When I read about the character, I was like should I love him or be scared of him. That fascinated me. He means business."
On his digital debut, Dulquer added: "What I loved about my career is that I've never made any grand plans. So getting a call from Raj and DK is a validation for me. Loved the world that has been created (by them). For me, it has been a learning experience. It was a no brainier to be a part of it."
On his dangerous character, Gulshan said: "Aapki hasi Bhi chootegi, aansu bhi niklenge and khoon bhi bahega!"
The cast also includes Adarsh Gourav, T.J. Bhanu and the late Satish Kaushik in one of his last screen roles.