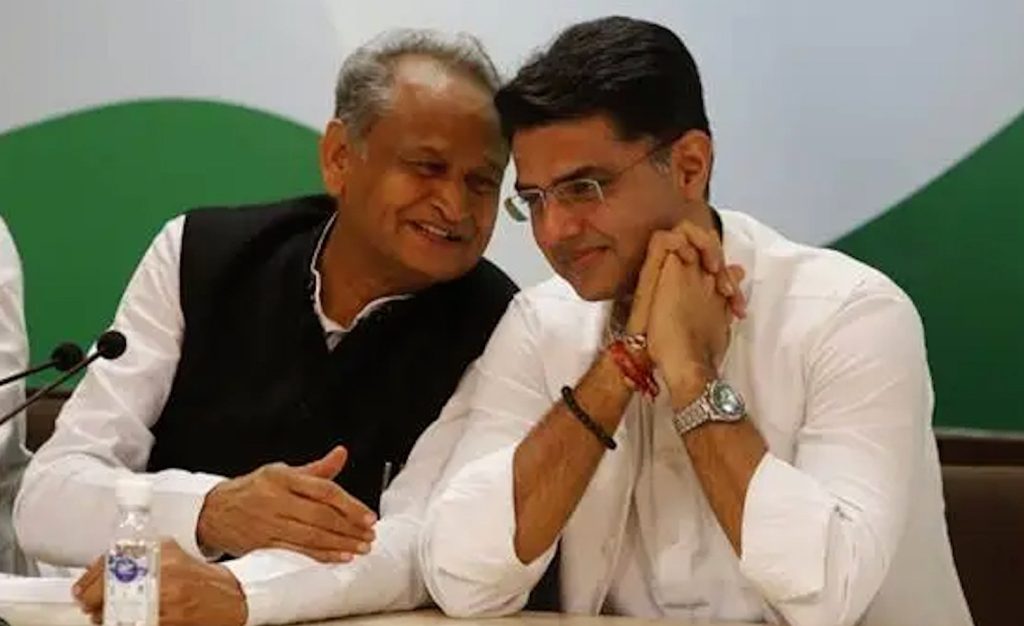 New Delhi, Oct 21 (IANS) Chief Minister Ashok Gehlot and his ministers and former deputy chief minister Sachin Pilot have found place in the first list of 33 candidates released by the Congress on Saturday.
The list also includes the names of the 30 sitting MLAs.
The party released the first list of the candidates on Saturday, three days after the Central Election Committee (CEC) met and finalized the list on Wednesday.
The party has named Gehlot from Sardarpura assembly seat while Pilot has been fielded from his Tonk assembly seat.
Besides Gehlot, the four ministers who have found place in the first list include Bhanwar Singh Bhati, Tikaram Julie, Mamta Bhupesh, Ashok Chandna.
The party has named Speaker CP Joshi from Nathdwara assembly seat.
The party has this time fielded Archana Sharma, chairman of the Social welfare Board from Malviya Nagar assembly seat, Pushpendra Bharadwaj from Sanganer assembly seat and Lalit Kumar Yadav from Mundawar assembly seat.
All three had lost to the BJP in the 2018 assembly polls.
The Congress has also given ticket to Pilot camp MLAs – Indraj Singh Gurjar from Viratnagar assembly seat, Mukhesh Bhakar from Ladnun seat, Ramniwas Gawaria from Parbastar seat.
The party has fielded state unit chief Govind Dotasara from Lachhmangarh assembly seat, Harish Choudhary from Baytoo assembly seat, Divya Maderna from Osian assembly seat, Olympian Krishna Poonia from Sadulpur assembly seat.
Polling for the 200 member Rajasthan assembly is rescheduled on November 25 and counting of votes will take place on December 3.
The Congress is eyeing for a second consecutive term in Rajasthan and has launched several pro-people schemes in the desert state.
Meanwhile, the BJP also released second list of 83 candidates for the Rajasthan Assembly elections, which also includes the name of former Chief Minister Vasundhara Raje.
While Raje will contest from her home town of Jhalrapatan, the Leader of Opposition Rajendra Rathore has been given a ticket from Taranagar instead of Churu.