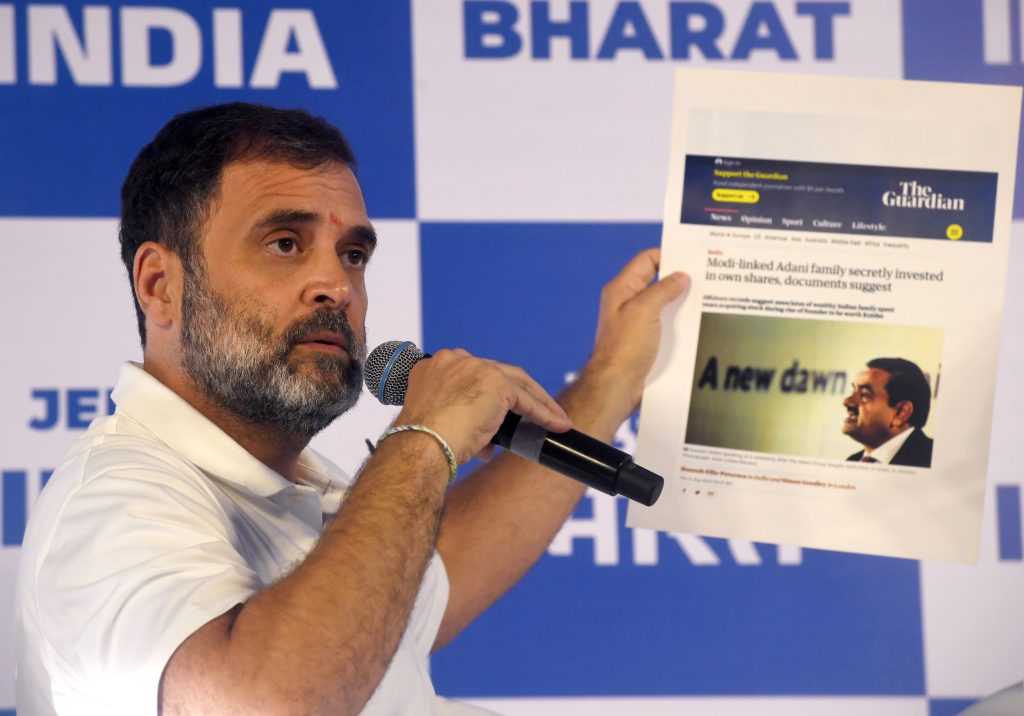 Mumbai, Aug 31 (IANS) Senior Congress leader Rahul Gandhi on Thursday reiterated the demand for a Joint Parliamentary Committee (JPC) probe into the Adani matter, and also asked Prime Minister Narendra Modi to break his silence on this issue.
Addressing a press conference ahead of the opposition I.N.D.I.A. bloc's third meeting here, Rahul Gandhi referred to a new report by the OCCRP (Organised Crime and Corruption Reporting Project), which allegedly found at least two cases where "mysterious" investors bought and sold Adani stock through offshore structures.
Showing reports published by global newspapers copies on this issue, Rahul Gandhi said: "There was an investigation… evidence was given to SEBI but it gave a clean chit to (Gautam) Adani. The gentleman who gave clean chit to Adani is today a Director in NDTV. It is very clear that there is something very wrong here."
"We are trying to show the world that 'we are a transparent economy'. We are trying to show the world that India has a level playing field," he said.
Firing salvos at the Central government, Rahul Gandhi said, "Why is this one gentleman who is close to the Prime Minister allowed to move a billion dollars to pump up his share price, to use that money to capture Indian assets, airports, ports? Why no investigation is taking place?
"Its very important that Prime Minister Narendra Modi clears his name and categorically explains what is going on. At the very least, a JPC should be allowed, a thorough investigation should be conducted.
"I don't understand why the Prime Minister is not allowing an investigation. Why is he quiet, why doesn't he say that he is going to make sure that this issue is investigated and the people who are guilty are put behind bars."
The former Congress President said that this raises very serious questions on the Prime Minister, just before the arrival of global leaders to India for the G20 meet.
"They are going to be asking questions — What is this special company that is owned by a gentleman close to the Prime Minister? Why an economy like India giving this gentleman a free ride? They are going to ask these questions. I think it is very important that these matters are cleared before they arrive," he said.
Referring to the news reports, Rahul Gandhi said, "These are not random newspapers, these are newspapers that affect investment in India. They affect the perception of our country in the rest of the world. They are stating clearly that over a billion dollars went from India, were circulated in different places, and then came back to India. This is, according to them, clearly proved with the documentation they have.
"The first question is, whose money is this? Is it Adani ji's money or any other person's? The mastermind behind this is a gentleman called Vinod Adani, who is the brother of Gautam Adani. There are two foreign nationals who are involved in round-tripping of the money. Why are these two foreign nationals being allowed to play with the valuation of one of the companies that controls almost all of Indian infrastructure?"
The remarks came after the OCCRP report alleged that "opaque" funds were used to funnel substantial investments into the publicly traded stocks of the Adani Group, purportedly masking the involvement of business partners associated with the Adani family.
The Adani Group, on its part, has rejected the OCCRP report alleging stock manipulation.
"We categorically reject these recycled allegations. These news reports appear to be yet another concerted bid by Soros-funded interests supported by a section of the foreign media to revive the meritless Hindenburg report. In fact, this was anticipated, as was reported by the media last week," the Group said.
"These claims are based on closed cases from a decade ago when the Directorate of Revenue Intelligence (DRI) probed allegations of over invoicing, transfer of funds abroad, related party transactions and investments through FPIs.
"An independent adjudicating authority and an appellate tribunal had both confirmed that there was no over-valuation and that the transactions were in accordance with applicable law. The matter attained finality in March 2023 when the Supreme Court of India ruled in our favour. Clearly, since there was no over-valuation, there is no relevance or foundation for these allegations on transfer of funds.
"Notably, these FPIs are already part of the investigation by the Securities and Exchange Board of India (SEBI). As per the Expert Committee appointed by the Supreme Court, there is no evidence of any breach of the Minimum Public Shareholding (MPS) requirements or manipulation of stock prices," it added.
As per the report, exclusive documents obtained by OCCRP and shared with The Guardian and Financial Times, including files from multiple tax havens, bank records, and internal Adani Group emails, shed light on that very matter. These documents, which have been corroborated by people with direct knowledge of the Adani Group's business and public records from multiple countries, show how hundreds of millions of dollars were allegedly invested in publicly-traded Adani stock through opaque investment funds based in Mauritius, the report said.