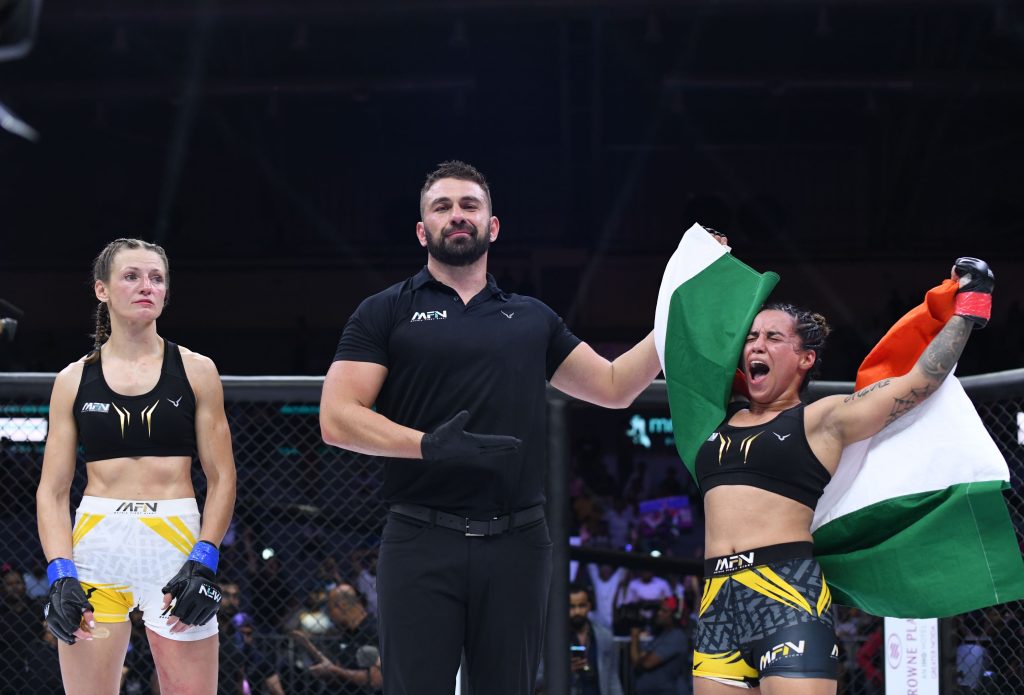 Noida, July 2 (IANS) Puja Tomar reigned supreme in Matrix Fight Night's first-ever all-women's main event against her Russian opponent Anastasia Feofanova in a gruelling bout at MFN 12 in Noida Indoor Stadium and retained her strawweight title.
The thrilling main event ran for four rounds. In the first round, Puja Tomar landed a left-hand hook on her opponent's face and took her down to the ground. Using her long legs, Anastasia managed to keep Puja at bay. With her height advantage, Anastasia locked Puja in a hold, but the Champion pulled herself out and landed powerful kicks to rattle the Russian on Saturday.
Puja showcased tremendous defensive prowess as the bout progressed and despite Anastasia's long reach, managed to keep her opponent at a distance. Puja kept targeting Anastasia's left knee, using powerful kicks to wear down her opponent. With combination attacks, Puja landed heavy face blows on the Russian, earning key points.
After intense four rounds, Puja was declared the winner via TKO with a corner stoppage due to Anastasia breaking her forearm from defending Puja's heavy blows.
After winning the bout, Puja thanked her family for constant support.
"Before I say anything, I want to thank my late father. I am sure he will be proud to see me. My family's constant support has been the reason for me reaching this point in my MMA career," she said.
The star-studded show also witnessed Bollywood stars Tiger Shroff and Disha Patani in attendance who enthralled fans with their dynamic presence, along with Indian cricket star Shikhar Dhawan. India's MMA star Ritu Phogat also attended the show and cheered for Indian fighters.
Meanwhile, in the co-main event, MFN overseas prospects Mochamed Machaev from Austria faced off against Khabibullo Azizov from Tajikistan in a gritty featherweight bout. Due to an accidental kick to the groin, the bout was declared as a no contest.
In the Main Card, Chungren Koren defeated Chaitanya Gavali via Technical Knock Out within 3 minutes 30 seconds of the first round. Shyamanand picked up a big win over Egypt's Mido Mohamed via TKO within 1 minute 14 seconds of the first round.
Rahul Thapa defeated Avizo Lanamai via unanimous decision, while Pawan Maan defeated Sandeep Dahiya via unanimous decision as well after gruelling three rounds. Digamber Singh Rawat picked up a thunderous win over Neeraj Panghal via KO in the first round after 4 minutes 48 seconds.
In the Prelims, Gurtej Singh picked up a win over Edukondal Rao by unanimous decision, while Dushyant picked up a win over Anthony Syiem with unanimous decision as well. Sonam Zomba stunned fan-favourite Jojo Rajkumari with a win by unanimous decision, while Aminder Bisht also defeated his opponent Akash in flyweight category via unanimous decision.
Speaking on the action-packed night, MFN co-founder Ayesha Shroff said, "It was an exciting night of intense competition and entertainment. The fighters gave their everything to put on a show for the audience. Each and every one of them has worked hard to be here. I congratulate all the winners and we look to many more magical nights like today in the coming time."
"I am just overwhelmed by the response we got from the audience. I would like to thank everyone who turned up in huge numbers to see these fighters putting up an impressive show. The support that we have got will motivate us to keep coming back and also the fighters to grow as MMA professionals," she added.