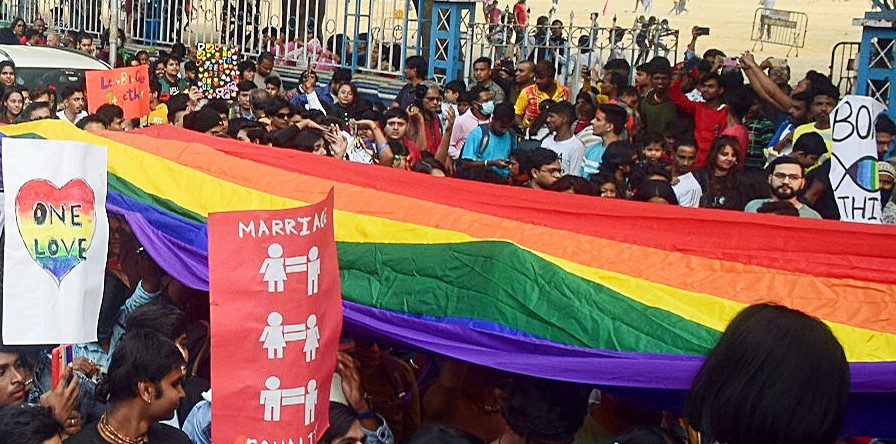 Chennai (Tamil Nadu) [India], June 25 (ANI): Thousands of people from the LGBTQIA+ community and its supporters took part in a parade in Chennai's Egmore to display their orientation as a part of Pride Month.
People in colourful attire and flags proudly paraded from the Egmore Raja Rathinam stadium to the Ramada Hotel. The community that was dressed in rainbow colours carried rainbow flags which are considered to be an identity for the community.
They also carried a pluck card demanding basic rights for LGBTQIA+ and raised slogans seeking support for the community from society.
People from the community expressed their happiness for participating and being part of the pride parade walk.
Many participants told ANI that they all are waiting for Supreme Court verdict on same-sex marriage and also demanded that Central Government do the needful.
"This is my first Pride month. I am very happy and proud to be part of this Parade" said a participant in the Pride walk.
Another participant said, "Our main demand is a reservation for the LGBTQIA+ community. Because when our own family and government has to take care of us, our last option is the government. So there should be basic equal rights to the community".
Earlier on June 11, the LGBTQ+ community celebrated pride month in Vadodara and reached out to a large section of the society by dressing up in colourful outfits and dancing to the tunes of Bollywood dance numbers.
The Vadodara's Pride Rally was organized by Lakshya Trust, an organization working for the LGBTQ+ community in which a large number of people from the LGBTQ+ community participated.
Manvendra Singh Gohil, the founder of Lakshya Trust, was also present during the rally.
He demanded to give equal rights to the community. He said, "We are citizens of this country and should be given equal rights like others. We have to face many issues. We get fired. We are kicked out of the house. It is tough for us to get an education. In terms of health also somewhere we are not equally treated. So, we want our rights."
Pride Month is celebrated in June when people of all sexual orientations participate in parades to display their orientation.
Despite education and awareness, society is hesitant to accept people with different sexual orientations. However, with these events, they also proudly present themselves in front of society without any hesitation.
Pride Month honours all individuals who took part in the Stonewall Riots, a string of gay liberation demonstrations that took place in 1969. On June 28, 1969, police stormed the well-known bar The Stonewall Inn in New York City.
The Stonewall riots lasted for days and started a protracted battle for the rights of the LGTBQ community.
The discussion surrounding Section 377 of the Indian Penal Code, which sparked rallies across the nation, is linked to Pride Month in India.