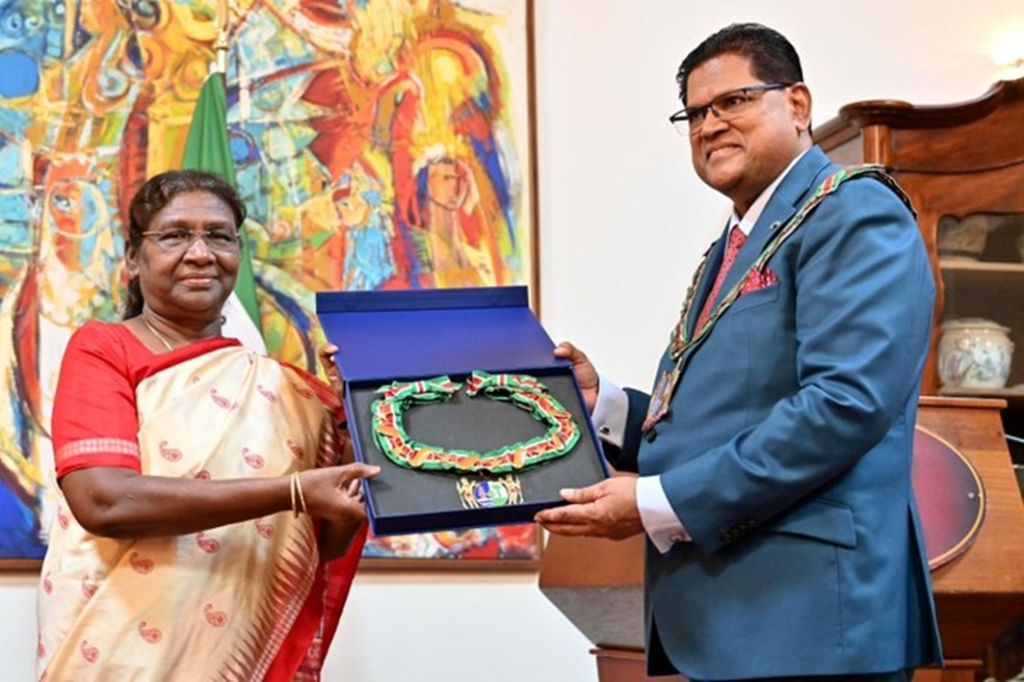 Prez Murmu receives Suriname's highest civilian honour.(photo:@MEAIndia)/IANS
New Delhi, June 6 (IANS) President Droupadi Murmu on Monday received Suriname's highest honour, the 'Grand Order of the Chain of the Yellow Star'.
Murmu is on her first state visit since becoming president of the country, to Suriname.
"I am greatly honoured to receive Suriname's highest distinction, "Grand Order of the Chain of the Yellow Star," she said in a tweet through her official Rashtrapati Bhavan handle.
"This recognition holds tremendous significance, not only for me but also for the 1.4 billion people of India whom I represent. I also dedicate this honor to the successive generations of the Indian-Surinamese community, who have played a stellar role in enriching the fraternal ties between our two countries," she further added.
The president went on to add: "Receiving this decoration during the historic commemoration of the 150th anniversary of Indian arrival in Suriname makes it more special. If this honor serves as a beacon of empowerment and encouragement for women in both our countries, then it becomes even more meaningful."
Murmu is on a three-day visit to Suriname, which will conclude on Tuesday.
Several agreements were also signed between the two countries during the president's visit.
The first MoU related to pharmaceuticals, and drug regulators for cooperation in the field of medical product regulation, exchange of good practices and capacity building.
Another MoU related to the pharmaceutical sector was signed.
The recognition of Indian pharmacopoeia by the Suriname side is expected to facilitate the sale of pharma products manufactured by India in Suriname as per Indian pharmacopoeia standards.
A joint work plan in agriculture and allied sectors for the period 2023 to 2027 under an existing MoU was also signed and exchanged.
The buyer's credit which India had extended to Suriname has also been restructured.