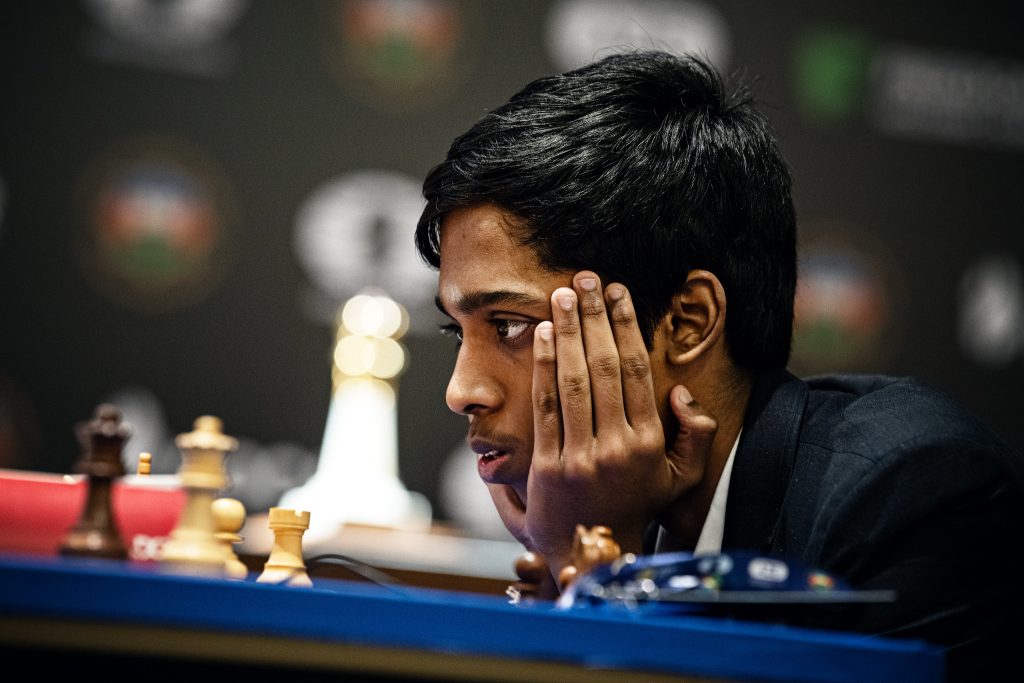 Venkatachari Jagannathan
Chennai, Sep 3 (IANS) Eighteen-year-old Indian chess Grandmaster (GM) R. Praggnanandhaa (ELO rating 2,727) last month became the second Indian after former world champion GM Viswanathan Anand to enter the Candidates Tournament to be held in Canada next year.
And he did that in style at the recently-concluded FIDE World Cup held at Baku, Azerbaijan, knocking out world No. 2 and 3 — GM Hikaru Nakamura (2,787) and Fabiano Caruana (2,782) of the US, respectively — before going down to world No. 1 Magnus Carlsen (2,835) of Norway in the final, losing in tie-breaker.
As of now, Praggnanandhaa is keeping Indian hopes for the chess world title alive as the winner of the Candidates Tournament will challenge the reigning global chess king China's Liren Ding (2,780).
"Praggnanandhaa can become the world champion in three to five years' time, if not now," GM R.B. Ramesh, the young prodigy's chess coach, told IANS.
Praggnanandhaa, according to Ramesh, is a balanced person, taking everything — win or defeat — in his strides.
"He is not overawed by his opponent's stature or rating. When he came to me as a seven-year-old, he used to believe that an opponent is just an opponent, higher or lower rated. If he is a higher-rated player, it is an opportunity to learn, and if he is a lower-rated player, then play carefully. All the top-rated players started with a low rating, and this has been drilled into his mind and he follows that," Ramesh said.
Interestingly, for both Praggnanandhaa and Carlsen, it was their maiden World Cup tournament with one winning and the other coming second.
It was Praggnanandhaa's father Rameshbabu, a banker, who had approached Ramesh to coach his son and elder daughter and woman GM R. Vaishali at a function held to felicitate the young champion who had just won the world U-8 title.
It is going to be nearly a decade since Praggnanandhaa came under Ramesh's fold.
"At that time, Vaishali was stronger. The sister-brother duo realised that they are talented in chess and also understood the importance of hard work and had the mind set for that," Ramesh said.
According to him, till Praggnanandhaa became a GM, he was weak in the opening moves and used to get into time trouble because of that.
A very good positional player, Praggnanandhaa would make up for the weak openings in the middle game and sail through, Ramesh added.
After becoming a GM, Praggnanandhaa focused on his openings and now one can say that he is an expert and also one of the best end-game players, Ramesh said.
Even after scaling new heights, the success did not go into their heads as they continued to remain simple as before.
"Perhaps they imbibed that from their parents," Ramesh said.
Praggnanandhaa became the youngest to become an International Master (IM) and GM at the age of 10 and 12, respectively.
However, Ramesh had drilled into his wards' heads that they are students till they become world champions.
One of the striking features about Praggnanandhaa is that he is not emotional and takes things as they come. He might win against a top player, but he would focus on performing well in the next round or tournament, Ramesh added.
"Praggnanandhaa is a very humble and joyful guy who's good to hang out with," another young Indian GM, Arjun Erigaisi (19), who made it to the quarterfinals in Baku, told IANS.
Interestingly, Erigaisi, the world No. 5 in the juniors' category, lost to Praggnanandhaa in the World Cup quarterfinals.
The two players used to go out for walks in the morning in Baku.
Being the World Cup runner-up and entering the Candidates Tournament was the great double birthday present that Praggnanandhaa gave himself after celebrating the same on August 10 in Baku.
Following the stellar performance at the recently-concluded World Cup, Praggnanandhaa's ratings went up as he entered the top 20 club in the world in the open category besides becoming world No. 3 in the juniors' section.
For Praggnanandhaa, it all started at his home watching his elder sister Vaishali play chess.
According to their mother R. Nagalakshmi, the two children breathe chess and nothing else and avoid other diversions. The siblings are also not interested in movies and television shows.
An Arjuna Awardee, God-fearing Praggnanandhaa sports the sacred ash on his forehead and makes his first move after praying to the Almighty.
"He does not have any favourite Hindu deity. He just prays before making the first move," Nagalakshmi said.
According to her, the two watch TV only while eating and they like home-cooked food.
At home, the siblings play chess and also "discuss and dissect" other games.
Praggnanandhaa also plays table tennis, badminton and watches only nail-biting cricket match highlights.
While the siblings decimate opponents, their parents juggle their work schedule to accompany their wards on domestic and international trips.
Nagalakshmi accompanies them a lot. But the issue crops up when the two have to play in different countries at the same time.
The accolades also come at a cost, as the family members have to skip several social functions.
As regards the funds, the city-based Ramco group financially supported Praggnanandhaa.