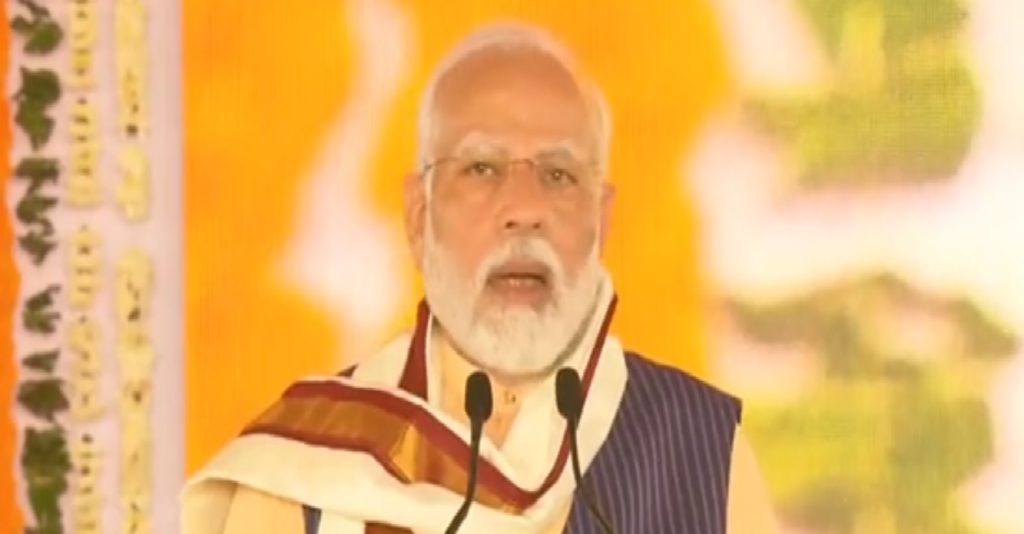 Nizamabad (Telangana), Oct 3 (IANS) Prime Minister Narendra Modi on Tuesday launched various projects worth Rs 8,000 crore in Telangana.
At a programme held here, he dedicated to the nation first 800 MW Unit of phase 1 of Telangana Super Thermal Power Project of National Thermal Power Corporation (NTPC) which has come up in Peddapalli district.
He said the second unit will also start soon, taking the installed capacity of the plant to 4000 MW.
PM Modi said he was delighted to note that this is the most modern plant of the NTPC plants in the country. A large share of electricity produced in this plant will be supplied to Telangana.
"Our government not only starts a project but also completes it. I remember I had laid the foundation stone for this project in 2016 and today I got the opportunity to inaugurate it. This is new work culture of our government," he said.
In a boost to Telangana's rail infrastructure, the Prime Minister dedicated to nation rail projects including the new railway line connecting Manoharabad and Siddipet; and the electrification project between Dharmabad — Manoharabad and Mahabubnagar — Kurnool.
The 76 km long Manoharabad-Siddipet rail line will boost the socio-economic development of the region, especially in the districts of Medak and Siddipet. The electrification project between Dharmabad – Manoharabad and Mahabubnagar – Kurnool will help in improving average speed of trains and will lead to environment-friendly rail transport in the region.
PM Modi noted that Indian Railways has set the target of 100 per cent electrification of all rail lines goal in next few months
He also flagged off Siddipet – Secunderabad – Siddipet train service, benefiting the local rail commuters in the region.
PM Modi laid the foundation stone of 20 Critical Care Blocks (CCBs) across the state under Pradhan Mantri – Ayushman Bharat Health Infrastructure Mission. These CCBs will be built in the districts Adilabad, Bhadradri Kothagudem, Jayashankar Bhupalpally, Jogulamba Gadwal, Hyderabad, Khammam, Kumuram Bheem Asifabad, Mancherial, Mahabubnagar (Badepally), Mulugu, Nagarkurnool, Nalgonda, Narayanpet, Nirmal, Rajanna Sircilla, RangaReddy (Maheshwaram), Suryapet, Peddapalli, Vikarabad and Warangal (Narsampet).
Modi said his government took many steps during the last nine years to make healthcare available and affordable.
He said that the world's largest health insurance scheme Ayushman Bharat is being implemented in the country. In Telangana more than 70 lakh people got guarantee of free treatment of up to Rs.5 lakh.
The Prime Minister said CCBs will have dedicated isolation awards and oxygen supply.
Telangana Governor Tamilisai Soundararajan and Union minister for tourism and culture G. Kishan Reddy were also present.
This was the Prime Minister's second visit to Telangana in three days. He had earlier launched projects worth Rs.13,500 crore in Mahabubnagar on October 1.