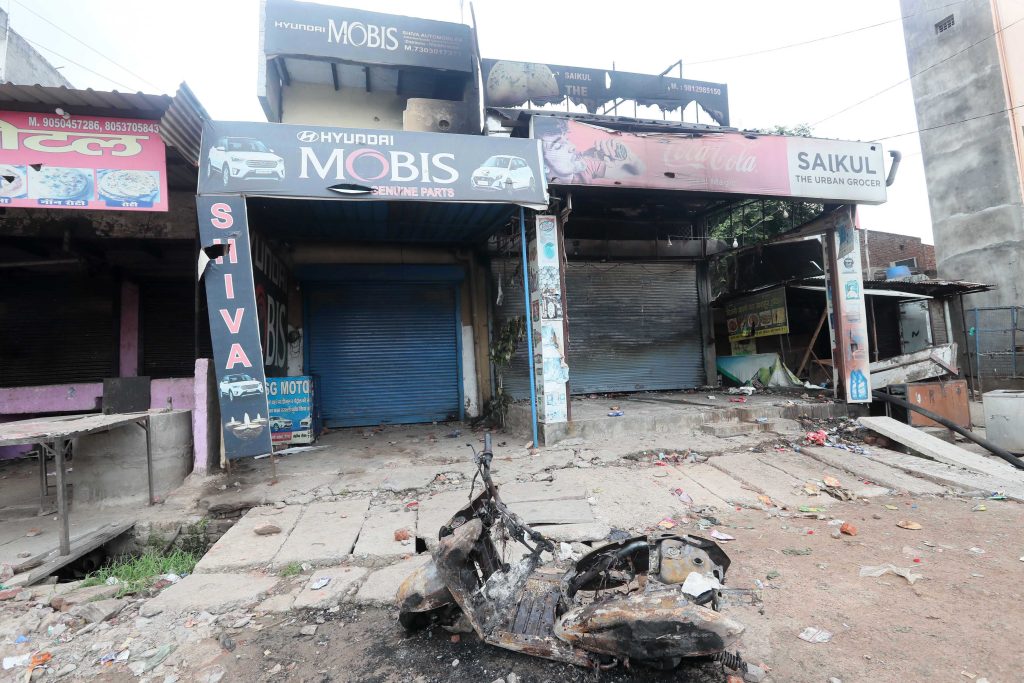 Parvesh Sharma
Gurugram, Aug 6 (IANS) Nestled in the lap of the rugged Aravali mountain range, Haryana's Nuh district — which was once famous for its scenic beauty — has gained notoriety in recent years as a hotspot of cybercrime, cattle smuggling, illegal mining and religious violence.
The district attracted attention in recent years after the sensational murder of DSP Surender Singh, who was crushed to death during a raid to stop illegal mining in the Aravali area.
Nuh, located less than 100 km from the national capital, is again in the limelight due to the communal violence that erupted on July 31 in an attempt to stop a Vishva Hindu Parishad (VHP) procession.
However, several factors have contributed to this transformation. And one such factor is that the district continues to be a cybercrime hotspot is its unique demography.
The other major factors are unemployment and backwardness.
The cyber criminals in Nuh are notorious for frauds involving online marketplace websites like OLX and extortion by making fake social media profiles.
Previously, Jamtara, a district in Jharkhand, had similarly emerged as a notorious region for phishing attacks across the country.
In Mewat, also in Nuh, swindlers have been found targeting innocent people across several states.
In April, the Haryana Police had busted a cybercrime gang in the district. A 102-member police team conducted raids in 320 locations and detained 126 people, out of which 65 were arrested.
This was the country's biggest raid against cyber criminals.
During the raids, police recovered 166 fake Aadhaar cards, 128 ATM cards, 99 Sim cards, 66 mobile phones and 5 POS machines.
The district was again dragged into the limelight following the July 31 communal riots which broke out during a Brij Mandal Jalabhishek rally organised by the VHP, which led to the deaths of at least six people, including two policemen.
After the riots, two people are being held responsible for spreading hatred in Haryana — Mohit Yadav alias Monu Manesar. a resident of Manesar and a self-proclaimed cow vigilante; and Bittu Bajrangi a resident of Faridabad, who is also the President of the Goraksha Bajrang Dal.
Ahead of the VHP rally, a video of Bittu Bajrangi surfaced on social media, while Monu Manesar also openly announced his participation by posting several videos on social media, calling Hindu organisations to participate.
The situation is under control in Nuh and adjoining districts, while Section 144 is imposed and internet services suspend to avoid any untoward incident.
Nuh has witnessed a gradual increase in communal violence as well as the rise of right-wing cow vigilante groups.
In May 2021, a maha panchayat was held in Mewat's Indri village where several anti-Muslim hate speeches were made by Hindutva leaders in support of the accused of mob lynching violence.
The Nuh police have identified 90 villages serving as the epicentre of cow smuggling and slaughter in Mewat.
Mewat has been a hotbed of cow smuggling activities. A group of cow vigilantes along with the Haryana cow protection task force curb the illegal transportation of cows to Mewat.
Nuh, with a predominantly Muslim population, is also one of the most backward regions in the country.
Sharing its border with I-T hub Gurugram, Nuh still happens to be the most backward district due to the poor literacy rate and the water crisis worsening the economic conditions.