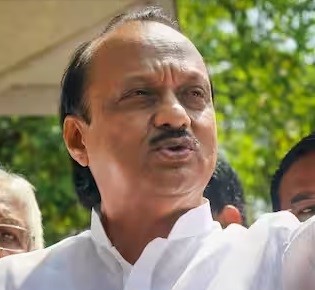 Mumbai, July 25 (IANS) Maharashtra Deputy Chief Minister Ajit Pawar has chided the leaders of the breakaway Nationalist Congress Party for their persistent clamour that he should become the Chief Minister, sources said here on Tuesday.
For the past three weeks, some sections of the NCP (AP), including MLC Amol Mitkari have been predicting that he would or should become the next CM soon, unnerving Chief Minister Eknath Shinde's Shiv Sena.
Ajit Pawar is understood to have conveyed to his party leaders to "refrain from repeatedly raising the issue of his becoming the CM" as it was resulting in strains among the 3-party ruling alliance, said a party leader.
Even the Opposition Maha Vikas Aghadi (MVA) allies Congress-NCP (SP)-Shiv Sena (UBT) frequently needled the Shinde camp with sombre predictions over the CM's fate.
On Tuesday, Sena (UBT) MP Sanjay Raut again reiterated that after the Speaker's verdict on the fate of disqualification of the 16 MLAs, including the CM, "Shinde will have no options but to quit".
Congress's ex-CM Prithviraj Chavan on Monday authoritatively said that a change in CM was inevitable after the Speaker's verdict around August 10, while Amol Mitkari posted leading tweets when Shinde and his family called on Prime Minister Narendra Modi in New Delhi last weekend.
Amidst the smoke and confusion, the Bharatiya Janata Party's Deputy CM Devendra Fadnavis on Monday chose to speak out and categorically declared that "Shinde will remain the CM" and there was full understanding among the three ruling allies on the issue.
"As the leader of the largest single party in the government, I am officially informing that Shinde will continue as the CM and Ajit Pawar will not become the CM of Maharashtra," Fadnavis asserted, burying all political speculation on this count.
He revealed that this has been absolutely clear to Ajit Pawar who has agreed, and had even mentioned the same in his speech.
Fadnavis even took a swipe at the Opposition leaders for peddling rumours and urged them not to confuse the people on this matter.
To a query, he added that if at all anything is going to happen around August 10, it would be the proposed cabinet expansion on which the CM will take the final call. In the past few days, several ruling Shiv Sena leaders and ministers have spiritedly defended Shinde from the onslaught over a possible change of guard, declaring he will continue as CM till October 2024.