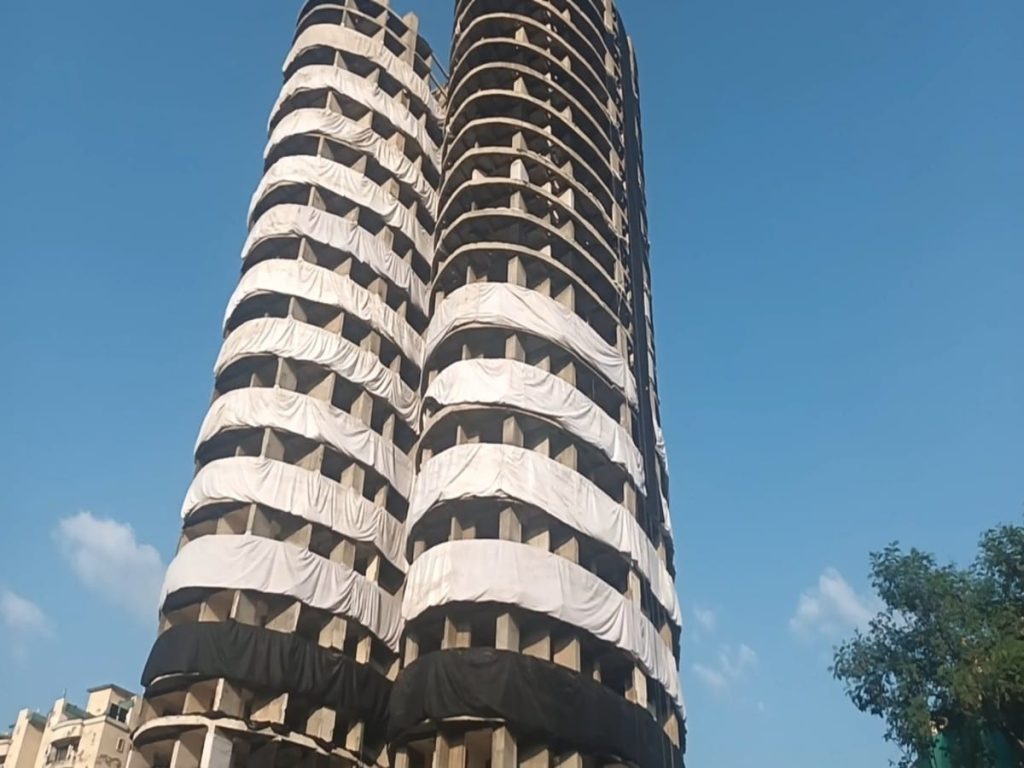 By Durga Chakravarty
Noida, Aug 26 (IANS) It was another hot and sultry day in the open but the discomfort meant little for residents of Emerald Court as they gathered around a priest in the western corner of the housing society that 13 months ago faced an existential crisis.
Residents put up a sign board with "Vijay Path" emblazoned on it to mark a cobbled path built to demarcate the 660-flat society and an open site of the fallen twin towers, which were built illegally by the Supertech Group in connivance with corrupt Noida officials.
On the Supreme Court's orders the towers which blocked air and sunlight to Emerald Court were turned into 80,000 tons of rubble on August 27, 2022.
Until then it was emblematic of the corruption involving members of the Noida bureaucracy and realtors who have flocked to the boomtown of wide boulevards, swanky malls, pubs, restaurants and executive golf clubs to rake in thousands of crores in profit.
"We fought well against Supertech and so let this message go down," Emerald Court RWA president U.B.S Teotia said as the priest showered residents with Shanti Jal.
Teotia took the battle against the powerful business group to the Allahabad High Court which on 12th April 2014 ordered the demolition of Supertech's semi-finished towers where 633 of the 915 apartments had been booked by home buyers, eager for a taste of promised luxury.
Seven years later, the Supreme Court upheld the lower court's verdict and by that time 133 home buyers had reinvested in other projects of Supertech, 248 had taken refund but 252 clung on until the end hoping for a miracle.
K.K. Mittal, a chartered accountant, accepted a swap deal but for years he had to wait for the statutory completion certificate for a flat he chose at Supertech's Azure Heights project in Noida.
"Wish we too had not accepted the hollow assurances of Supertech," said a Noida lawyer who appeared unsure if the apartment he accepted in the swap deal was at par in value with flats of Emerald Court, also built by Supertech.
"We should have read the performance and past history of realty firms before investing our life's savings," said the lawyer alluding to controversies and complaints of financial jiggery-pokery dogging a group of real estate firms that have set up base in Noida.
Even the Comptroller and Accountant General (CAG) seems to agree with the home buyers left in the lurch in Noida, now India's second software hub after Bengaluru with a young population of professionals eager to invest in the real estate industry.
The national auditors said nearly 80 percent of commercial land in Noida was sanctioned to three high-flying builders who defaulted in paying their dues leaving hundreds of investors' in the lurch for over a decade.
CAG in a report to Parliament in 2021 named Wave, Three C and Logix Group and said they had cornered the lion's share of Noida projects between 2005 and 2018 but defaulted in paying dues to the Noida administration for 43,438 of the 100,005 flats they built.
"This position of non-completion of projects is evidence that Noida has created conditions for bypassing its own stipulations by allowing financially ineligible bidders to garner more plots on the back of insufficient net worth thereby extending undue favours to them," it said. CAGs scrutiny of the affairs in Noida has spotlighted others including Supertech, which became an infamous household name ever since its two towers were razed within nine seconds in India's biggest ever peace time demolition.