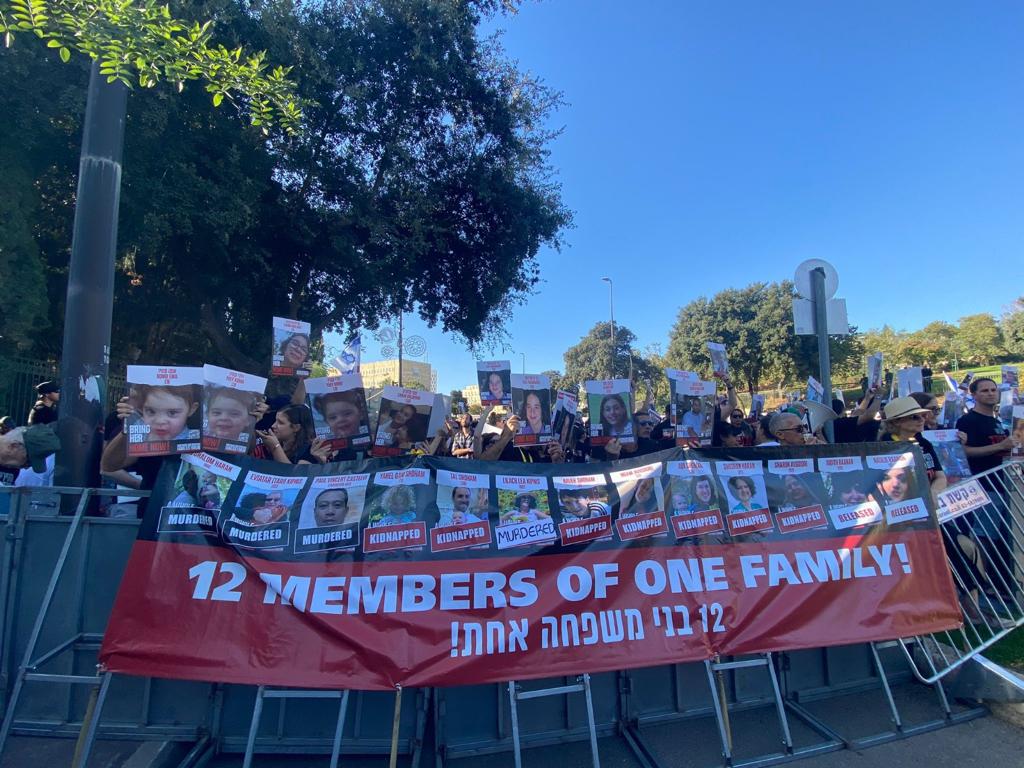 Tel Aviv, Nov 6 (IANS) in an emotionally-charged atmosphere, hundreds of family members of hostages and missing persons from the Gaza envelope arrived at the Knesset building here on Monday, and demanded answers from the elected officials regarding the return of their loved ones.
Inbar Goldstein, whose brother and niece were murdered, while her sister-in-law and her three children were all kidnapped from their home in Kibbutz, took the stage in shackles, saying that there will be no victory for the state of Israel without the return of the hostages.
She said, "You there in the Knesset, whose hands are not shackled, can you say that you are doing everything necessary so that they return home? We will recreate Be'eri from the ground up. We will build the new Kfar Aza. We will do this with all the allies we have gathered along the way. Hope dies last."
Yamit Ashkenazi, sister of Doron Steinbrecher, who was kidnapped from her home in Kibbutz, said: "My little sister, ray of sunshine, full of compassion and love, heard the terrorists shooting at her outside the house. She is a hero – she managed to send a voice message to her friends saying 'they caught me'."
Yamit added that her sister needs medication but no one has reached her.
"I appeal to the Israeli government and to the governments of the world – bring them back," Yamit said.
Kamelia Hoter Yishai, whose son-in-law was murdered along with her eldest grandchild, and her 13-year-old granddaughter Gali was kidnapped from her home in Kibbutz, said, "They failed to open the shelter door so they decided to burn down the house with its residents inside.
"Can you imagine your daughter, 13, in pajamas, barefoot at her home, kidnapped to Gaza? Our Gali is your child. I stand here on behalf of grandmothers, on behalf of the communities of the envelope, and on behalf of my friends from Kibbutz.
"I call on Prime Minister (Benjamin) Netanyahu to bring back all the hostages at any cost. You (Netanyahu) are responsible for bringing her and all the other hostages back."
Nir Meir, Secretary General of the Kibbutz Movement, said, "I stand here with a heavy heart… More than half of the hostages were taken from our courtyards. For me, these are not just numbers. These are friends. This is an inconceivable price there is no way to come to terms with. We will not abandon you. The Israeli government abandoned the Kibbutzim of the periphery, but we will not allow it to abandon our hostages in Gaza."
The Hostages and Missing Persons' Forum has been doing commendable work among the public by creating awareness and putting pressure on the government to bring back the hostages.
It has held programmes in several world capitals and met with the Vice President of the United States, Kamala Harris, and other world leaders to create a narrative in global capitals.
The forum has already commenced the campaign 'No ceasefire without hostages released'.