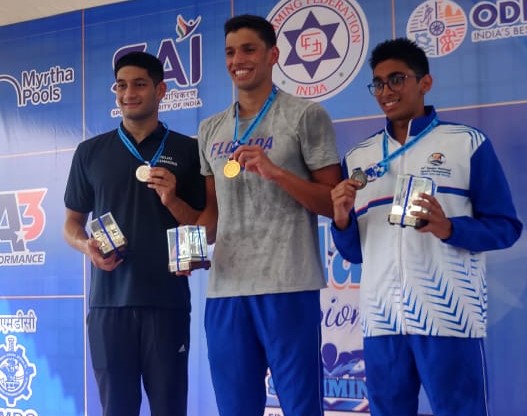 Hyderabad, July 2 (IANS) Nina Venkatesh set a new National Record in women's 50m butterfly event heats in the 76th National Aqatics Championship 2023 as four new meet records (NMR) were also set on the opening day of the four-day event here on Sunday.
Nina Venkatesh first set in the national record in the heats, clocking a time of 28.01 seconds in the Women's 50m Butterfly. She improved on the existing record of 28.33 set by Divya Satija in Bhopal in 2019.
Nina Venkatesh then went on to further improve her record in the final of the women's 50m butterfly with a timing of 27.34, thus improving her own record.
While Nina Venkatesh set the stage on fire in women's 50m butterfly, Aryan Nehra in Men's 400m freestyle, Lineysha in women's 200m breaststroke and Olympian Maana Patel in women's 100m backstroke also set new records.
Gujarat swimmer Nehra won the men's 400m freestyle in 3:52.55 to break the record of 3:53.68 set by Kushagra Rawat in Bangalore in 2021. On Sunday, Delhi's Rawat finished second in 3:55.45 while Karnataka's Aneesh S Gowda came third in 3:57.86.
Lineysha set the other record in the women's 200m breaststroke in 2:37.35, the Karnataka girl improving on her own mark of 2:39.38 set in Guwahati last year. S Lakshya of Karnataka finished second in 2:41.13 while Venika Parith of Gujarat took third place in 2:43.41.
Maana Patel of Gujarat, who represented India in the Tokyo Olympics in 2021, stood first in the Women's 100m backstroke in 1:03.48 to improve her own record of 1:04.33 set in Trivendrum in 2018.
Among the other prominent winners, veteran Veerdhawal Khade in the men's 50m butterfly in 24.33 with Tamil Nadu's Benediction Rohit B coming second in 24.62 seconds. Mihir Ambre of Maharashtra ended third in 24.78.