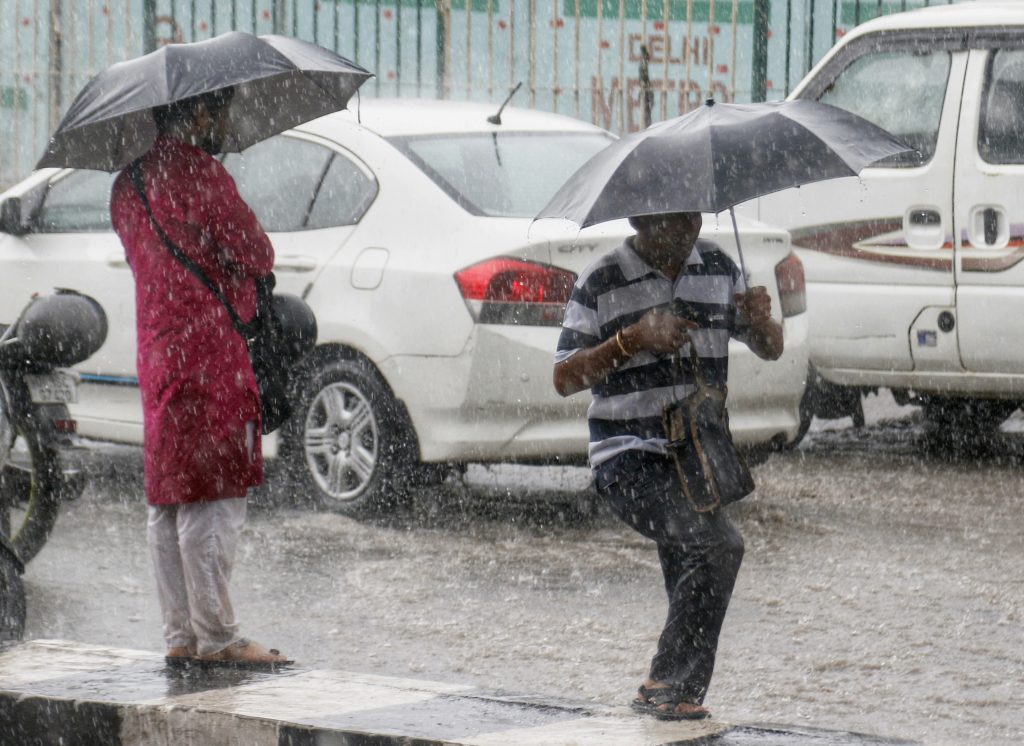 Shekhar Singh
New Delhi, July 16 (IANS) The 2023 monsoon season has brought unprecedented rainfall to several parts of India, with July 1 to July 12 witnessing record-breaking downpours.
While some regions experienced excess rainfall, others faced dry conditions.
Delhi, Chandigarh, and Himachal Pradesh shattered numerous rainfall records, while parts of the country struggled with a rainfall deficit.
During the period from July 1 to July 12, almost all 36 states and Union Territories witnessed excess and large excess rainfall. Among them, 29 states and UTs recorded large excess rainfall, surpassing the normal levels by a staggering 61 percent to 10,000 percent.
The India Meteorological Department (IMD) classifies rainfall as "normal" when it falls within the range of -19 per cent to 19 per cent, "deficient" between -59 per cent and -20 per cent, and "large deficient" from -99 per cent to -60 percent.
"Excess" rainfall refers to a range of 20 per cent to 59 per cent above the average, while "large excess" denotes rainfall exceeding 60 per cent of the normal levels.
"On July 9, Chandigarh, Delhi, and Himachal Pradesh witnessed large excess rainfall, shattering several records for extreme rainfall. Punjab received rainfall surpassing the normal levels by a staggering 1,100 per cent, with all 22 districts experiencing excess or large excess rainfall," as per the IMD data.
In Punjab, Fazilka recorded over 7,650 per cent of its normal rain on July 9, followed by Faridkot (3,355 per cent) and Rupnagar (3,156 per cent). These figures highlight the need for regional-level estimates when planning for adaptation to such extreme events, as the impact varies across different areas.
Delhi, too, encountered excess and large excess rainfall on five out of eight days between July 3 and July 12. On July 9, the city received 221.4 millimeters of rain, exceeding its long-period average for July. The heavy rains on July 8 and 9 broke a 40-year-old record, as acknowledged by the IMD.
July 6, stood out as a significant day during this period, with 22 states experiencing excess or large excess rainfall. Among them, 16 states across all regions, namely North West, Central, South Peninsula, and East and North-East, recorded large excess rainfall.
Chandigarh bore the brunt of these extreme rains, receiving 20.4 millimeters of rain compared to the normal rainfall of 1.2 millimeters.
On July 4, seven states, including Puducherry, Lakshadweep, Andhra Pradesh, Tamil Nadu, Kerala, and Karnataka, recorded large excess rains, with six of them belonging to the South Peninsular region.
A closer analysis of rainfall patterns reveals that Goa witnessed intense rainfall on July 3, exceeding its normal rainfall by over 186 percent. This was followed by Meghalaya (excess of 121 percent) and Bihar (excess of 84 percent) in the East and North-East regions.
While excess rainfall is common in July, the intensity and resulting devastation caused by this year's rains have been unprecedented.
"It was mainly due to confluence of two major systems over the region mainly observed during 7-12 July.
"Monsoon systems supported with active monsoon trough located at south of the normal position with moisture laden easterly/southeasterly in the lower levels with and a very slowly west-ward moving active western disturbance which lay as a north-south intense convergence line from extreme northeast Pakistan to northeast Arabian Sea and ran across Gujarat-west Rajasthan at the middle and upper tropospheric level, during the same period," said the official.
"Further, with the formation of an induced Low-pressure area during 9-11 July and its associated cyclonic circulation over Rajasthan, Western end of the monsoon trough became intense and there was sustaining of moisture incursion in the lower levels over the region both from the Arabian Sea and Bay of Bengal during the period," the official added.
Another IMD official said that currently, warm El Niño-Southern Oscillation (ENSO) neutral conditions are prevailing over the equatorial Pacific.
"The sea surface temperatures (SSTs) across most of the equatorial Pacific Ocean are warmer than normal and near El Nino threshold value. The latest forecasts from MMCFS and other global models indicate high probabilities for the El Niño conditions to develop during the middle of the monsoon season and continue till the first quarter of 2024," the official said.
Interestingly, even though some states received excess or large excess rainfall, 20 states experienced below-normal rains, creating an imbalance across the country.
Southern Peninsular states such as Kerala and Karnataka remained rain-deficient, according to the data from the IMD covering June 1 to July 12.
As India grapples with the aftermath of these extreme monsoon rains, the focus shifts to recovery and relief efforts, highlighting the urgency of preparing for increasingly unpredictable weather patterns.