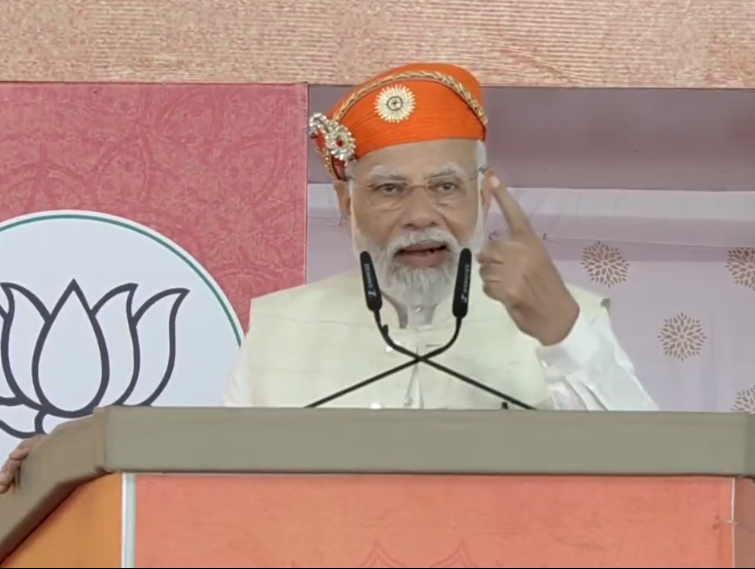 Bhopal, Oct 2 (IANS) Prime Minister Narendra Modi on Monday said that due to the efforts of BJP's double-engine government Madhya Pradesh is now among the top-ten progressive states of the country.
"Until few years back, MP used to be known as a 'Bimaru' (ill) state but the double-engine government has transformed into one of the top 10 states in the country.
"Now, we have to make MP a top three developed state in the next few years and it can happen with support of the people," Modi said after he foundation stone of various development projects in Gwalior, Madhya Pradesh.
Addressing gathering in Gwalior, Modi said the land of Gwalior is a symbol of bravery, self-respect, pride, music, taste and mustard. He emphasised that the Gwalior has shaped the policies and the leadership of the ruling party and gave examples of Vijaya Raje Scindia, Kushabhau Thakre and Atal Bihari Vajpayee.
Modi said that they (Congress) got an opportunity to run the government for 60 years, but they did nothing except divide the people for their political gain.
He said that Gwalior and Chambal are becoming land of opportunity which is a result of the hard work of the government after earlier times of lawlessness, underdevelopment and violation of social justice.
"Modern infrastructure and robust law and order benefit both farmers and industries whereas both the systems collapse with the presence of an anti-development government."
He said that PM Vishwakarma Yojana will benefit Kumhar, Lohar, Suthar, sunar, malakar, darji, dhobi and cobblers and barbers. "Modi has launched a huge campaign to bring them forward," he said.
He said that the government will cover the costs for their training and also hand out Rs 15,000 for modern equipment. He also noted that cheap loans worth lakhs of rupees are being offered to them. "Modi has taken the guarantee of the loan of Vishwakarmas," he said.
He also laid foundation stone of projects including Delhi-Vadodara Expressway, Jal Jeevan Mission projects, nine health centers, dedication of academic building of IIT Indore and laying the foundation stone for hostel and other buildings on campus and a Multi-Modal Logistics Park in Indore.