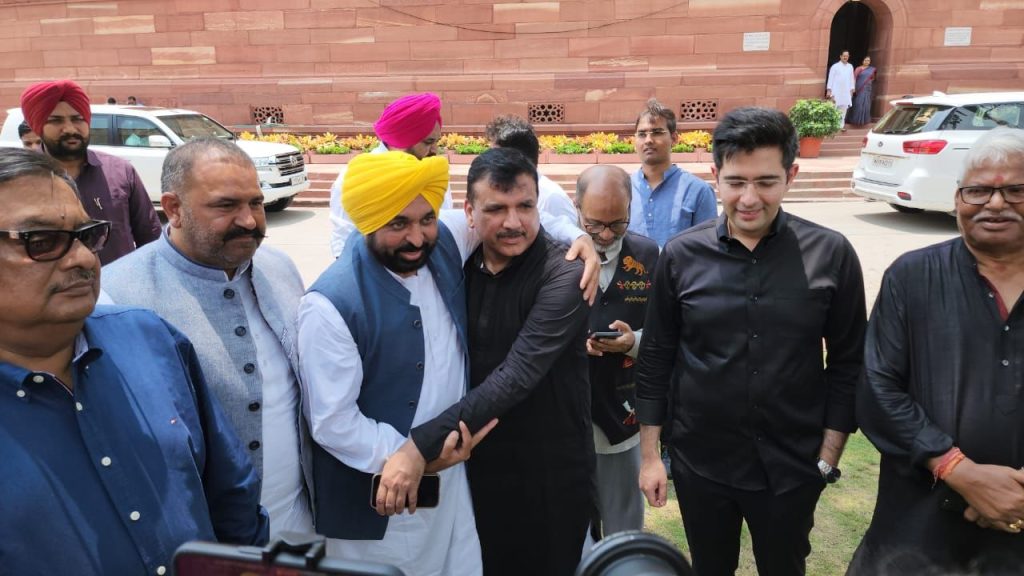 New Delhi, July 27 (IANS) Punjab Chief Minister Bhagwant Mann on Thursday slammed the NDA government led by Prime Minister Narendra Modi for "muzzling the voice of Opposition" and "promoting politics of hate in the country".
The Chief Minister, who joined the protesting opposition MPs against the suspension of AAP Rajya Sabha member Sanjay Singh, said unfortunately the ruling alliance doesn't allow the members to raise the issues of public concern.
"If exercising his democratic right any MP comes in the well of the House, he is unlawfully suspended, which is very shameful," he said, adding that this dictatorial way of suppressing the voice of elected representatives of the people that too in this 'temple of democracy' is unwarranted and undesirable.
The Chief Minister said "silencing the Opposition for political gains is not a new thing in this dictatorial regime".
He said in the last nine years the opposition has been completely ignored by the ruling alliance by using various tools. "The bills are passed amid ruckus created in the august house without even bothering to get the consent of all the members," he said, adding that "this is a blot of the entire democracy".
The Chief Minister said all MPs having a conscience are with Sanjay Singh and are staging a protest here.
"The Prime Minister loves to talk in his 'Mann ki Baat' but he is never ready to listen to what the people of the country have to say," he said, adding that "the wise and democracy loving people of the country will never accept this and will teach a befitting lesson to the BJP and its allies for this sin".
The Chief Minister said Modi and company are jeopardising the democracy in the country. He said that "if the country is to be run by 30 people including Prime Minister, Home Minister and their 28 Governors, then why should huge money be wasted on conducting elections".
"This is a dangerous trend in the democracy which needs to be checked immediately".