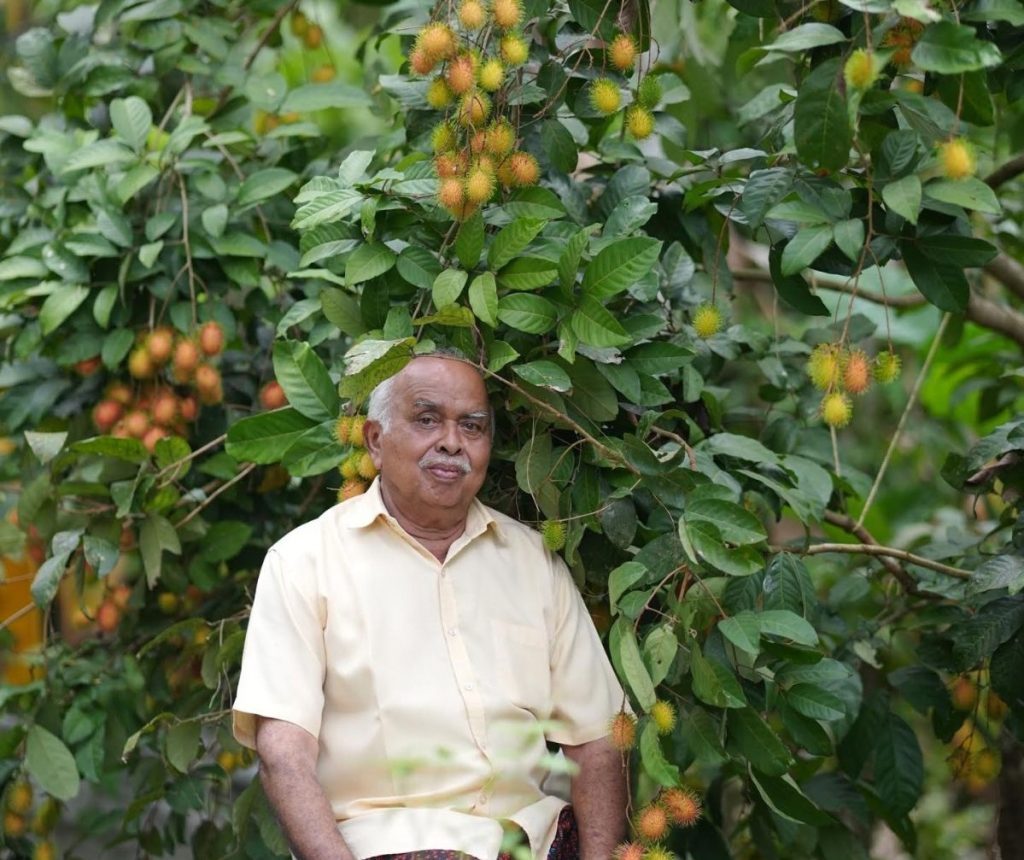 Lakshmi Unnithan
Kasargod/Wayanad (Kerala), June 30 (IANS/ 101Reporters) At 75, one would expect Joy Joseph to lead a carefree retired life. But he never gets tired of his daily routine, which begins at 5.30 a.m. He makes his black coffee and gets to work in no time, milking his only cow, feeding hens, ducks and quail and collecting their eggs, before heading to the kitchen to make breakfast.
Ever since his wife's death four years ago, Joy has been cooking by himself mostly. Not just for himself, but also for the two farm hands at the eight-acre farm surrounding his house. At times, a woman in the neighbourhood assists him with the kitchen chores.
Stepping into his forest farm in Palavayal in Kasargod district of Kerala, one need not take a second look to commend his stupendous work. Over 30 varieties of fruit trees, tubers, shrubs and cash crops, including rambutan, banana, mango, sapota, jackfruit, moringa, cocoa, coffee, coconut, nutmeg and arecanut, grow in multiple layers in the farm.
"Monoculture plantations of arecanut or coconut are a thing of the past. All the farmers here have understood the advantages of multi-strata canopy structure and diversified income. Climate is unpredictable and soil less fertile, so production of coconut and arecanut has been fluctuating since 2000," says Joy, while helping himself with a bowl of rice gruel and non-vegetarian side dishes.
After the 8 a.m. breakfast, the enterprising farmer and workers move quickly to fulfil farm gate orders. The farm activities depend on the schedule of harvesting of each crop. Mulching, composting and pruning will go on until 5 p.m., except for the one-and-a-half-hour lunch break.
Nothing comes easy for Joy. His son lives in Canada, while his schoolteacher daughter is married and settled nearby. He seldom depends on anyone and is driven by the love of farming despite the teething troubles due to soil degradation, high cost of seeds and fertilisers, Kerala's typical high wages and poor market pricing for products.
Soil as the provenance of life
Major and micro nutrient levels are generally low in Indian soils, while the average soil organic carbon concentration is 0.54 per cent. Landslides and floods have wreaked havoc in Kerala in recent years, and 71.28 per cent of the state's geographical area has eroded.
An agroforestry farm is believed to sequester carbon better because of its greater capacity to capture and utilise water, sunlight and nutrients than a single-species crop. Simultaneously, higher organic carbon content in the soil is associated with higher species richness and tree density.
"In hilly regions, each portion of the farm is at a different layer. We do contour farming that reduces runoffs and prevents erosion. Both soil fertility and crop yield increase when we practice agroforestry," says Joy.
The fallen branches and leaves mulch at the base of the plants, reduce evaporation and enhance soil properties to control runoffs, erosion, weeds and salinity. Regulation of soil temperature, better nutrient infiltration and improved soil structure are the other positives of agroforestry.
"The soil, biodiversity and climate are changing, but not all farmers have understood them," Sunil Kumar (52), a farmer and entrepreneur from Sulthan Bathery in Wayanad district, tells 101Reporters. He adopted a fruit-based agroforestry model when plantation crops declined in yield. At present, avocado, litchi, passion fruit and other varieties thrive in his two-acre plot.
Eldho Baby (58) of Pozhuthana in the same district cites the case of coffee plantations. "Coffee needs ample shade, like in a rainforest. However, the native tree species have mostly disappeared from the plantations due to unscrupulous human activities, monoculture and the lure of exotic fast-growing trees."
Poovam (Schleichera oleosa), venga (Pterocarpus marsupium), njaval (jamun), pottama (Trema orientalis), vatta (Macaranga peltata), ayanichakka (Artocarpus hirsutus), itti (Indian Rosewood), Karuppa/Patta (Cinnamomum malabatrum), Kolamavu (Persea macrantha) and Kodampuli (Garcinia cambogia) are among the native trees vanishing from these farms.
However, those who have understood the need to diversify have also realised the power of endless possibilities. They know one just needs to think and start creatively. Manuel Pallikamealil (75) from Wayanad's Mananthavady points to the sacred grove that ensures carbon neutrality in his over four-acre plot as he says, "There is going to be a time in future when pure air, clean water and good food are prioritised over money. Internationally, coffee, pepper and cocoa grown in rainforest conditions, groves and deep forests have a great demand already. It makes sense to protect the environment and keep growing for economic benefits."
Economic prospects
Agroforestry equips the farmer to sell a variety of products at the farm gate rather than depending on a single produce. However, according to Joy, finding the right consumers is the toughest of all jobs. He sells processed and value-added items from fruits in nearby markets, and cash crops to Fair Trade Alliance Kerala (FTAK).
"Cocoa, nutmeg, arecanut and coffee are major income generators. The FTAK picks them up from my home, so I do not have to spend on transportation. Per kg, I get approximately Rs 30 for coconut, Rs 80 for green cocoa, Rs 220 for dry cocoa, Rs 380 for arecanut, Rs 117 for coffee, Rs 2,500 for nutmeg mace and Rs 300 for nutmeg nuts. Rambutan and mangosteen are priced at Rs 250 per kg," says Joy.
Manuel believes a small and efficiently maintained agroforestry garden with an array of fruit trees, tubers and coconut will yield anywhere between Rs 40,000 and 60,000 per acre annually. It can cross Rs 1 lakh if coffee and pepper are also grown.
Manuel's main income is from the sale of tuber seeds, and he does not think twice about attending exhibitions to sell them. "Cassava, elephant foot yam, greater yam, sweet potato, taro and arrowroot can be successfully grown in orchards of arecanut, robusta coffee, mango, banana, avocado and rambutan," he says.
An organic farmer from Ambayathode in Kannur district, Johnny Athirkuzhi (50) says starchy roots and tubers partially meet the nutritional needs of his four-member family and farm animals. "However, it is the perennial crops that bring in the money. Cereals, vegetables, legumes, oilseeds and tubers aid in revenue generation."
Over a decade ago, K Saseendran (63) of Thekkumthara in Wayanad converted his paddy fields into an agroforestry garden by planting trees on raised beds. "The most profitable intercrops are nutmeg and coconut. The mature nutmeg mace fetch a minimum of Rs 2,500 per kg and its nuts Rs 350 per kg. I have planted rambutan, cocoa, jambakka, grapefruit, litchi, coconut, avocado, arecanut, santol and fig in the lower areas of my farm," he explains.
An agriculture sciences graduate, Sooraj Purushothaman (26) from Sulthan Bathery bets big on fruit trees. "I am in the process of replacing our 100-year-old coffee plantation with a fruit forest. Avocado and litchi have high market value and are sold at a premium. I have high hopes of getting a good income."
Testing times
The prohibitively high labour cost and pesticide use are among the main challenges that farmers face. Johnny claims he manages all the work in his 3.5-acre farm by himself, as otherwise it is not profitable. "The daily minimum wage here is Rs 1,000. High literacy rates and education have encouraged Keralites to look for better jobs elsewhere. Lesser the unskilled workforce, higher the wages. And we are totally dependent on the migrant workforce now."
Joy has an average annual turnover of Rs 10 lakh. But half of it goes into meeting expenses related to labour and plucking charges, organic fertilisers and plantation maintenance.
TC Joseph from Wayanad's Kattikkulam lists out the issues, when asked about his coffee plantation. "High labour, input and maintenance costs, unpredictable climate, fluctuating prices in the international markets are all problems that we face. I have made up my mind to sell estate portions close to the forest as conflicts with wild animals are on the rise."
The small landholders in Wayanad grow coffee as a monocrop or with pepper. With pepper yield also declining, farmers have been applying chemicals and fertilisers on it, which indirectly affects coffee. "Widespread use of chemicals in the pretext of increasing production has destroyed soil fertility," notes Joseph.
Mohammed Ali, Plant Genome Saviour Community Award winner and pepper coffee conservationist from Kalpetta, says only a switch to organic farming can bring about productive changes. "The idea should be to improve soil fertility at a low cost."
Saving for a rainy day
Kumar believes product diversification and value addition should be done at the farm gate itself by making use of the government schemes to buy machinery. But Joy thinks it is difficult to depend only on farm income. "I run a home stay under the Responsible Tourism Mission and get visitors regularly. They buy my juices, jams, pickles and dried bananas," he says.
Baby also has a homestay up and running. "The coffee yields fluctuate based on weather. So, I also maintain 15 cows at my farm to earn a daily income."
A dash of creativity has made Saseendran's agrotourism business a fun experience. He has consistently tried to restore a forest type ecosystem, with over a thousand species of timber and fruit trees. One can fish in the artificial pond he has created. Boating in the artificial lake, farm tours, fruit picking, hands-on cooking and trekking can be enjoyed in his seven acre plot. Farm stays are available for a reasonable price.
"I give them personalised guidance in creating fruit farms, and maintain a nursery solely for this purpose. It provides me with additional income," says Saseendran. No doubt, however small or big the land area, there are umpteen possibilities of growing diversity and achieving food security through agroforestry.
(Dr Lakshmi Unnithan is a Kerala-based freelance journalist and a member of 101Reporters, a pan India network of grassroots reporters)