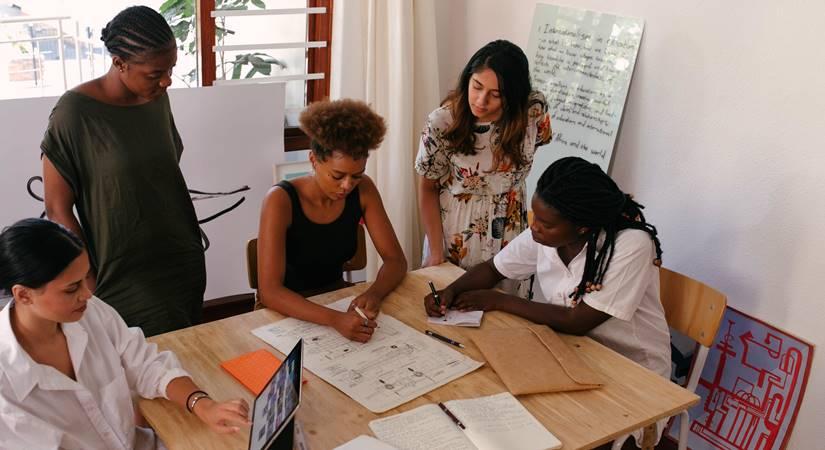 New Delhi, Nov 21 (IANSlife) In the vibrant landscape of India's entrepreneurial sphere, a formidable force of sharp-witted women has emerged, steering innovation, driving change, and achieving remarkable outcomes. This select group of individuals stands out not only for their business acumen but also for their determination to break barriers in traditionally male-dominated industries.
These extraordinary women who have not only shattered glass ceilings but have also become trailblazers in their respective fields. These entrepreneurs embody the spirit of tenacity and brilliance, navigating the intricate web of challenges with unparalleled grace and strategic prowess. Let's dive in deeper to know a little more about how these emerging women entrepreneurs became the founding face of their business model.
Kajal Malik
Kajal Malik is the Co-founder and CBO at PickMyWork. It's a gig platform that helps digital companies acquire end customers including shops for their products through a Pay-per-task model at a very low CAC. She takes care of Business development and Marketing. In 2012, Kajal graduated from NIT Kurukshetra with a B.Tech in Electronics and Communications Engineering. In 2013, she earned her MBA – Marketing, and Strategy from FMS- Delhi University. Right out of college, Kajal joined Samsung R&D, Noida as a Software Engineer and also worked as a Sales Manager for Mahindra Holidays where she was awarded, CSO (Chief Sales Officer) Club – R&R for commendable business contribution. PickMyWork was founded in 2019 by her and one other friend of hers, Vidyarthi Badireddy. PickMyWork is India's largest gig platform, assisting Internet companies in acquiring customers at a low CAC through a digitally equipped distributor network.
Richa Kar
Richa Kar, a trailblazing entrepreneur, co-founded Zivame in 2011, alongside her husband Kapil Karekar, establishing a transformative online platform for women's lingerie. With a bold and innovative vision, Richa has shattered societal taboos surrounding lingerie shopping in India. Zivame, under her leadership, has been a catalyst for change, revolutionizing the lingerie industry by empowering women to embrace and understand their bodies while facilitating the discovery of their ideal fit. Richa Kar's pioneering spirit has not only elevated Zivame to a prominent position in the market but has also played a pivotal role in reshaping the cultural narrative around intimate apparel. Her commitment to fostering body positivity and creating a safe space for women to explore and celebrate their individuality marks Richa Kar as a visionary leader in the realm of online lingerie retail.
Chetana C
Chetana C is the director at Quantum Energy. She has been a leader at the Kusalava Group for the last 17 years and has undertaken projects in various capacities. Prior to Kusalava, she has also worked with Wipro. She is a Computer Science Engineer from the Gayatri Engineering College and has fortunately attended the prestigious ISB PGPMax program.
Tanya Swetta
Tanya Swetta is a global entrepreneur and the Co-Founder and CEO of id8 Media Solutions, a prominent integrated marketing firm recognized for its innovative solutions. With a career spanning over 800+ brands and companies, Tanya is a seasoned business consultant, strategist, and thought leader with a dynamic vision. She co-founded id8 in 2001, initially as a PR and Marketing company specializing in bespoke strategic solutions. Under Tanya's leadership, id8 has evolved into a strategic integrated marketing company with expertise in Visual thinking and design, Digital and Performance marketing, Public Relations, Influencer Marketing, and Intellectual Property Creation and Execution.
Aditi Avasthi Aditi Avasthi is an Indian businesswoman renowned for her role as the Founder and CEO of Embibe, an innovative educational technology company based in Bangalore. Recognized for her outstanding contributions, she earned a spot among the BBC's top 100 women in 2017 and was named "Woman of the Year" by Vogue in 2018. Avasthi launched Embibe in 2012, securing an initial investment of $700,000 from family and friends. Subsequent funding from Kalaari Capital and Lightbox Ventures further fueled the company's growth. Specializing in personalized education through a knowledge graph connecting various grade curricula, Embibe assists students in achieving targeted learning outcomes. Avasthi's strategic prowess was evident in 2018 when she orchestrated a successful corporate round with Reliance Industries, resulting in a substantial $180 million investment in Embibe. Her visionary leadership continues to drive the company's success in revolutionizing education.