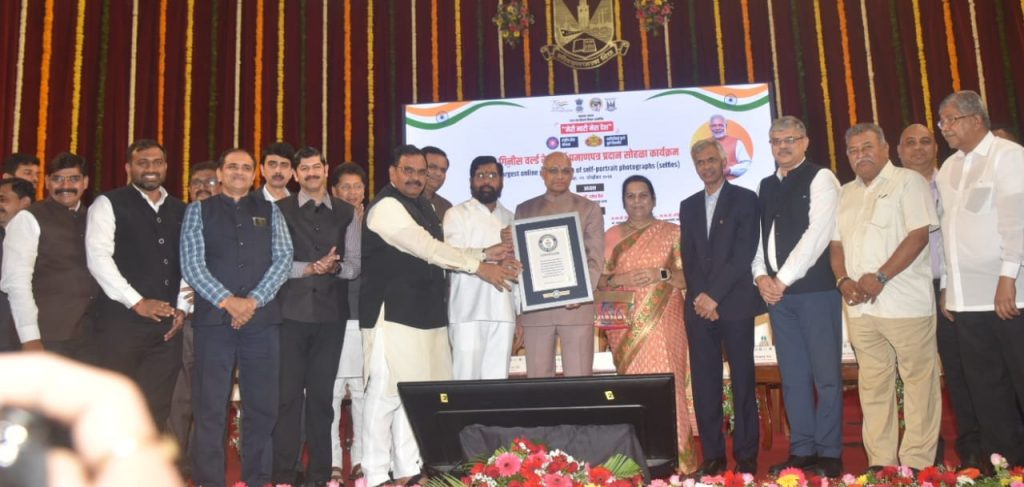 Mumbai, Nov 9 (IANS) Maharashtra has bagged a unique entry in the Guinness World Records (GWR) for its 'Meri Mati, Mera Desh' mega-campaign involving over one million school and college students clicking selfies and posting them on social media as a gesture of love for the country, officials said here on Thursday.
A special function was organised at the Convocation Hall of University of Mumbai which was attended by Governor Ramesh Bais, Chief Minister Eknath Shinde, Deputy CM Devendra Fadnavis and others where the GWR handed over a certificate on the new record.
The 'Mera Mati, Mera Desh' campaign was launched nationwide by Prime Minister Narendra Modi as part of the 75 years of Independence, implemented through the National Social Service and Nehru Yuva Kendra Sanghatans involving students from schools and colleges all over the country.
The Department of Higher & Technical Education encouraged lakhs of students from schools and 7,000 colleges under 40 universities to participate in the drive paying tributes to the freedom fighters all over India.
Shinde termed the GWR achievement as a Diwali gift, while Fadnavis said this has knocked down the previous record held by China, as they thanked all the students, the people and the officials for making it possible.
On the occasion, the Governor released a set of four volumes in six parts of the complete works of legendary Dalit poet, writer and social reformer, Sahitya Ratna Tukaram B. Sathe, popular as 'Lok Shahir Annabhau Sathe' (1920-1969).
Paying his tribute, the Governor called upon the people to imbibe Annabhau Sathe's teachings as the country marches towards becoming a developed nation by 2047.
The new e-book comprises collections of poems, plays, short stories, novels, and travelogues penned by Annabhau Sathe, many of which were translated into 27 international languages.