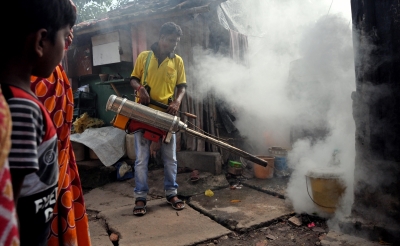 Kolkata, Oct 14 (IANS) In the last seven days, Kolkata witnessed a sharp spike in the number of fresh dengue cases, alarming health officials ahead of the Durga Puja festivities next week.
According to the Kolkata Municipal Corporation (KMC), there were 1,367 new cases reported in the said period.
The figure is substantially higher than that the1,102 cases reported in the previous week.
In this current season, the overall number of cases has increased to 7,422.
But KMC Mayor Firhad Hakim seems to be confident that the graph for affected people, which has reached its peak, will take a downward curve in the next fewweeks.
"Generally, this is the period when the graph of affected people rises and starts showing a declining trend since the middle of October. So we expect the situation to completely stabilise during the next few days," he said.
Meanwhile, the state health department is maintaining absolute secrecy over the total number of dengue deaths in the state, athough unofficial sources quote the figure to be above 50.
However, Leader of the Opposition in West Bengal assembly Suvendu Adhikari has claimed that the actual toll will be well above 100 for the present dengue season.
"The state health department is deliberately under-reporting figures. Doctors are often forced to report 'dengue-related deaths' as deaths due to unknown fever," he claimed.