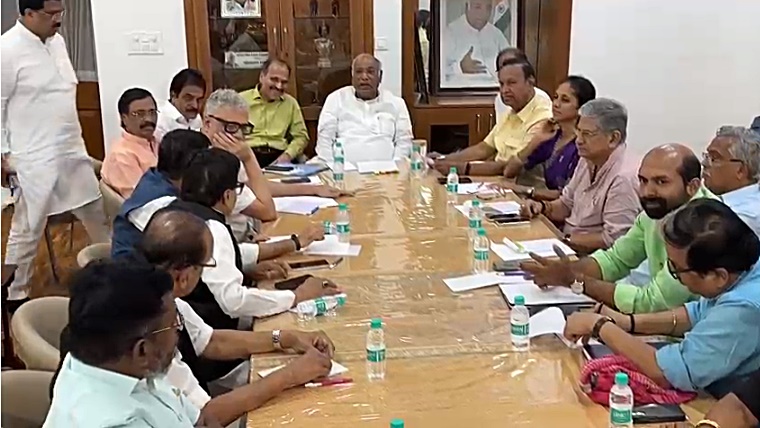 New Delhi, Sep 5 (IANS) MPs of the Indian National Developmental Inclusive Alliance (INDIA) on Tuesday met at the residence of Congress President Mallikarjun Kharge to discuss the Parliament's special session and demanded that the government should share the agenda.
They also said that the BJP-led government has got in panic mode following the success of INDIA bloc.
Addressing reporters after the meeting, Congress Lok Sabha member Gaurav Gogoi said: "Today at residence of Kharge ji, INDIA alliance RS and LS MPs participated in an important meeting. It was the question of all MPs that on what subject or agenda of the Special Session that has been called for five days."
He said that within 12-13 days of the previous session, Parliament's special session has been called and the country does not know what is the special issue.
"Our demand is that the BJP should tell the agenda of the session," Gogoi said.
He said that the INDIA MPs have decided that they want a positive session to solve the issues of people and country and will cooperate in that.
"When the point of taking India forward, we will always stand by it. Everyone in the meeting accepted that because of INDIA, BJP is panicked due to unity of opposition," Gogoi added.
Meanwhile, Congress Rajya Sabha member Pramod Tiwari said: "Have you ever seen such a government which does not speak to opposition and calls a special session of Parliament. We want to know rhe agenda of the special session, for what purpose the meeting has been called?"
"They are an agenda less and headless government. Where we will sit whether in the new or old Parliament, it has also been not decided yet. And when we will sit, not a single MP would know the agenda. And if they don't tell their agenda then we will tell our agenda to the government."
The meeting at the residence of Kharge was attended by AAP's Raghav Chadha and Sanjay Singh, Shiv Sena-UBT's Sanjay Raut, NCP's Supriya Sule, Samajwadi Party's Ram Gopal Yadav, JMM's Mahua Manjhi, DMK's T.R. Baalu, Trinamool Congress's Derek O'Brian, Janata Dal-United's Lallan Singh, MDMK's Vaiko, RJD's Manoj Jha among many leaders from INDIA bloc.
Earlier in the day, the Congress Parliamentary Strategy Group also met at the residence of CPP Chairperson Sonia Gandhi to discuss the special session.