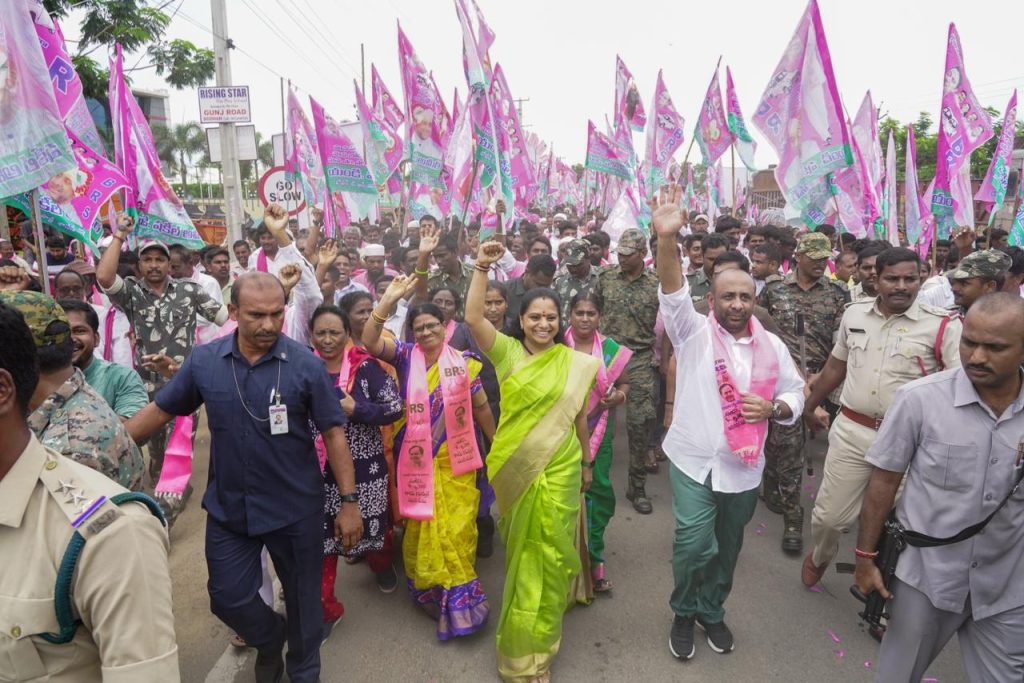 Hyderabad, Aug 16 (IANS) Bharat Rashtra Samithi (BRS) legislator K. Kavitha on Wednesday slammed Congress leader Rahul Gandhi over his allegation that democracy and Constitution are under threat in Telangana.
She said as long as K. Chandrasekhar Rao is the Chief Minister of Telangana, there is no threat to democracy and the Constitution.
"Rahul Gandhi says that the Constitution and democracy are under threat, but the truth is that Telangana has a powerful leader and a powerful democracy, and the Constitution is thriving under the leadership of CM KCR," she said.
Taking a jibe at Rahul Gandhi over his Bharat Jodo Yatra, she said that it was like a cat undertaking a Haj yatra after killing 100 mice.
The member of Telangana Legislative Council said this while addressing a public meeting in Bodhan, one of the Assembly segments of Nizamabad Lok Sabha constituency, from where she plans to contest the next year's election.
Kavitha appealed to voters of Bodhan to re-elect sitting MLA Shakeel Ahmed in the Assembly polls due to be held later this year.
Kavitha, daughter of Chief Minister K. Kavitha, dismissed the talk that Muslims in Telangana were contemplating to back the Congress party in the coming elections.
Claiming that KCR brought a revolution in a decade, she asked minorities to ponder.
"Why should you vote for Congress? How many years do you want to give them a chance," she asked.
She questioned the Congress what it has done for Muslims in its 62-year-rule in the country since independence.
"The Congress talked of removing poverty but it removed the poor," she remarked.
Reacting to the Congress party's programme "Thirgabadam Tharmikodham", Kavitha said that the Congress leaders cannot bear if the BRS workers revolt.
She claimed that only a devoted and powerful leader like CM KCR can ensure harmony, development and empowerment of every section.
She said that BRS wants to create a similar atmosphere across the country.
The MLC said that after the formation of Telangana state, the BRS government provided schemes to every household without discriminating against people in the name of caste and religion.
She said that some elements in India divide people in the name of caste but in Telangana, self-respect buildings are being built for each caste in Hyderabad and the government is helping all caste professions. "On similar lines, some elements in the country try to divide people in the name of religion but in Telangana, the government celebrates the festivals of all religions," she said.