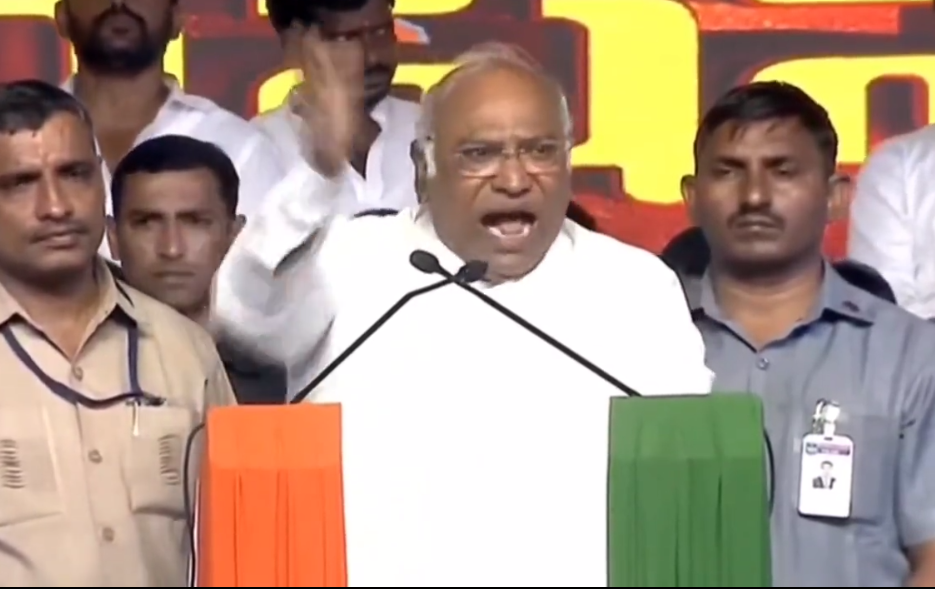 Hyderabad, Aug 26 (IANS) Congress President Mallikarjun Kharge on Saturday attacked Bharat Raastra Samithi (BRS) Chief and Telangana Chief Minister K. Chandrashekar Rao (KCR) for maintaining distance from the Indian National Democratic Inclusive Alliance (INDIA).
"Chandrasjekar Rao skipped India alliance meetings in Patna, Bengaluru and joined hands with BJP," Kharge said.
Addressing a massive gathering in Hyderabad in poll-bound Telangana state, Kharge said that an alliance was formed with 26 regional parties across the country to defeat BJP in the upcoming Lok Sabha elections. However, Telangana Chief Minister did not attend a single meeting. He is holding talks with BJP secretly and calls his party secular, he said.
He said that KCR and BJP have become friends and since they have a tacit understanding, they can't talk about it publicly.
He said that whatever Sonia Gandhi and Rahul Gandhi promise they will deliver and keep their word. The Congress party wants to work for the people. However, the BJP often alleges that Congress has done nothing in the past 53 years. It was the Congress government under the leadership of late prime minister Indira Gandhi that defeated Pakistan and created a stable nation in the neighbourhood.
He said that later prime minister Rajiv Gandhi brought the cell phone revolution. If everyone is using mobiles today, it is the foundation laid by Rajiv Gandhi. The nationalisation of banks was carried out by prime minister Indira Gandhi. The list is too long. Yet the BJP asks for a report card.
Congress has promised 12 schemes for SCs and STs in Telangana which includes providing free houses, free education and reservations in government contracts.
The party has also promised to return the lands taken away from SCs and STs by the BRS government.