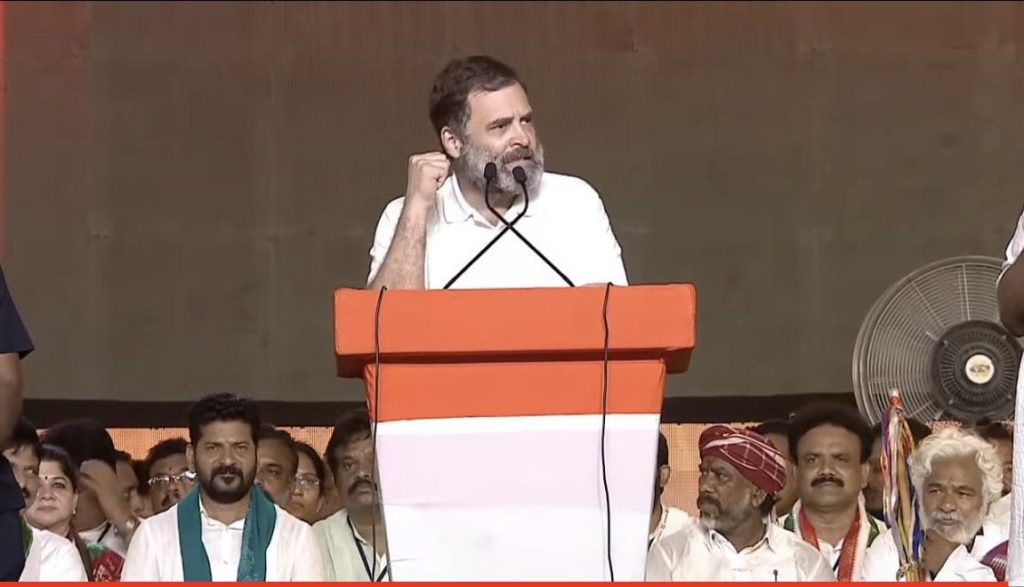 Khammam (Telangana), July 2 (IANS) Congress leader Rahul Gandhi on Sunday said that result of Karnataka Assembly elections will be repeated in Telangana.
Addressing a public meeting, he claimed that after the Karnataka poll outcome, BJP has been eliminated in Telangana and there will be direct contest between the Congress party and the Bharat Rashtra Samithi (BRS).
Dubbing BRS as 'BJP Rishtedar Samithi' and 'B team of BJP', Rahul Gandhi said the Congress defeated the corrupt and anti-poor government of BJP in Karnataka as all poor stand with the Congress.
"On one side there was BJP and their billionaires on the other, there were farmers, labourers, tribals, Dalits, small traders, minorities and weaker sections. The same is going to be repeated in Telangana. On one side there will be the Chief Minister, his family and his 10-15 billionaire friends and on the other side there will be all the poor, Dalits, farmers, tribals, small traders, minorities and weaker sections. What happened in Karnataka will be repeated in Telangana," he said.
Titled 'Telangana Jana Garjana', this was the first major public meeting of the Congress party after the party's victory in Karnataka.
With Sunday's massive show, the Congress party has kicked off its campaign for Telangana Assembly elections due to be held later this year.
Rahul Gandhi said that earlier it was being said that the fight in Telangana is between BRS, Congress and BJP but BJP is finished in Telangana without the party even realising it.
"The fight will be between Congress and BJP B team. The way we defeated BJP in Karnataka, same way we will defeat BJP B team in Telangana," he said.
He said that Congress refused to attend the opposition meeting if they had invited BRS. "We made it clear that we will not attend a meeting with the BJP B team. Will not sit with them and we will defeat them. We can never compromise with the BJP B team," Rahul Gandhi said.
He also launched a scathing attack on Chief Minister K. Chandrasekhar Rao (KCR) over corruption and his support for the BJP government on key bills in the Parliament.
"KCR does whatever Narendra Modi wants. His remote control is in the hands of Narendra Modi," he said.
Referring to Delhi excise policy case in which the name of KCR's daughter had also figured, Rahul Gandhi said that because of corruption, KCR's is under pressure from Prime Minister Narendra Modi.
Stating that Congress workers are the backbone of the party, he said they can easily defeat BRS. "You demonstrated your power in Karnataka and now show your might in Telangana."
"KCR thinks he is the raja of Telangana and Telangana is his jagir. KCR is snatching the lands which Indira Gandhi and Congress party had given to the poor, Dalits and tribals," Rahul Gandhi said.
He said that KCR has left no stone unturned as far as corruption is concerned. He alleged that Rs.1 lakh crore were siphoned off in the Kaleshwaram project and there was massive corruption in Mission Kakatiya.
"KCR is using the Dharani portal to snatch your lands. He has snatched the rights of every section," he said.
Stating that Telangana was a dream of poor, farmers, labourers and weaker sections, he said BRS shattered this dream during its rule during in last nine years.