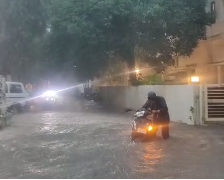 Junagadh, July 23 (IANS) Junagadh district in Gujarat on Saturday witnessed heavy rains which caused severe waterlogging and widespread disruption.
The continuous torrential rainfall has pushed Junagadh, along with Amreli district, into a flood-like situation, demonstrating the severity of the monsoon this year.
India Meteorological Department (IMD) and the Indian National Centre for Ocean Information Services (INCOIS) have cautioned the fishermen along Gujarat's coast against venturing into the sea from July 22 to July 26.
The warning is particularly pertinent to the stretch of the Gujarat coast extending from Jakhau in Kutch to Diu in the Saurashtra region.
The torrential downpour has already claimed three lives earlier in the week — two in Surendranagar district and one in Rajkot district. So far, around 300 people have been rescued from affected areas.
The administration has put the National Disaster Response Force (NDRF) and State Disaster Response Forces (SDRF) on high alert.
Also, 43 of Gujarat's 206 reservoirs are on high alert due to heavy inflow, with 18 others on alert mode, and warnings issued for an additional 19 reservoirs.