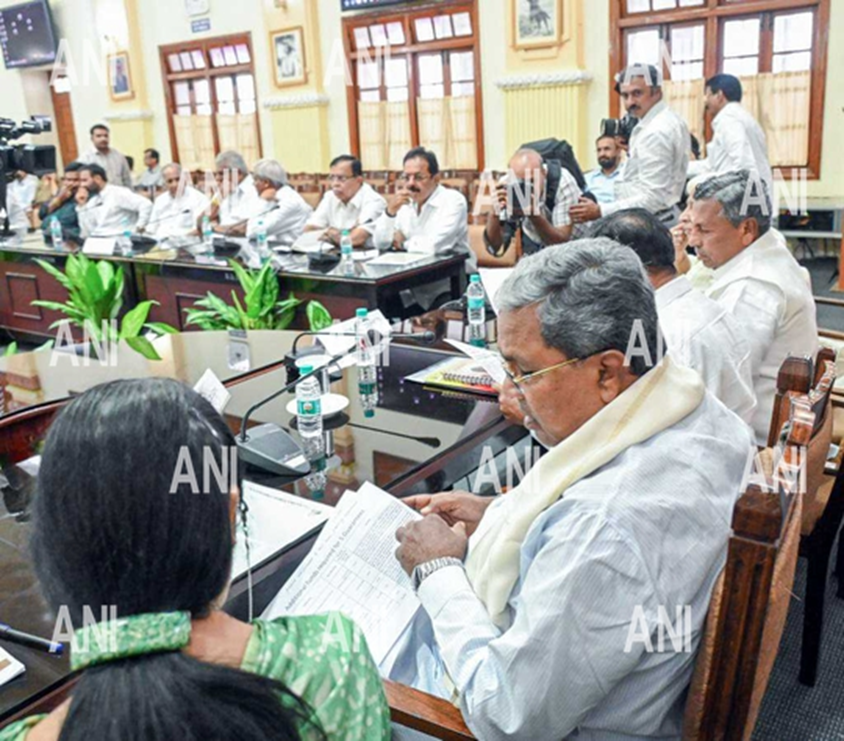 Bengaluru (Karnataka) [India], June 14 (ANI): Janata Dal-Secular (JDS) leader and former chief minister and HD Kumaraswamy has hit out at the Congress in Karnataka for allowing AICC general secretary Randeep Surjewala to attend an official meeting of the State government.
The Opposition BJP has also criticised the presence of Surjewala by tweeting a photograph showing the Congress leader attending an official meeting along with Deputy Chief Minister DK Shivakumar and other MLAs and Bengaluru administration officials. Criticizing Congress general secretary Randeep Surjewala, Kumaraswamy asked, "Who is Surjewala to hold the government meeting of ministers and senior officials?"
"Is the government in the state led by Siddaramaiah or the government of number 10 of Janpath Road in Delhi? Kannadigas voted for a 'Hand' government or a puppet government?? The people's vote is the share of the hung government. It has been proved that it is a High Command government even before the government completed a month in power", Kumaraswamy said in a tweet.
In a series of tweets, the former chief minister asked who had given the AICC general secretary Surjewala permission to be present in State government meetings.
"Official meetings of the government are held by the artists of the High Command's quarters in Karnataka! The photo I have tagged is proof of that dynasty's condition. Who gave AICC general secretary Mr. Randeep Surjewala the responsibility and permission to hold government meetings?", the former CM shared in a tweet thread.
Sharing a photo of Surjewala with Shivakumar and other ministers of the state cabinet, Kumaraswamy appealed to Chief Minister Siddaramaiah to give an explanation.
"There is a senior minister in the meeting! Senior IAS officers are also present!! There it became an official meeting. But, there is Surjewala in the center seat! Ministers have side seats!! Is this strange? Hon'ble Chief Minister should answer", he said.
Courtesy: (ANI)