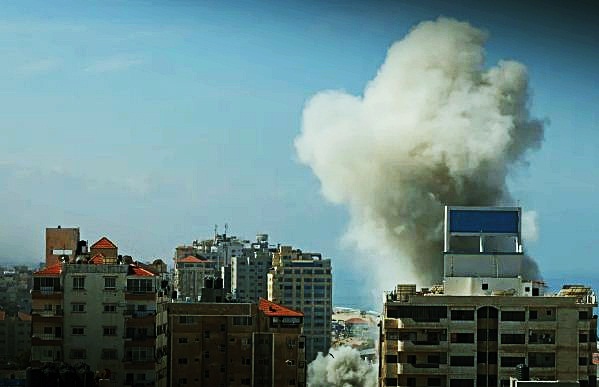 Jerusalem/Gaza, Oct 8 (IANS) Israel formally declared war on Hamas on Sunday, setting the stage for a major military operation in Gaza as fighting rages on Israeli soil following Saturday's surprise assault by the Islamist militant group in which more than 600 Israelis were killed, the media reported.
The shock terror attack led to the deadliest day in decades for Israel and came after months of surging violence between Palestinians and Israelis, with the long-running conflict now heading into uncharted and dangerous new territory.
Questions are also swirling over how the Israeli military and intelligence apparatus appeared to be caught off guard in one of the country's worst security failures, CNN reported.
Throughout Saturday and into Sunday, Hamas launched thousands of rockets from the Gaza Strip into Israel — making direct hits on multiple locations inside the country including Tel Aviv — while armed terror groups entered Israel and infiltrated military bases, towns and farms, shooting at civilians and taking hostages.
Hundreds are of Israelis are confirmed dead and the toll could rise further.
"We are well north of 600 people who have been killed, there will probably be more hundreds, several hundred more," Israeli Minister of Strategic Affairs Ron Dermer told CNN.
Israel has responded by launching airstrikes on what it said were Hamas targets in Gaza, while its forces clashed on the ground with Hamas fighters in villages, army bases and border crossings. Netanyahu said that the military was "clearing terrorists" out of Israeli communities and "restoring control".
Israeli warplanes continued to pound Gaza on Sunday morning with the Israel Defense Forces saying it had struck 426 targets in Gaza, including 10 towers used by Hamas.
Israel said that drones were used overnight Saturday to strike "a number of terrorist squads in the area surrounding the Gaza Strip", CNN reported.
Palestinian militant group Hamas said the captured Israeli hostages are being held across Gaza and warned against attacks in the area.
"Threatening Gaza and its people is a losing game and a broken record," said Abu Obaida, spokesman for the Al Qassam Brigades, the armed wing of Hamas in a recorded audio message late Saturday.
"What happens to the people of the Gaza Strip will happen to them and beware of miscalculation."
Earlier, the group claimed to have captured "dozens" of Israelis, including soldiers, and were holding them in "safe places and resistance tunnels", CNN reported.