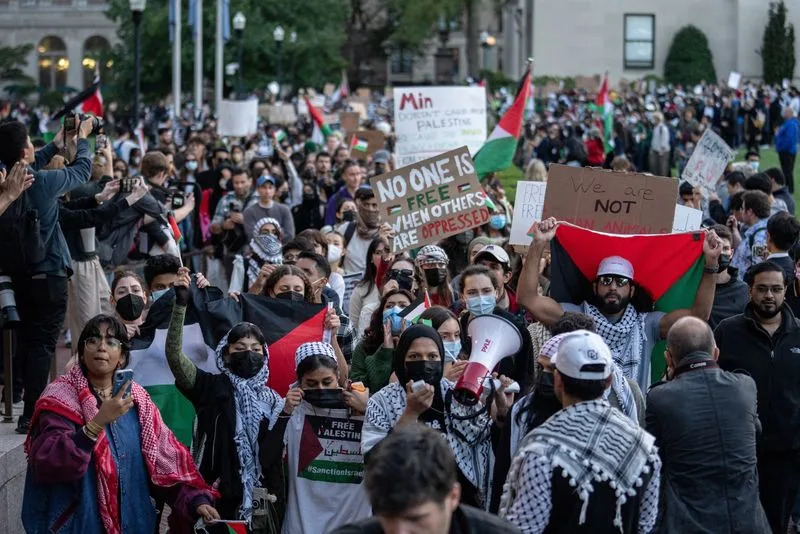 New York, Oct 16 (IANS) The Middle East war tensions appears to be spreading like a prairie fire among college campuses across the US, including the prestigious ones in New York with students being asked to pick a side.
A fierce debate on the ongoing conflict in the Middle East between Israel and Hamas is raging on US college campuses. Messages are spreading rapidly on social media platforms demanding people pick a side on divisive issues, media reports said, posing the question: "Is there still space for young Americans to talk to each other?"
Hundreds of students protested on the main quad at Columbia University in New York City last week as they duelled on both sides in support of Israel and the Palestinian people, but equivocally condemning the loss of life.
Pro-Israel protesters, most of whom were Jewish, draped themselves in white and blue Israeli flags. They remained silent most of the time, letting signs with photos of the victims of Hamas' deadly attack speak for them. Across the square, students who supported the Palestinians waved signs declaring "Free Palestine" and "End the Occupation". A female student from Gaza spoke of her mother, trapped by an Israeli blockade.
Students were separated just yards apart, but the ideological distance between them seemed very large and grew more pronounced as the evening progressed, reports said.
One of the leaders of the pro-Palestinian demonstrators read aloud an open letter published by two student groups at Columbia University, a day after Hamas militants raided a musical festival in southern Israel and several Israeli towns, killing at least 1,400 people and taking about 150 hostages.
The attack per Palestinians is considered a "historic moment for the Palestinians of Gaza, who breached the wall suffocating them for years, in one of the most densely populated areas on Earth". "Despite the odds against them," the speaker continued to read, "Palestinians launched a counter-offensive against their settler-colonial oppressor."
To the students the emotional appeal lay in the attack on Israel in the decades-long fight for Palestinian autonomy. Israel's response was another example of its indifference to the suffering of the Palestinian people, the reports said .
More than 2,700 Palestinians in Gaza have died during retaliatory Israeli air strikes, while just over two million people there are trapped by a blockade and cut off from power and clean water, reports from Gaza reaching the city said.
The students feel that Israeli officials have used extreme language, with Defence Minister Yoan Gallant referring to Hamas militants as "human animals". And the death toll will rise if Israel launches an expected ground offensive.
Most of the activists at the rally would not speak to reporters. But Darializa Avila Chevilier, who graduated from Columbia in 2016 and had come to support the pro-Palestinian protesters, told the BBC: "No-one wants violence. What we are saying is the violence will end when there's justice, and people are living with dignity."
The speakers at the rally condemned the loss of all civilian life and observed a moment's silence in honour of the killed. But they did not make specific mention of the Israeli victims of violence, or the atrocities carried out by Hamas fighters against civilians, including many women and children.
The protest's organisers, Students for Justice in Palestine, told the BBC in a statement that they oppose any form of violence against innocent civilians and stand "only for the preservation of life and justice". They went on to question "why an entire nationality—Palestinians—are being made to answer for the actions of (Hamas)".
Yet many of their Jewish classmates heard something else: a dismissal of murders perpetrated against their own religious and ethnic minority, which has also faced persecution. "If you are justifying the murder of innocent civilians, you do not understand human rights," one of their posters declared.
Columbia University is not alone in reeling from this political divide. Student groups at Harvard University issued a statement which blamed Israel's policies for the massacre of its civilians, which prompted a backlash from powerful alumni, reports said .