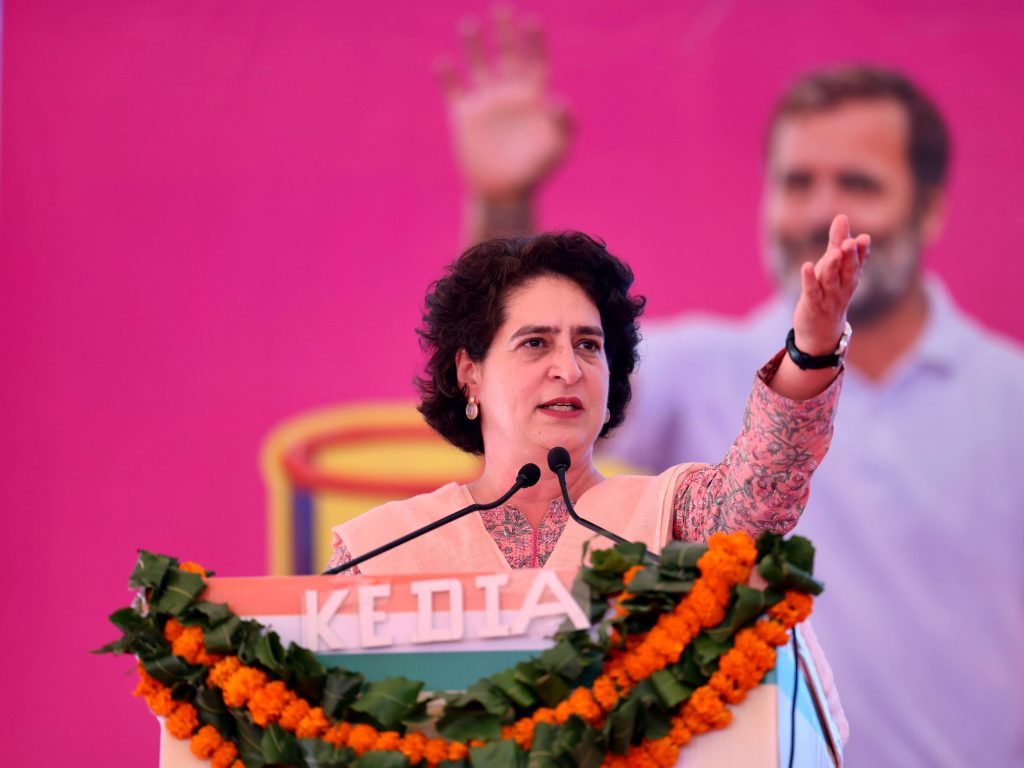 New Delhi [India], October 25 (ANI): BJP on Wednesday made a representation to the Election Commission of India and demanded action against Congress General Secretary Priyanka Gandhi over her remarks in Rajasthan's Dausa on October 20.
Union Minister Arjun Ram Meghwal alleged that Priyanka Gandhi has violated the Model Code of Conduct and that strict action should be taken against her.
"Today we met members of the Election Commission regarding a statement by Congress leader Priyanka Gandhi Vadra on October 20 that violated the Model Code of Conduct and RP Act. We want to ask ECI if Priyanka Gandhi Vadra is above the Model Code of Conduct. We demand ECI to take action against her," Law Minister Meghwal said.
Earlier Congress leader Priyanka Gandhi in a public event in Dausa on October 20 said," I recently saw something on TV. I don't know if it is true or not. PM Modi went to the Devnarayan temple and submitted an envelope in the donation box. People were wondering what it contained, but when it was opened Rs 21 came out of it."
In this regard, the Leader of the Opposition in the Rajasthan Assembly Rajendra Rathore said that Priyanka Gandhi was misleading the public of Rajasthan.
In a post on X, Rajendra Rathore said, "When there was no confirmation, why did she lie? For how long will Congress Party General Secretary Priyanka Gandhi ji try to confuse and mislead the people of Rajasthan by resorting to lies? In the temple of Shri Devnarayan ji, Prime Minister Narendra Modi had not put an envelope but cash in the donation box. The people of the state understand everything. She will not get trapped in the lies of Congress."
Union Minister Hardeep Singh Puri also hit out at Priyanka Gandhi and accused her of propagating fake news and creating disturbance in society on religious lines.
"She (Priyanka Gandhi Vadra) has deliberately picked on a piece of news that had already been declared fake in the public domain, reiterated it and tried to create a problem. She is trying to rake up something which is non-existent, which is a fake piece of news. She's putting religious sentiment into the political discourse at a time when the model code of conduct is operational," he said.
Urging the Election Commission to take serious action against Priyanka Gandhi, he said," Model code of conduct is operational.ECI should look into this very seriously and any further steps it takes, whether it is issuing a notice or filing an FIR, those are decisions which will emanate from the Election Commission."
Meanwhile, the Election Commission has announced that the first phase of polling for 20 seats in Chhattisgarh will be held on November 7, and the remaining 70 seats in Chhattisgarh will go to polls on November 17. The counting of votes for the 200-seat Rajasthan Assembly, along with those for four other poll-bound states, has been scheduled for December 3.
Congress emerged as the largest single party in the 2018 Assembly polls, with 101 seats, and formed the government with the support of the Bahujan Samaj Party (BSP).
The Model Code of Conduct has come into force with the announcement of poll dates. The elections to five states are crucial as they are being held months before the Lok Sabha elections in April-May next year.