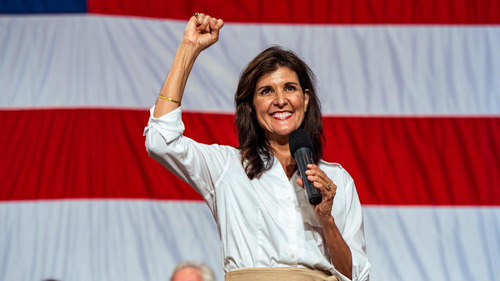 New York, Oct 13 (IANS) US President Joe Biden would lose to Republican presidential candidates Nikki Haley and Ron DeSantis and narrowly edge past his predecessor Donald Trump if the 2024 election were to be held now, according to a new poll.
Biden took a one point lead over Trump (49 per cent to 48 percent), while lagging behind Haley by four points (49 per cent to 45 per cent) and DeSantis by two points in a hypothetical head-to-head matchup, the Fox News survey said.
Released this week, the poll conducted between October 6-9, showed that the Indian-American former South Carolina Governor has made the greatest gains since September, having doubled her numbers with 10 per cent support.
Haley also garnered the highest number of defections among Democrats (9 per cent support her), while Trump gets the least (5 per cent of Democrats back him).
"She has the momentum, she has the experience, and she's the only person who's consistently polled as beating Joe Biden in the general election," former Congressman Will Hurd, who dropped out of the 2024 presidential race, told Forbes.
A CNN poll showed last month that Haley is the only Republican who can beat Biden in the 2024 presidential election.
"Haley stands as the only Republican candidate to hold a lead over Biden, with 49 percent to Biden's 43 per cent in a hypothetical match between the two," the CNN reported.
The Fox News survey also showed that despite facing a bevy of legal challenges, former President Trump maintained his lead in the Republican presidential contest.
The 77-year-old received 59 per cent support among Republican primary voters, and he has been above 50 per cent since March and hit a record 60 per cent in September.
Just after her first Republican primary debate in late August, Haley had said that Trump would not be the party's nominee for the 2024 presidential elections.
Haley claimed earlier this month that Trump sent her a birdcage, a couple of days after he had posted a social media message calling the her a "birdbrain".
Responding to Trump, along with a picture of the birdcage, Haley wrote on X: "Love this. It means we are in 2nd and moving up fast. Bring it!"
At the second Republican debate, Haley slammed Trump over his policies on China, saying that while in being in office, he did not focus on issues like Asian nation's role in fentanyl being shipped into the US, placing a base in Cuba or sending spy balloons across the country.