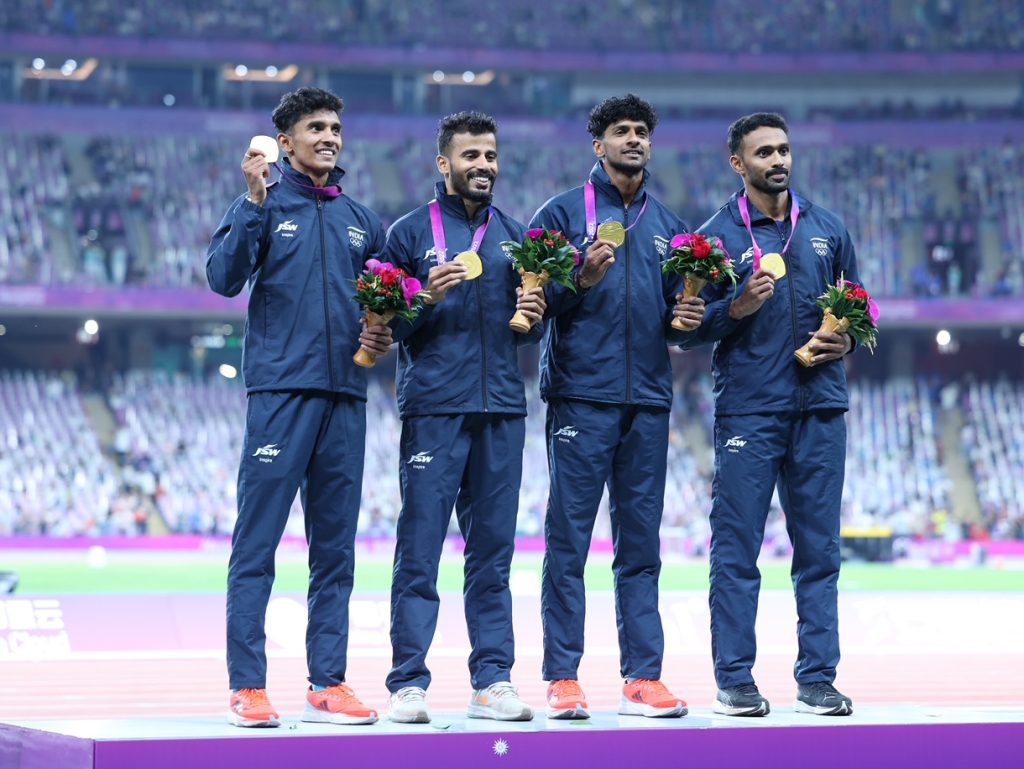 Hangzhou, Oct 8 (IANS) When the former president of the International Football Federation (FIFA) visited India a few years back, he called the country a "sleeping giant" ready to wake up and roar.
Though Blatter said this in the context of the Indian football team, the country's performance in the 19th Asian Games that ended here on Sunday has proved that the "Sleeping giant" is definitely stirring and getting to wake up and roar.
If not the sleeping giant, the Tiger did roar in many of the immaculately prepared stadiums in Hangzhou.
And what a roar it was!
India produced its greatest-ever performance at the Asian Games, winning a hitherto unbelievable 107 medals — 28 gold, 38 silver and 41 bronze medals. The country finished fourth behind China with 383 medals (261 gold, 111 silver, 71 bronze), Japan (188) and the Republic of Korea (186).
This was India's highest-ever medal count in Asian Games history surpassing by a wide margin the previous best of 70 at the 2018 Asian Games in Indonesia. India had won 57 medals in 2014 in Incheon and 65 in 2010 at Guangzhou.
Athletics produced the most medals for India with 29, including six gold, 14 silver and nine bronze with shooting second with 22 medals. India's medals came from 22 sports and included new ones like cricket, roller skating and cricket which made its debut in the Asian Games in T20 format and the Indians won gold in both the men's and women's sections -, the men triumphing in the basis of their ranking as the final was washed out by rain.
India's spectacular success was made possible by a generation of Indian sportspersons who are not afraid to express themselves, are ready to stand up for themselves and are not afraid of their opponents' reputations.
It is this spirit, inculcated and nurtured through specialised training in the country and abroad with the government pouring in crores of monies, that resulted in India stunning everyone with their performance in many sports.
In Hangzhou, Indian sportspersons broke new ground in sports like shooting, archery, badminton, equestrian, rowing, wushu and above all athletics, the epitome of sports competitions that urge everyone to go faster, higher and stronger.
There were great performances in shooting with Sift Kaur Samra setting a World Record on her way to a gold medal in the Women's 50m Rifle 3-positions, the powerful smashes of Satwiksairaj Rankireddy/Chirag Shetty, the determination HS Prannoy, who took the badminton court despite a debilitating back injury and won a historic bronze medal in men's singles since 1982, the stunning endurance of Avinash Sable, the who gave a masterclass in 3000m steeplechase, running in front from start to finish.
The Indian sportsperson's fighting spirit was reflected in the exuberance and enthusiasm of youngsters like Anahat Singh (squash), Aditi Gopichand Swami and Ojas Pravin Deotale, the determination, hard work and perseverance of Dipika Pallikal Karthik, who came back from childbirth to win, along with her partner Harinder Pal Singh Sandhu, the first-ever mixed doubles gold medal in squash and the longevity of Seema Punia, who claimed a bronze medal in the women's discus throw.
India's lone global star athlete, javelin thrower Neeraj Chopra was as dazzling as ever as he made his first throw twice because the officials 'forgot' to measure his throw, to go on and win the gold medal with his season's best performance of 88.88 metres. But what captured the hearts of countless Indian fans was the stunning performance of Odisha's Kishore Kumar Jena, who came up with a stunning throw of 87.54, his personal best, to win the silver medal, presenting a spectacle of Indian athletes taking the top two positions on the podium.
Avinash Sable set a new Asian Games record in the 3000m steeplechase and then came back to win a silver in the men's 5000m, Tajinderpal Singh gave his fans the heart-attack moment as he produced his best throw on the last attempt to win gold medal in men's shot put while the men's 4x400m relay team continued from where it had left in the World Championship in Budapest with another brilliant performance.
While athletes showed their strength, the sharpshooting skills of Esha Singh, Palak Gulia, Aishwary Pratap Singh Tomar, Rudrankksh Patil, Anant Jeet Singh Naruka and Kynan, the pinpoint accuracy of the archers Jyothi Surekha Vennam, Ojas Deotale and the men's recurve team of Atanu Das, Dhiraj Bommadevara, Mrinal Chouhan left many mesmarised.
There were some disappointing performances in wrestling, especially Olympic bronze medallist Bajrang Punia, weightlifting in which another Tokyo Olympic medallist Mirabai Chanu was in the fray and boxing in which Lovlina Borgohain managed to win a silver medal while two-time reining world champion Nikhar Zareen could manage only a bronze medal, However, the boxers claimed four Olympic quota places.
The men's hockey team also reclaimed the gold medal and bagged the Olympic quota while in tennis, Rohan Bopanna bid adieu with a gold medal in mixed doubles though he was excited to also win the men's doubles crown with Yuki Bhambri,
Squash great Saurav Chosal was left heartbroken as the 37-year-old could not win a long-cherished gold medal in men's singles through he played a stellar role in helping India win the team gold with a come-from-behind victory over archrivals Pakistan with youngster Abhay Singh showing tremendous fighting spirit to win the third match.
Indians broke new ground in dressage, winning a historic maiden gold in the team competition, and reclaimed both the gold medals in kabaddi, though the men's team had to sit in an on-court protest to get the match officials to implement the rule properly while Jyothi Yerraji had to thwart attempts by some Chinese officials in getting her disqualified for a false start made by a local runner, to win a historic maiden medal — a silver — in women's 100m hurdles.
There were many such groundbreaking performances, none better than the brilliant shuttlers, who first made history by winning a silver medal in men's team competition, beating South Korea for the first time in the Asian Games and Pronnay winning the bronze medal in the men's singles.
But the icing on the cake was the gold medal won by the gold medal won by the men's doubles pair of SAtwiksairaj Rankireddy and Chirag Shetty as badminton competitions at the Asian Games are very toughest of all competitions because of the strength and depth of the sport in the continent,
Their performance and those of many other youngsters give us hope that Hangzhou will not be a flash in the pan.
The sleeping giant which has woken up will soon stand up and start running. It will also continue to roar majestically.