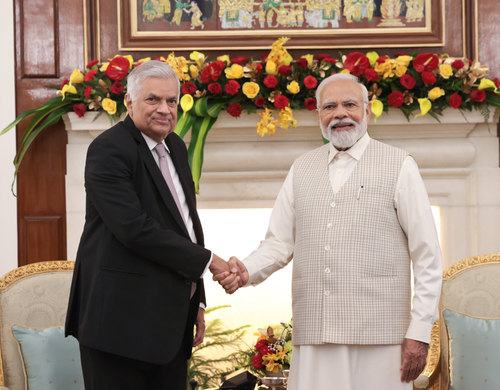 Colombo, July 21 (IANS) Sri Lankan President Ranil Wickremesinghe and Prime Minister Narendra Modi on Friday met in New Delhi and held bilateral talks during which the two leaders agreed to strengthen the connectivity in various areas including maritime, air, energy, trade for boosting ties between the two nations.
Issuing India-Sri Lanka Economic Partnership Vision titled 'Promoting Connectivity, Catalysing Prosperity', the two leaders underlined the cardinal importance of promoting and strengthening connectivity in all its dimensions as the key enabler, Indian High Commission in Colombo said in a statement.
President Wickremesinghe is on two-day official visit to India which began on July 20.
"The leaders acknowledged that the India-Sri Lanka partnership has been a source of strength in overcoming economic difficulties faced by Sri Lanka and the President of Sri Lanka
specially appreciated India's timely, unprecedented, and crucial support to the Government and the people of Sri Lanka," the High Commission stated.
In the area of maritime, the two countries have agreed to cooperate in development of ports and logistics infrastructure at Colombo, Trincomalee and Kankesanthurai with an aim to
consolidate regional logistics and shipping, as per mutual understanding.
It was also decided to resume passenger ferry services between Nagapattinam in India and Kankesanthurai in Sri Lanka and work towards early resumption of ferry services between Rameshwaram and Talaimannar, and other mutually agreed places, the Vision Statement stated.
With regard to the air connectivity, two Indian Ocean neighbours had agreed to resume flights between Jaffna and Chennai and decided to further expand it to Colombo and to explore
connectivity between Chennai and Trincomalee, Batticaloa and other destinations in Sri Lanka.
The two parties had decided to encourage and strengthen investment and cooperation in civil aviation, including augmentation of airport infrastructure at Palaly for greater economic benefits to the people.
In the areas of power and energy connectivity, they had underscored the importance of finalising the MoU on cooperation in developing renewable energy would develop Sri Lanka's significant renewable energy potential, including offshore wind and solar, thus enabling Sri Lanka achieve its target of generating 70 per cent of power requirements from renewable energy sources by 2030.
It also had agreed to establish a high capacity power grid interconnection between India and Sri Lanka to enable bidirectional electricity trade between Sri Lanka and other regional
countries, including the BBIN countries, which has the potential to not only bring down the costs of electricity in Sri Lanka but also help create a valuable and dependable source of
foreign exchange for the country.
The two leaders stressed the need to expedite implementation of understanding reached on Sampur Solar power project and LNG infrastructure, and explore cooperation in green
hydrogen and green ammonia through use of innovative technologies with an aim to increase renewable energy mix in power generation of Sri Lanka.
Among other agreements, it has been decided to construct a multi-product petroleum pipeline from Southern part of India to Sri Lanka with an aim to ensure affordable and reliable supply
of energy resources to Sri Lanka.
"To undertake mutually agreed joint exploration and production of hydrocarbons in Sri Lanka's offshore basins with an aim to develop Sri Lanka's upstream petroleum sector," the
vision highlighted.
Among the efforts to strengthen trade, economic and financial connectivity, it has been decided to designate INR as currency for trade settlements between the two countries, and agreed to operationalise UPI based digital payments for further enhancing trade and transactions between businesses and common people.
The two leaders also had agreed to facilitate mutual investments through, inter alia, policy consistency, promoting ease of doing business and fair treatment of each other's investors
and to facilitate investments from India in the divestment of Sri Lankan State-owned Enterprises and in manufacturing/economic zones in various sectors in the island nation.