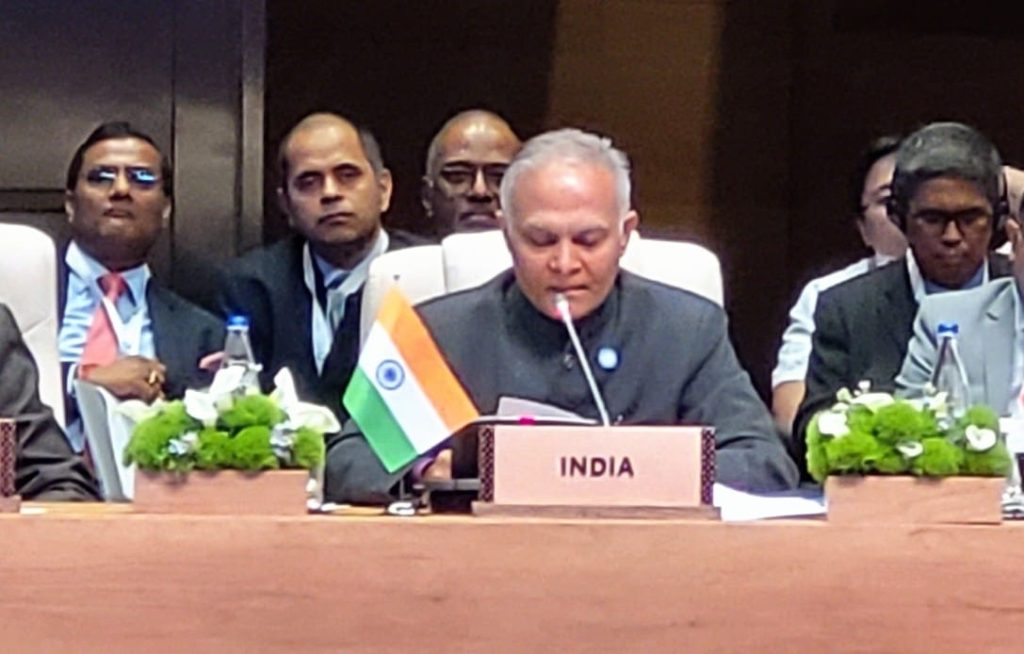 New Delhi, July 6 (IANS) India on Thursday rejected Pakistan's attempt to raise the Kashmir issue at the Non Aligned Movement (NAM) Ministerial meeting in Azerbaijan capital Baku.
Secretary (West) in the External Affairs Ministry, Sanjay Verma, while delivering his statement at the NAM ministerial meeting, said that India rejects the "unfounded and baseless remarks" by Pakistan.
"We were again witness to a blatant violation of the Bandung Principles yesterday, when our distinguished colleague from Pakistan brought a bilateral issue to the NAM agenda. It is regretful that the sanctity of our platform was again predictably demeaned. We reject their unfounded and baseless remarks," Verma said.
He added that Pakistan should "introspect on where they find themselves, and what has brought them there".
India considers Kashmir as a bilateral issue, which it aims to resolve through talks with Pakistan.
Verma said during his address that NAM has had a glorious past, "but its future will be defined by how we tackle some of the defining challenges of our times, including UNSC reforms, climate change, digital technologies, standard setting, global supply chain issues and terrorism, and most importantly whether we can return to the First Principles of NAM, which is actually being non aligned, and being able to stand by each other".
NAM, Verma said, includes large parts of the developing world, the Global South — which has borne collateral damages of these uncertainties and conflicts and suffered disruptions of supply chains which were not entirely of their own making.
"The 4Fs that matter the most to the developing world — food, finance, fuel and fertilisers — must be made available to them with certainty, transparency, and equity. As members of NAM, it is important for us to stand by our friends in the developing world, who are in distress, grappling with existential issues," he noted.
Verma informed the gathering that India's ongoing presidency of the G20 has made the concerns of the Global South placed at the forefront of the G20 Leaders Agenda.
"Here, I refer to the Voice of the Global South Summit convened by India earlier this year, in which about 130 countries participated. I am happy to place on record that some of our fellow NAM members have contributed in shaping the G20 agenda, as it also features financing for climate resilience and environment sustainability, as well as digital trade connectivity and digital public infrastructure, the very themes of importance to our NAM partners," he said.