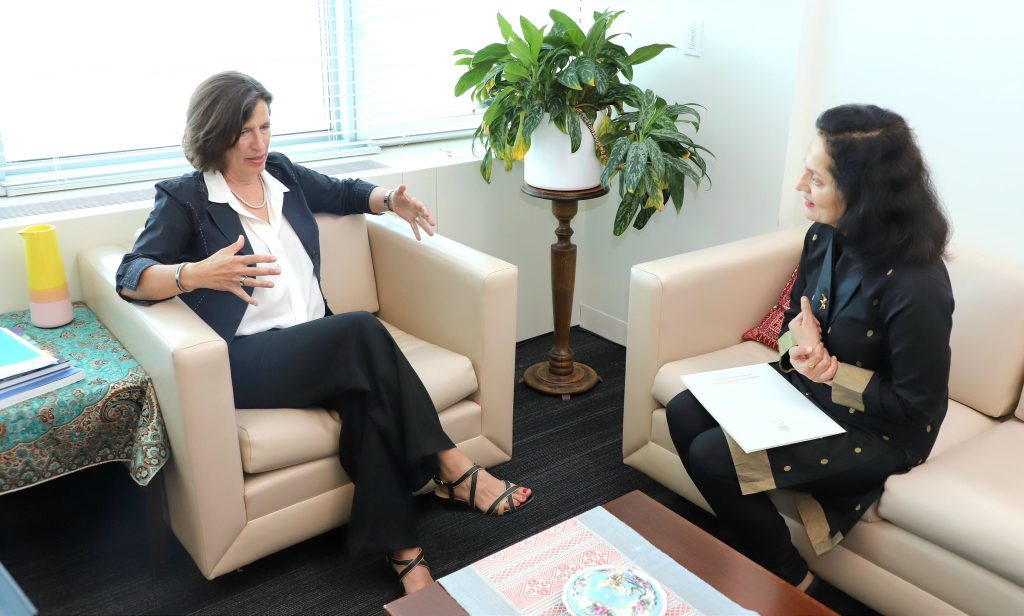 Arul Louis
United Nations, July 19 (IANS) India has donated $1 million to the UN for the promotion of Hindi.
Acknowledging India's contribution Melissa Fleming, the Global Communications under-secretary-general, tweeted on Monday: "We are grateful to @IndiaUNNewYork and @ruchirakamboj for their generous investment in our @UNinHindi service to bring UN news and stories to Hindi speaking audiences in India and beyond."
India's Permanent Representative Ruchira Kamboj, who gave her the cheque last Friday, said in a statement that New Delhi "will continue to promote the use of the Hindi language in the United Nations".
"Efforts of the United Nations to mainstream and consolidate news and multimedia content in Hindi language have been appreciated in India and in countries where a Hindi-speaking population resides," she added.
Prime Minister Narendra Modi has addressed the General Assembly and the Security Council where simultaneous translation is available, but he spoke in English at the International Yoga Day celebrations held outdoors at the UN complex last month.
Hindi was introduced in the UN by former Prime Minister Atal Bihari Vajpayee who became in 1977 the first Indian official when he was the external affairs minister to speak at the UN in the language.
The UN started in 1945 with the three widely-spoken languages of English. French and Spanish carried over from its defunct predecessor, the League of Nations, along with Russian and Chinese, the languages of the two permanent members, as official and working languages.
It added Arabic as an official language in 1973.
The UN provides simultaneous interpretation in its meetings and translations of documents in the six languages.
Countries can arrange simultaneous translation of speeches from their language as India has done with Hindi or into their language.
The UN media outfits began running websites and social media posts in Hindi, in addition to Swahili and Portuguese, in 2018.
India began its efforts to have India added to the roster of UN official languages with the constitution of a high-level committee in 2003 chaired by the external affair minister and it renewed its efforts in 2007 at the recommendation of the 8th World Hindi Conference.
In addition to getting the approval of a majority of the 193 members to make Hindi added as an official language, India will have to bear most of the cost for interpretations and translations for the cash-strapped UN.
Last year India co-sponsored a resolution that mentioned Hindi at the UN General Assembly "to ensure that multilingualism as a core value of the United Nations".
The resolution expressed appreciation for the UN disseminating information in "non-official languages, such as Portuguese, Hindi, Kiswahili, Persian, Bangla and Urdu, in addition to official languages".