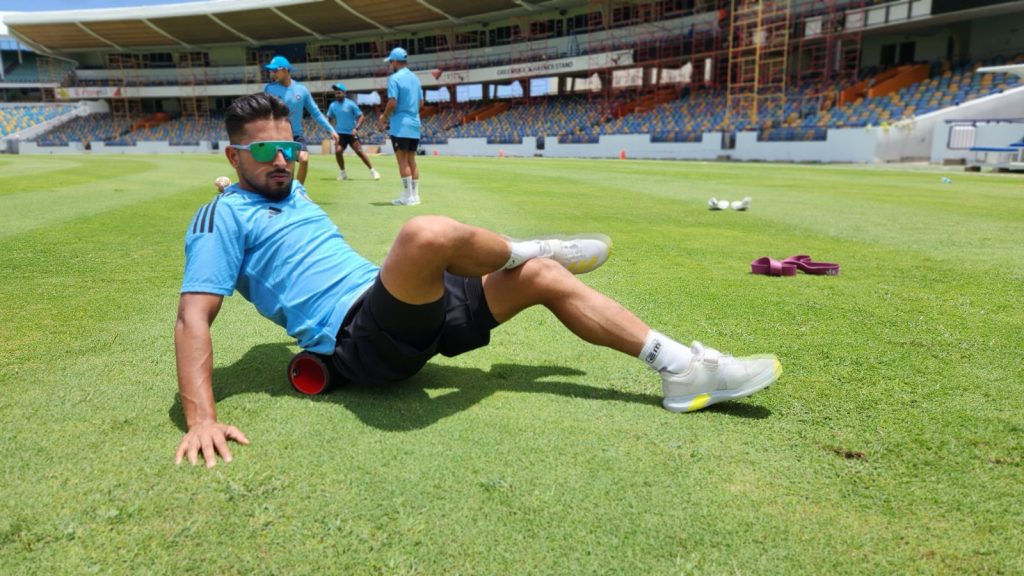 Niharika Raina
New Delhi, Aug 6 (IANS) With the 2023 Men's ODI World Cup now only two months away, it is time for the teams to fine tune their combinations and see who are their best eleven players and four back-ups ready to participate in the competition from October 5 to November 19.
For India, it is the same route too – fine tune combinations and see every game as a chance to find their strongest playing eleven for the mega event at home. Their recent 2-1 series win over the West Indies was important in seeing what the contenders for numbers four and five had to show.
But the first two games of the series in Barbados showed that there was confusion in India's way of experimenting with the batting order. Apart from Ishan Kishan smashing a hat-trick of fifties as an opener, which could point towards him being a back-up opening option.
Suryakumar Yadav, who hasn't cracked the code for excelling in the ODI format yet, batted at number three in the series opener before moving to number six for the next two games. Sanju Samson did not play in the series opener before batting at number three in the second ODI and moving to number four in the final game.
Amidst this, Axar Patel batted at number four in the second game, leaving many bewildered. Now experimenting with the batting order ahead of the World Cup is something not new for the Indian team.
In the run-up to the 2019 World Cup in England, India tried 12 players at the number four slot, with Rishabh Pant batting at that position in the semi-final defeat on the back of playing only nine ODIs.
Now, with Pant, KL Rahul, and Shreyas Iyer expected to be the fulcrum of the middle-order in ODIs, down with injuries of various degrees, the Indian team management has looked a little unsure about who their middle order batters are.
"I feel that numbers four to five, if you want to keep him (Sanju Samson) as a back-up middle-order batter in terms of your World Cup campaign then utilize him at that position, here you are confusing everybody," said former India wicketkeeper-batter Saba Karim during the broadcast on Jio Cinema when rain interrupted proceedings in the second ODI.
With Rahul and Iyer in a race against time to be fit and join the Indian team at the earliest, one wonders if the team think-tank found answers to their questions via the batting experiments.
In the series against West Indies, Suryakumar could amass only 19, 24, and 35 while Samson smashed a quickfire fifty in the third ODI. But what happens if the duo of Rahul and Iyer get miraculously fit in time to make it to the Indian team? What happens to Kishan's efforts as an opener in West Indies, where he found success as compared to averaging only 21 in the middle-order?
"If KL Rahul comes into the side and if you have him (Ishan Kishan) in your squad, will you play him as your opener? You will not because Shubman Gill and Rohit (Sharma) will open the innings."
"Then if KL is not fit that is the time when Kishan will come in the eleven, and if that is the case then why can't we have him bat at either four or five, whatever it may be. You can't have him open the innings, even if he gets runs how does it matter, because eventually, he is not going to play as an opener in the World Cup," wondered Karim.
But there's another view too: that injuries to Pant, Rahul and Iyer have literally caught the Indian team in a very tough scenario, with the likes of Samson and Suryakumar not having sufficient game time in the format previously and could potentially be playing for India in the World Cup if either Iyer or Rahul or maybe both miss the bus.
"Here, I feel that the hands are tied because I was fairly critical of the team during the recently concluded three-match series, where they had three different batters in three games on number three and four respectively and you start asking what exactly the team here is trying to do?"
"It gives a thought that whether Shreyas Iyer or KL Rahul will be available or is that an insight that these guys may not be available and therefore, the team is scrambling for options? The latter seems to be the case right now as you are running out of time and your people haven't actually recovered from injuries," said former India opener Aakash Chopra in a virtual interaction.
With September 5 being the deadline for the teams to submit their squad of 15, it means India has to name its squad after its group stage games against Pakistan and Nepal are over in the Asia Cup.
There are still pieces of the Indian team jigsaw puzzle which are yet to be solved and one wonders how the things which caused its downfall in 2019 have resurfaced with the 2023 World Cup on the horizon.
"In this case, you can't blame anyone and it hasn't happened by design. They are now clutching at straws that whatever we have, we got to make the most of it, with a hope that the main guys will be fit, available and raring to go in a few weeks."
"I don't blame team management at this point at all; not one bit because these players who are also your batters are injured and with them recovering, it throws your plans into a tizzy," opined Chopra. After the loss in the 2019 World Cup semi-final, then-skipper Virat Kohli had rued 45 minutes of bad cricket putting them out of competition. If the team wishes to avoid that scenario in 2023, they need to be quickly firm in finalising their main eleven and four back-ups who can give their best on the field whenever needed.