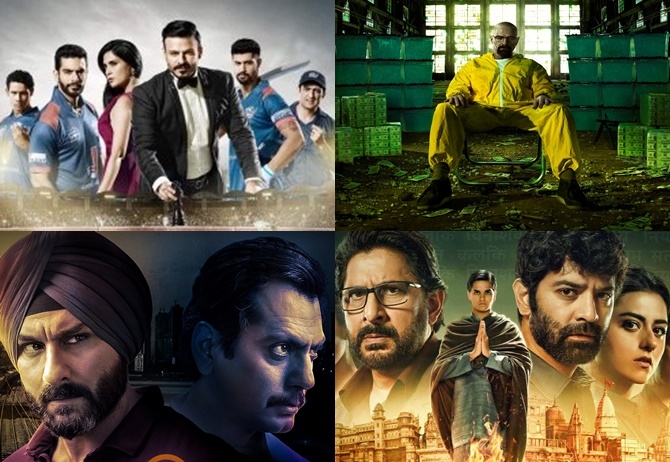 VINOD MIRANI
The people who sought entertainment on the big screen are moving to smaller screens.
Covid-19 had shut down the production of films and the cinemas had to shut shop, too. Television was not an alternative as shootings were not allowed. So, people started moving towards OTT platforms providing varied kinds of entertainment from different countries.
The draw of the OTT platforms was gradual initially because it entailed paying subscription fees and that was an extra expense after paying for the television channels. One paid for each TV channel after TRAI regularised the medium.
With public movement restricted, and stuck at home, the people gradually took to OTT streaming. Having launched in India in 2016, some of the top- rated OTT platforms finally started getting a foothold in the country in 2020, during the Covid-19 lockdown which lasted for about 18 months in two different spells.
What happened, as well as the emegering situation where films made for the cinema screens were opting for release on OTT platforms, was not much liked by multiplex managements. But a film ready for release blocks investments and it makes no business sense for the producers to hold back not knowing how long the lockdown would last.
It was not as if the filmmakers had deserted the cinema screens. They made films for cinemas and that is what they thought was their calling. But the lockdown period was abnormal/unforeseen circumstance.
Some managements even threatened a particular filmmaker with reprisal when he decided to offer his film to an OTT platform. Films work on audience choice and not by what a cinema management decides. It had, however, become routine for cinema managements to decide how many screens a film merits. And there were small films that did not get any playtime at all.
The cinema chains were optimistic that as the lockdown got lifted in phases, initially with some conditions and, later, completely, that the film industry as well as the exhibition trade would bounce back to the pre-Covid-19 era and that people would return to cinema theatres to watch movies and splurge Rs 300/Rs 500 on a tub of popcorn and Rs 200/Rs 300 on a cola and Rs 200 on a samosa!
Nothing of what the cinemas expected has happened after the lockdown was lifted. The big face-value films are scarce and the few that hit the screens have failed to lure the audience.
As I mentioned in my column last week, foreign films do help cinemas sustain to an extent. But we are all about Indian films. And they don't seem to be working.
The top-rated as well as second-rung stars have mostly failed to deliver since the Covid-19 lockdown was lifted. Even Shah Rukh Khan-s Rs 1,000-crore-plus grosser, 'Pathaan', has not been able to pull the cinemas out of the red. One can't expect 'The Kashmir Files' and 'The Kerala Story', which account for a business of about Rs 500 crore between them, to salvage the situation.
Seemingly, the audience has not deserted entertainment or films; they have only decided to seek both on OTT platforms. It is just a matter of waiting for a few weeks before the same film is beamed to your home. After all, the kind of budgets the films command today, no film can recover its cost were it not for monies coming in from OTT platforms. Also affecting the production of multi-crore films is the fact that those bankrolling such projects have withdrawn.
There are quite a few factors responsible for the current pathetic state of the Hindi film industry.
First, the ignorance of the corporate houses that one fine day decided to enter the film industry. All they had were unlimited financial resources and they picked up some influential folks (the ones who had stars as friends). It started off like this: We grant you Rs 100 crore and you make three films for us!
Second, with this kind of money flowing in, obviously, the stars got greedy. They thought the films were running because of them. Yes, stars do bring in the crowds, but sadly, they are never the same stars.
There was a Rajesh Khanna and there was a Amitabh Bachchan and, then, there were others like Dharmendra and Jeetendra. They all come and go. The current lot, most of them in their fifties, seem to think they will last forever.
Finally, the ones who have nullified all that drew folks to the cinemas are the major culprits: the multiplex managers. How they did it has been observed by one and all.
Cinema has been described in India as the 'opium of the masses'. Those masses were driven away. That too in an age when opium alternatives were available even on a palm-sized mobile!
The cinema-loving mass was lost and now even the rest are not willing to spend on the cinema experience. They have found entertainment on television and OTT platforms.
As if that was not bad enough for the exhibition industry, the stars, of all hues and shades, are tilting their loyalty towards the OTT medium.
There is a lineup of film production houses and actors who want to make their presence felt on OTT platforms.
Well. If people are not coming to the cinemas, we will reach them at home!
Not only actors, even some major production houses are moving towards OTT content production. That is not to say they won't make feature films for big screens.
Some of the major production houses who are or will produce content for OTT platforms are Yash Raj Films, Bhansali Productions, Excel Entertainment, Dharma Productions, Red Chillies, Abundantia, Ajay Devgn Films and Rohit Shetty Pictures. Some more expected to follow soon.
Makers such as Madhur Bhandarkar, Neeraj Pandey, Prakash Jha and Vikramaditya Motwane are also onto the OTT medium now.
A lot many actors have started working for OTT, but those who still have some screen life left, despite opting for OTT platforms, are Ajay Devgn, Shahid Kapoor, Anil Kapoor, R. Madhavan, Rajkummar Rao, Deepika Padukone, Saif Ali Khan and Priyanka Chopra.
Akshay Kumar is said to have planned a Rs 200-crore OTT project with Amazon, which did not materialise, and the sums paid had to be adjusted against the film 'Ram Setu'.
Also actresses from the recent past such as Kajol, Madhuri Dixit, Sonakshi Sinha and Sushmita Sen, along with veterans Tanuja and Sharmila Tagore, have also entered medium.
The list is endless and it goes on getting longer. Filmmakers needed actors with a draw. No such demands for OTT platforms. Talent matters here, but, otherwise, those whose names are identified with films are also getting work.
Looks like the entire entertainment industry, the who's who of the trade, is gravitating towards OTT. This does not mean they won't be making films for cinemas. Only, their first priority will not be making films. This is likely to create a further shortage of content for the already starving cinemas.
After all, the makers want their films to be seen by all, and actors don't want people to forget them. Looks like the entire industry is moving to the OTT format!