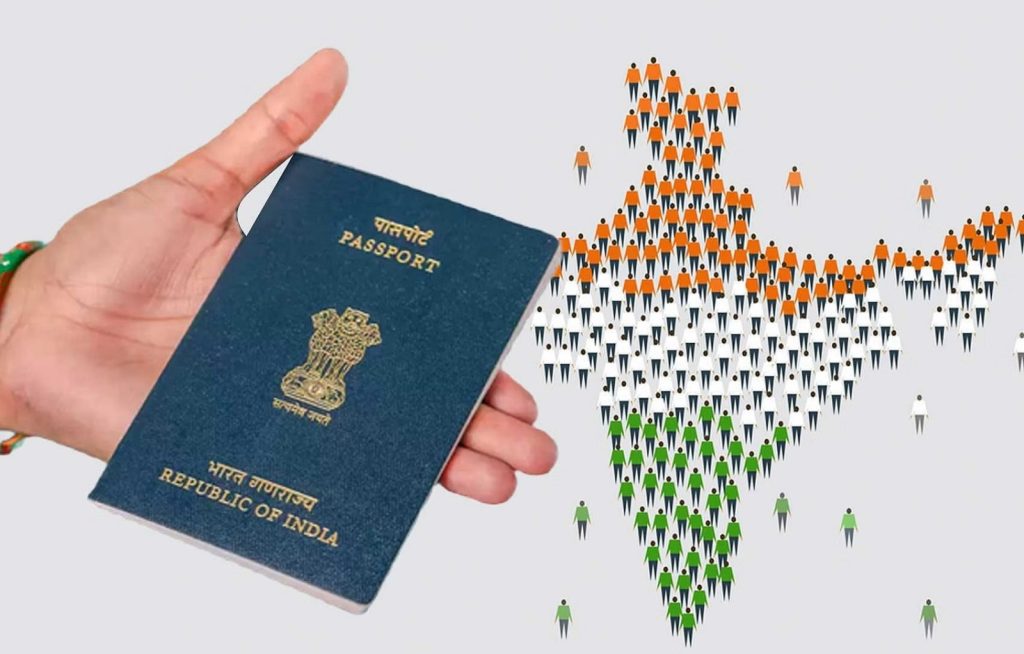 Meenakshi Iyer
New Delhi, July 1 (IANS) When it comes to moving and settling abroad, Indians lead the pack with a 32 million-strong diaspora out of which 18.68 million are of Indian-origin and 13.45 million are non-resident Indians.
Now, with top economies seeking semi-skilled and skilled professionals to plug labour shortages, offering them extensive benefits and upgrading their standard of living, people's desire to migrate has reached an all-time high.
Going by the numbers, Indians continue to chase the American dream with 7,88,284 of them relinquishing their citizenship in 2021, according to a Ministry of External Affairs data.
Australia took the second spot after the US with 23,533 individuals giving up their Indian citizenship, followed by Canada (21,597), and the UK (14,637).
A significant number of Indians chose to be citizens of Italy (5,986), New Zealand (2,643), Singapore (2,516), Germany (2,381), the Netherlands (2,187), Sweden (1,841) and Spain (1,595).
Of the top 20 destinations of international migrants in 2020, all but three were high-income or upper-middle-income countries, according to a UN report.
With a population of over four million, the largest cohort of Indians live in the US, followed by gulf countries like the UAE (3.5 million) and Saudi Arabia (2.5 million).
HIGHLY-SKILLED/SKILLED PROFESSIONALS
As per the immigration trends, the highly-skilled/skilled Indian professionals choose developed countries like the US, Canada, the UK as they ensure quality of life, stable economy, clean environment, coupled with well-developed healthcare and education system.
A robust and diverse immigration pathway along with faster processing of visas provided by these countries is also among the reasons.
However, post-covid, Indians are also targeting countries like Australia, New Zealand, Germany, Japan, Italy, and other EU nations due to low population and shortage of skilled workers in the countries, according to immigration experts.
The recent Global Wealth Migration Review spotlighted the global popularity of Australia as a country that has been witnessing high inflow numbers from India as well as from other countries.
What is making Australia special is its points-based immigration system favouring wealthy and high-earning professionals like doctors, lawyers, engineers, and accountants, the report said.
UNSKILLED/SEMI SKILLED
While a lot of semi-skilled Indians are also found in the above countries, most of them migrate to GCC countries, west Asian, Asian nations like Singapore and Malaysia.
Roughly, 70 per cent of the Indian population in the Gulf consists of semi-skilled and unskilled workers, and 20-30 per cent make up for professionals and white-collar workers. A small fraction comprises domestic help.
According to media reports, Saudi Arabia, which has the second-highest number of Indians after the UAE, witnessed 178, 630 Indians moving to the Kingdom for employment in 2022, which was a mere 32,845 in 2021.
Kuwait came a close second with 71,432, followed by the UAE with 33,233 Indians.
STUDENTS
Indians studying in economically developed countries are the most likely among all foreign students to stay back in their host country and join the local workforce, according to a report on international migration patterns by the Organisation for Economic Co-operation and Development.
An INTO University Partnerships survey says that almost eight in 10 Indian students choose a study overseas plan to work and settle in the country after completing their international degree.
Indians going abroad for higher education touched a six-year high in 2022 with over 7.5 lakh studying in 240 countries around the world, the Rajya Sabha was informed this year.
While Canada, Australia, the UK, and the US remain the top choices, sizable numbers are also travelling to Uzbekistan, Philippines, Russia, Ireland, Kyrgyzstan, and Kazakhstan.
In 2022, there were over 2,26,450 Indian students who went to study in Canada, making them the biggest cohort of international students, according to official data from Immigration, Refugees and Citizenship Canada.
The US Immigration and Customs Enforcement in its annual report mentioned that India sent 64,300 students to the country in 2022. One out of every five US student visas was for India in 2022, according to Ambassador Eric Garcetti.
According to 2022 estimates, there are more than 1,20,000 students in the UK, and 96,000 Indians in Australia.
HIGH-NET-WORTH INDIVIDUALS
Some 6,500 high-net-worth individuals (HNWI) — possessing investable wealth amounting to $1 million or more — are set to leave India in 2023, according to a 2023 Henley Private Wealth Migration Report.
According to web portal Immigration Experts, wealthy investors get alternate residency or citizenship in return for a significant contribution to the host country through investment migration.
According to the Henley Private Wealth Migration, HNWIs are likely to choose Australia, UAE, Singapore, the US and Switzerland as their preferred destinations in 2023.
Dubai, via its golden visa scheme, as well as Singapore with favorable tax environment, robust business ecosystem, and safe environment, emerged as two top destinations for wealthy Indians to migrate.