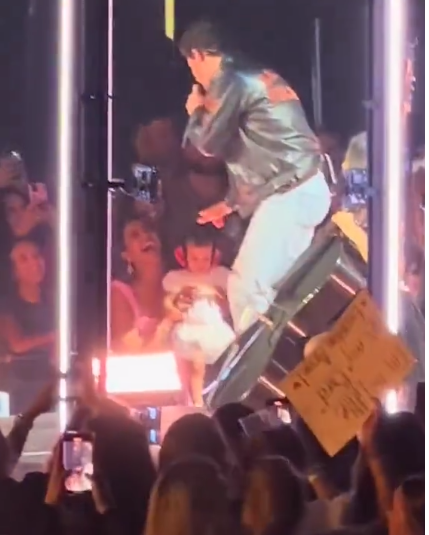 Los Angeles, Oct 14 (IANS) Everytime Nick Jonas is on stage he sets the stage on fire but this time it was a little different as the spotlight was on the pop star's daughter Malti Marie Chopra Jonas, who joined him and her two uncles on stage.
In a video doing the rounds on social media, shows Malti walking on stage while her father and uncles performed.
The singer was accompanied by his wife, the actress Priyanka Chopra Jonas who was in the front row of the audience. Priyanka was all smiles as her little girl took to the stage to join her father.
As Priyanka made her daughter join Nick on stage, several videos have been unveiled on social media of Nick and Malti.
The video taken by fans shows Malti wearing pink sound-cancelling headphones, and as she joined the stage and began to waddle, before she began clapping her hands.
She was wearing a small white dress and glittering pink skirt, while simply enjoying herself as the blue light of the stage illuminated her.
At another point, Joe Jonas who is currently undergoing a bitter divorce with his ex-wife, the 'Game Of Thrones' actress Sophie Turner held his niece and was smiling.
This is not the first time that Nick Jonas has made his little girl join him while doing a concert as back in August, the singer had taken Malti with him and while holding her for his New York concert, he did a whole sound check with her.
Currently headlining a tour with the Jonas Brothers, Nick is being supported by Priyanka throughout his whole tour as she is both helping him manage, as well as documenting their tour all the way from stops in Texas, Nashville, New York, among their other stops.