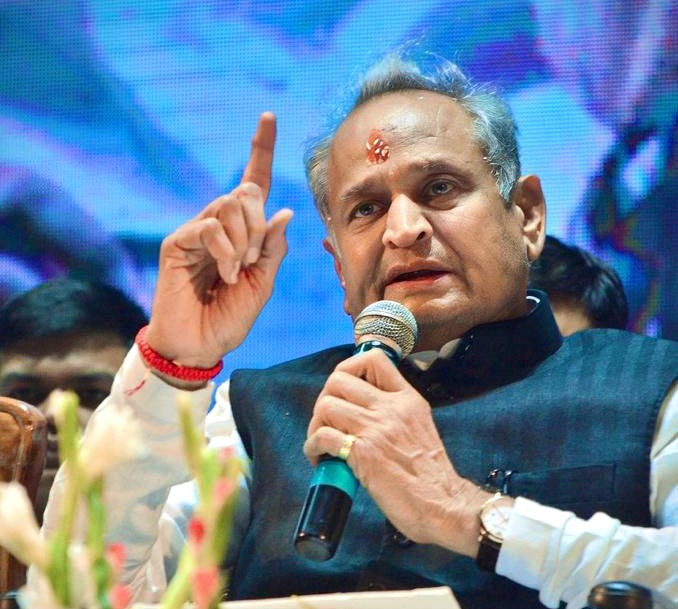 Anand Singh
Jaipur, Nov 20 (IANS) With just four days left for the crucial assembly election, Rajasthan Chief Minister Ashok Gehlot on Monday said that seven guarantees have set the narrative in favour of Congress and history will be created as there is no anti-incumbency which will break the tradition of alternate party government in the desert state.
In an interview to IANS, the Chief Minister said that BJP has nothing to show when it comes to their report-card, as neither central government has done anything for Rajasthan nor previous BJP government brought any major change.
IANS: The seven guarantees have made the people to talk about Congress in the Rajasthan. Do you feel that the schemes of the state government will play an important role in the grand old party forming the government again?
Ashok Gehlot: Yes, seven guarantees have set the narrative in favour of Congress in Rajasthan. We had given 10 guarantees earlier and fulfilled all of them. We organised 'Mehangai Raahat' camps to give respite to people from price-rise. So, we have credibility and people trust us. People know that we do walk the talk. We will fulfill all the guarantees that we have given to the people.
IANS: The seven guarantees of the Congress focuses on an annual honorarium of Rs 10,000 to women head of family, cooking gas cylinders at Rs 500 to 1.05 crore families, purchase of dung from cattle rearers at Rs 2 per kg. How will you manage the same?
Ashok Gehlot: Congress believes in empowering people and transferring benefit directly to them. BJP has been empowering its favourite corporate and crony capitalists. They use public money to waive of their NPAs. We use public money to empower people economically. We know how a stream of funds is to be created. We will use the same money in providing a gas cylinder in Rs 500 to 1.05 crore families, Rs 10,000 to every woman head of the family and Rs 2 per kg to buy dung from cattle-rearer.
IANS: Among the seven guarantees are laptops or tablets to students taking admission in government colleges, insurance cover up to Rs 15 lakh per family to compensate losses due to natural calamity, and school education in English medium. How you plan to implement it?
Ashok Gehlot: Rajasthan has made lot of progress in last five years. We have no dearth of money. We will use public money for well-being of public. We did an exhaustive survey amongst students and their guardians to know how school education in Rajasthan can be improved. At least 99 per cent of them said they want their kids to be taught in English in the schools. This propelled us to introduce this guarantee. We need to give protection to our people from natural calamities. Sometimes, single bread-earners of the families have lost their lives in natural calamities. It is very painful to see families in destitute conditions. So, we have come up with a solution and we will arrange funds for it.