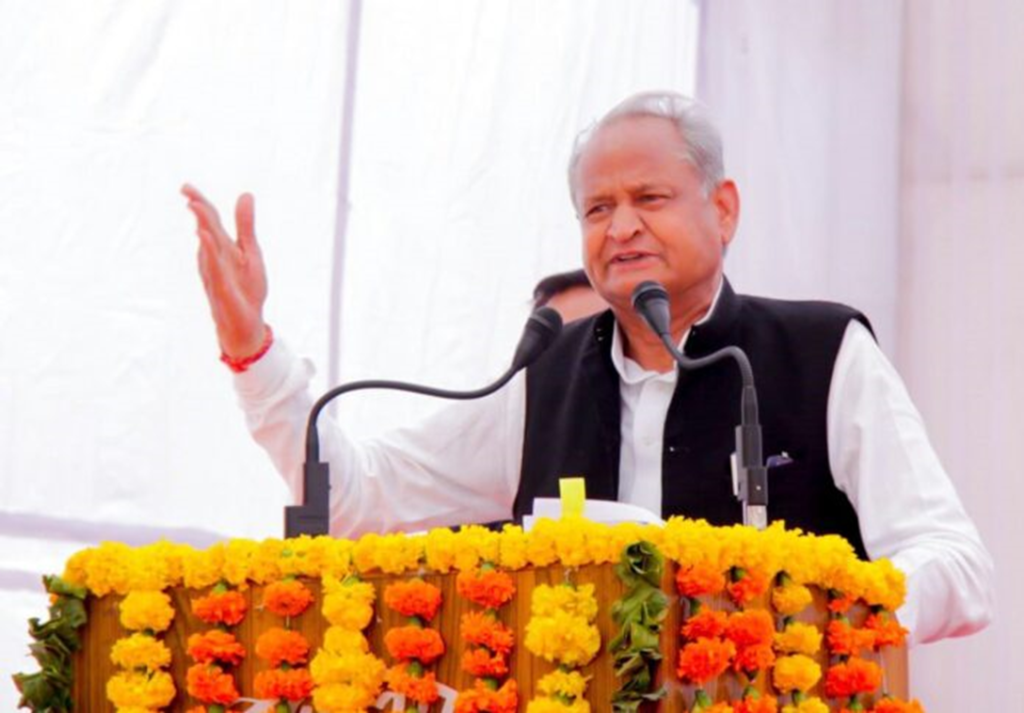 Rajasthan Chief Minister Ashok Gehlot.(Photo: IANS/Twitter)ARCHANA SHARMA
Jaipur, June 11 (IANS) Rajasthan these days has been hitting the headlines for its social welfare and people-friendly schemes launched by the Ashok Gehlot government.
While the opposition is terming it as freebies being distributed during an election year, Chief Minister Ashok Gehlot has clearly said that they are not freebies and the schemes have been launched after much thought and discussion.
"Today Rajasthan is performing much better than states like Gujarat without offering any freebies to people. Several ambitious ground schemes have been launched in the state. If you want to see how freebies are distributed, please visit Madhya Pradesh," asserted Gehlot.
"We have implemented schemes on the ground in Rajasthan and not limited ourselves to announcing new projects. Our social security schemes are not because of polls and our decisions are taken after much thinking and discussion," the CM said.
Gehlot said that state governments depend on loans and so does the Centre. None of the state governments, though, can take loans if the Centre does not permit it, he added.
Meanwhile, it emerged that Rajasthan's fiscal deficit, which measures how much the expenditure exceeds the revenue, has been falling and recently it has been falling faster than the average for all other states.
On the revenue side, Rajasthan's receipts as a percentage of the state's gross domestic product (GSDP) have been higher than the average for all states over the last decade. Recently, that gap has widened.
Further, officials say that the state has also become financially more independent. That is, its own tax revenue and own non-tax revenue are higher than the average for all states, and both have been rising recently.
Also, Rajasthan is spending a higher proportion of its overall expenditure on social sectors like health and education as compared to the average for all states.
However, the state has been performing slowly on the capital expenditure side, where its spending has been lower than average for a while now, but even this has been growing in recent years.
Further, since the pandemic, the state has done well to bring down its fiscal deficit, which spiked to 5.9 percent during the pandemic from 3.8 percent, a 2.1 percentage point increase in one year. While it rose for all other states too, it was not as much.
On an average, for all states the fiscal deficit rose from 2.6 per cent in 2019-20 to 4.1 per cent in 2020-21, an increase of 1.5 percentage points.
Since then, however, Rajasthan has done well to bring its fiscal deficit back under control.
Rajasthan's revenue receipts which include the money it earns through instruments like taxation, were mostly flat as a percentage of its GSDP under former chief minister Vasundhara Raje. However, the revenue receipts under Gehlot have seen surprising change, first dropping during the pandemic, and then mounting a robust recovery for the subsequent two years.
What is more notable, however, is that Rajasthan's own tax and own non-tax revenue has recently been taking a higher share of its overall revenue receipts than what has been the case in the other states on an average.
This is due in large part to the fact that Rajasthan — being relatively oil-rich — receives royalties for the oil produced in its territory.
Meanwhile, according to Arvind Mayaram, economic advisor to the Rajasthan chief minister and former Union finance secretary, "The state has put in place "light-touch" tax regulations which have improved compliance without "the need to keep doing raids".
With revenues doing better than average, it should stand to reason that the state's expenditure is commensurate with this performance. The data for Rajasthan shows its overall expenditure on health, education and other social sectors has been higher than the average.
Officials say that the state government believes in creating demand so that the other part benefits by creating a continuous supply chain. For example, if a person saves on getting a gas cylinder for Rs 500, he will definitely spend that amount elsewhere thereby boosting the economy, said officials.
They said that Rajasthan emerged as the second most attractive destination for investments in India in FY 2022. Interestingly, the state witnessed the highest rate of growth during the period, soaring by almost 535 percent and attracting new investments worth Rs 2.37 trillion.
Rajasthan's GSDP reached Rs 11.96 trillion in FY 2022, up 11.06 percent y-o-y. The state's per capita income was Rs 1,35,000 during that time.
Also, according to data from Invest India, during the period from October 2019 to September 2022, Rajasthan received FDI inflows of US$1.88 billion.