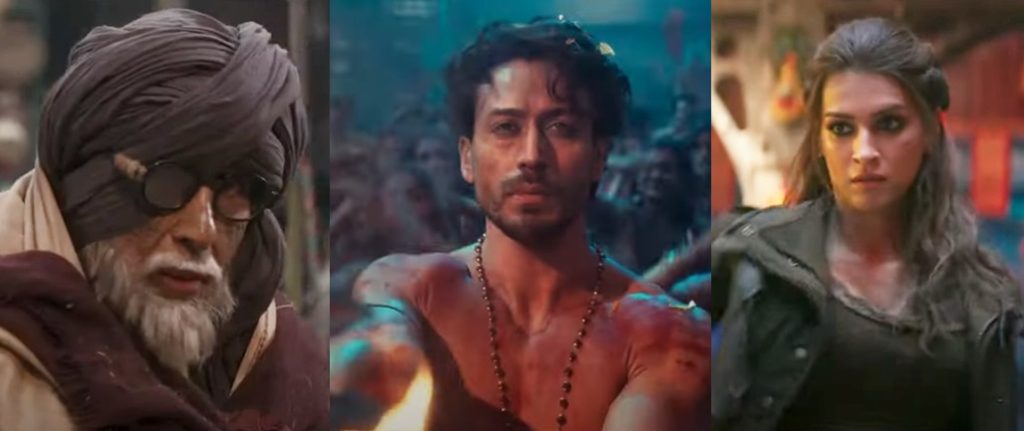 Mumbai, Oct 9 (IANS) Actors Tiger Shroff, Kriti Sanon and megastar Amitabh Bachchan's 'Ganapath' trailer has taken the internet by storm even before its official launch.
As soon as the trailer launched through fans, the internet exploded with fan reactions coming from every corner of the world.
Social media platforms, primarily Twitter, Instagram, and Facebook, have been ablaze with posts, videos, and hashtags dedicated to 'Ganapath'. Fans have taken it upon themselves to officially unveil the trailer, and their dedication is nothing short of spectacular.
The film's and star cast official accounts are flooded with messages of anticipation, admiration, and unwavering support. Celebrities, influencers, and cinephiles have also joined the chorus of praise, celebrating the tantalising glimpse provided by the trailer into the world of 'Ganapath'.
With its action-packed sequences, star-studded cast, and intriguing storyline, the trailer has garnered accolades even before the film's release, showcasing the power of captivating storytelling and stellar performances.
What truly makes 'Ganapath' exceptional is its ability to unite fans from diverse corners of the world.
As the world eagerly counts down the days until release of this Magnum Opus, one thing is clear that fans have not just embraced this film; they have made it their own. Their unwavering devotion have transformed Ganapath into a cinematic event unlike any other.
Sharing the link to the trailer, a fan took to X, formerly called Twitter, and said: "Loved every bit of this exclusive trailer… now here it is for everyone."
A Tiger Shroff fan wrote: "Goosebumps. Ganapath Trailer Out Now."
An excited user said: "Gear up Gang! Kyunki aa gaya hai Ganapath Ka Trailer, hamari taraf se sirf aur sirf aap sab ke liye…"
One Tiger Shroff fan described the trailer as "Dumdaar".
"ANAGAAR….,PHONEMAL, SENSATNOL..ENERGETIC, DUMDAAR…SPEECHLESS SCREAM SCREAMING NOT STOP…OMG TIGGGYYYYY," the fan wrote.
"There's nothing on earth which can make me excited like this!!! @iTIGERSHROFF Can't wait to see you doing all this madness & to witness all the action!! #FansLaunchGanapathTrailer #Ganapath on 20th October! Excited af!," said another.