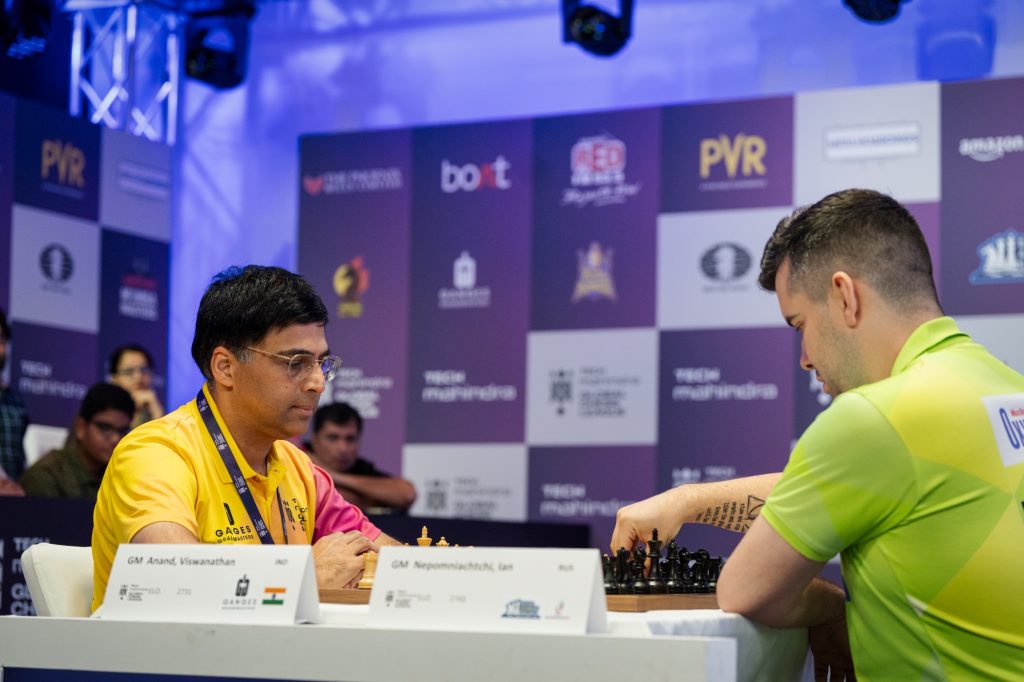 Dubai, June 24 (IANS) The Ganges Grandmasters maintained their dominant streak as they kicked off the third day of the Global Chess League (GCL) with yet another impressive victory, here on Saturday.
Ganges Grandmasters are the only team in the Global Chess League to have three victories out of all three matches.
This was a duel between two teams in the middle of the scoreboard looking to make a push to the top. Following the first two rounds, both had three Match Points each and 15 Game Points. The coin toss decided that Triveni Continental Kings will play as white. The team achieved the initiative from early on.
The most anticipated encounter took place on board one with a faceoff between two icon players, world heavyweight Levon Aronian (as White) and the highest-rated chess player, Magnus Carlsen.
Both sides put up a fierce fight and Carlsen ended up defending an uncomfortable position with a minute on his clock against Aronian's eighth. Aronian tried but Magnus, the best endgame player in the world, was confident and held his opponent to a draw.
As two other games ended in a draw the score was 3:3. The first break came when GM Yu defeated Gukesh with white, scoring important three Game Points for the Kings. The tables turned on the Kings when Indian Praggnanandhaa beat Jonas Bjerre scoring four Game Points and erasing the advantage created by Yu.
Everything was hanging on the game between Irina Krush (SG Alpine Warriors) and Kateryna Lagno. Despite Krush creating a dominating position, both sides were in serious time trouble. The fact that Lagno is a three-time World Champion in Blitz came in handy as she managed to keep her nerve and get a draw.
The final score of the match was 7:8 in Game Points for SG Alpine Warriors, giving them another critical three match points.
In the post-game interview, Carlsen noted that "wins with Black are so valuable" (as they bring four instead of three points which White gets for victory), which makes the whole thing more exciting.
"People are still trying to find the optimal strategy here and we're seeing some interesting decisions that you don't see in team chess", he said.
The match ended with Triveni Continental Kings 7- 8 SG Alpine Warriors.
Ganges Grandmasters vs Balan Alaskan Knights
This was an encounter between the two leaders on the scoreboard. The match began with an intriguing prelude as Henrik Carlsen, the father of Magnus Carlsen, conducted the coin toss to determine the colours. His flip favoured the Ganges Grandmasters and they picked to play with White.
Right from the outset, it was clear that the Ganges Grandmasters were not ready to relinquish their hold on the tournament.
Board one witnessed a swift draw between Viswanathan Anand and Ian Nepomniachtchi, where the leader of the Balan Alaskan Knights made 30 moves without even spending a minute! Simultaneously, things were firing up on board six between two prodigies: GG's Andrey Esipenko took the initiative early on against Raunak Sadhwani and won. Soon, team Balan Alaskan Knights found themselves in trouble as they were losing on more boards.
The only string of hope for them was in the Chinese matchup on board four. In a game between two former women's World Champions, Ganges Grandmasters' Hou Yifan was losing badly to Tan Zhongyi playing as Black, making an important comeback for the Knights. However, at the same time, Ganges' Leinier Dominguez Perez and Richard Rapport had a significant advantage in their games.
While Perez converted his into a victory, Rapport blundered his winning advantage in time trouble, allowing his opponent Abdusattorov to escape with a draw.
Despite an impressive rook sacrifice, Balan Alaskan Knights' Bella Khotenashvili lost to her Georgian compatriot Nino Batsiashvili which was very disappointing. With a commanding score of 11 game points to 6, the Ganges Grandmasters secured yet another triumphant victory, solidifying their position at the top of the leaderboard and earning three valuable match points.
The match ended with Ganges Grandmasters 11-6 Balan Alaskan Knights.