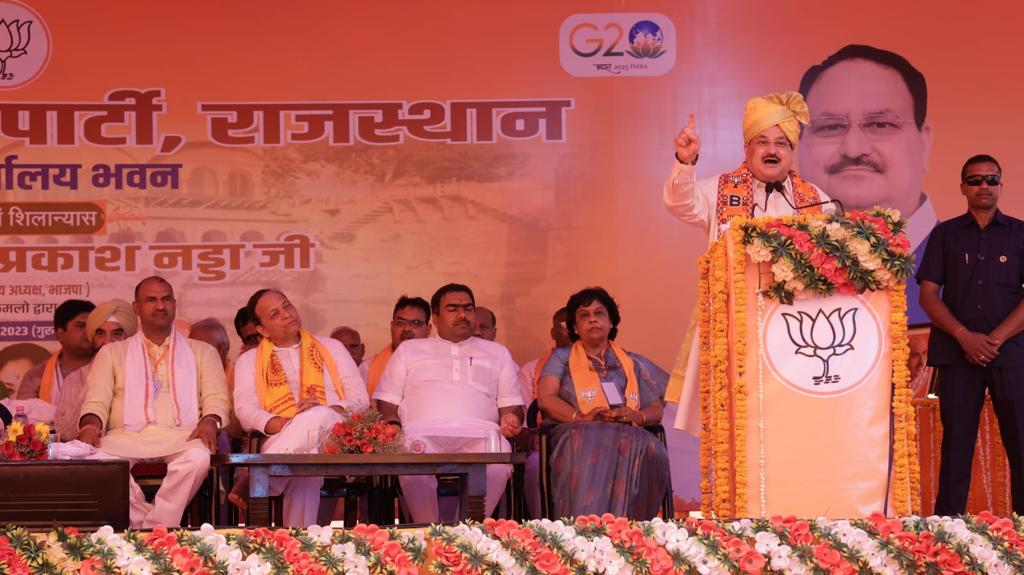 Jaipur, June 29 (IANS) BJP President J.P. Nadda addressed a large gathering in Bharatpur on Thursday, where he slammed the Ashok Gehlot-led Congress government in Rajasthan, accusing it of appeasement policy and corruption.
"The Gehlot government is steeped in corruption… He (Gehlot) has given each MLA a licence to indulge in corruption in multiple ways. Tell me, can any work be done without corruption or without paying bribe in Rajasthan? Just let him be the CM while others can loot all they want – this seems to be Gehlot's principle," Nadda said.
Nadda also accused the Gehlot government of indulging in appeasement politics.
"Even the law is not the same for all in Rajasthan. If a Hindu festival is celebrated, it is seen in a different light and if a festival is celebrated by people belonging to some other religion, it is seen in a different way… This is the result of the Gehlot government's appeasement policy," the BJP chief said.
Nadda was addressing a rally in Nadbai, around 35 km from Bharatpur, as part of BJP's 'Maha Jan Sampark' programme in the Bharatpur Lok Sabha constituency on completion of nine years of Narendra Modi government.
Nadda said that under Prime Minister Modi, India's global standing has risen and world leaders are now lauding the PM.
"When world leaders praise Modi, it gives stomach ache to the Congress. They keep keep abusing Modi, but the more Congress says all these, the more the 140 crore people of India shower their blessings on Modi," Nadda said.
He also said the BJP is like a 'parivar' (family) while all other parties are family-run parties.
"If you vote for NC or PDP in J&K, you vote for Omar Abdullah and Mehbooba Mufti. If you vote for SAD in Punjab, you vote for the Badal family. If you vote for RJD in Bihar, you vote for Lalu Prasad's family. If you vote for SP in UP, you vote for Akhilesh Yadav's family. If you vote Trinamool in Bengal, you vote for Mamata Banerjee's family. If you vote BJD in Odisha, you vote Naveen Patnaik's family. If you vote for BRS in Telangana, you vote for KCR's family. if you vote Shiv Sena in Maharashtra, you vote for Uddhav Thackeray's family. And if you vote NCP, you vote for Sharad Pawar's family," Nadda said.
"But if you vote for Modi, you vote for the country and the future of your children," he said, adding that people should throw out the Gehlot government and ensure that lotus blooms again in Rajasthan.
Nadda also said that it is Modi who has given a push to politics of development and as a result India is changing and growing.
"A new story of development in India is being written under Modi," said Nadda.
Before the rally, Nadda inaugurated the new BJP party office in Bharatpur. He also virtually inaugurated a party office in Jaisalmer besides laying foundation for a BJP office in Barmer.
The eastern Rajasthan belt is crucial for the BJP, which is hoping to return to power in the state that goes to the polls later this year.
In the 2018 Assembly elections, BJP failed to open its account in the Bharatpur division which comprises Bharatpur, Dholpur, Karauli and Sawai Madhopur districts that together have 19 seats. The BJP also bit the dust in the seven Lok Sabha seats in the region in 2019.